The best way to distract yourself from this crazy world of ours is—you guessed it!—books. And there's nothing better than a good ol' fashioned thriller, particularly when they feature strong female protagonists. From psychological thrillers to more supernatural thrills, the list below represents some of the best thrillers out there, starring no-holds-barred heroines.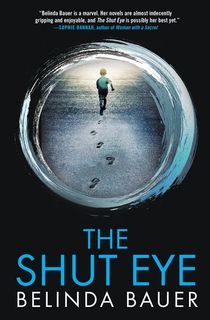 The Shut Eye
Feast your eyes on a supernatural chiller that's thrilling genre fans on both sides of the pond. From British author Belinda Bauer comes a tale about a mother and her psychic aid, who are looking for her missing song. With few leads and a whole lot of desperate hope, Anna Buck's descent into madness is guaranteed to keep you from getting any shut eye.
The Girl on the Train
Rachel boards the commuter train to and from London every single day, watching the same idyllic homes zip by. One of these homes belongs to a couple she's playfully named "Jason and Jess," and whose lives she both imagines and envies. But her usual routine is disrupted when, looking through the window, Rachel witnesses an act that sends her life off the rails: Murder. Paula Hawkins crafts a thriller so compelling, it has Gone Girl fans dropping their jaws.
Related: 31 Psychological Thriller Books That Mess With Your Head
The Blue Line
A Colombian politician and an anti-corruption activist, author Ingrid Betancourt draws from her own experience as a hostage in the Columbian jungle to concoct a tale of love, betrayal, and chaos. With Argentina's Dirty War as her backdrop, Betancourt tracks a woman's coming-of-age. But Julie, the protagonist, isn't your average woman—she has the ability to see the horrific future—making The Blue Line a thriller with a sci-fi twist.
The Expats
This New York Times bestseller tells the story of Kate Moore, a woman who moves across the pond to escape the secrets of her old life. Unfortunately, her past follows her there, stirring up a whole lot of trouble in Kate's new Luxembourg home. Chris Pavone is an Edgar Award-winning author most known for his novel The Accident, though The Expats reaffirms his place as one of the most talented writers of international thrillers.
Related: 15 Authors like Dan Brown
Disclaimer
Picture this: You're snuggled in bed, e-reader in hand, and you're eager to keep the pages flipping. That is, until your fiction seems more like fact, and you realize it's telling the story of your own horrific past...That's what happens to Catherine Ravenscroft, who is perplexed when a murder mystery is left at her bedside. When she recognizes the book as the tale of her own kidnapping, she must confront a secret she thought was dead and buried.
Related: Gripping Books That'll Make You Rethink Social Media
The Girl in the Spider's Web
Didn't get enough of Steig Larsson's tattooed hacker and her Swedish investigative journalist buddy? Us neither. Which is why we're diving into David Lagercrantz's novel of cybercrime and political corruption, which resurrects our beloved Lisbeth Salander and her Blomkvist. And you should, too.
Hush
Prepare yourself for a case more disturbing than the sordid files that come across Luther's desk. Another Tess Monaghan thriller from Laura Lippman, Hush sees the private investigator tackle her most perplexing case yet: A woman commits murder, is found innocent by reason of insanity, and then flees the country. Twelve years later, she returns—but why?
A Banquet of Consequences
Detective Barbara Havers must redeem herself—and she's going to do it by solving a murder. But after some digging, she realizes the case is more than just a simple poisoning—it also involves a man's leap off a cliff. A Banquet of Consequences has the exciting twists and turns you'd expect from a murder mystery, but even the most-savvy reader won't anticipate how disturbing they truly are.
Queen of Spies
Thrilling, compelling, brilliantly told, Paddy Hayes's Queen of Spies chronicles the bizarre experience of one of Britain's most celebrated spies: Daphne Park. Park was an Area Controller in the 1970s—one of the only women to ever achieve such a rank. Told through Park's eyes, Hayes brings a real life espionage thriller to life and covers the legend's time with the Secret Intelligence Service from WWII to the Cold War.