Carl Hiaasen isn't your typical crime writer, and his vibrantly-colored book covers are like warning signs: Turn to page one, and you'll be taken on a darkly humorous, wickedly suspenseful ride.
During his decades-long career, Hiaasen has developed a distinct style that brings readers into the seedy depths of Florida, where the crimes are anything but cookie cutter. At the same time, his books aren't total downers—his characters are always funny, whether their sense of humor is intentional or the byproduct of an outrageous situation. Few authors are able to capture this perfect balance between darkness and light, but Hiaasen does it again and again.
The following mystery and thriller books feature the elements that you love about Hiaasen's writing—from flawed detectives to evocative settings to a dark and biting wit.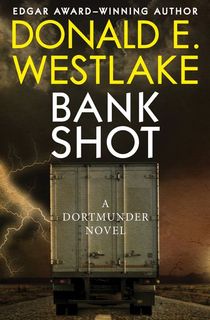 Bank Shot
A bizarre con and a robbery-turned-mobile home heist are just two reasons why Hiaasen readers ought to read Bank Shot. A third? The anti-hero behind both crimes is an absolute riot.
In between major heists, John Dortmunder runs a moderately successful scam as an encyclopedia salesman. But when his bank temporarily relocates to a mobile home, Dortmunder recognizes an opportunity for his biggest—if not downright ridiculous—scheme yet: He and his friends won't just steal the bank's money, they'll steal the bank itself. Westlake writes with a Hiaasen-like humor, and the endearing but immoral Dortmunder is reminiscent of the ambitious crooks in Razor Girl.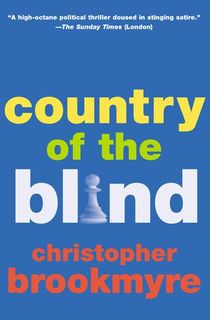 Country of the Blind
Jack Parlabane is about to end his career as a leftist journalist when Roland Voss, a conservative tabloid owner, is found dead. Never one to pass up a good story, Parlabane joins public defender Nicole Carrow to prove the accused killer is just a smokescreen for a much larger conspiracy...Carl Hiaasen fans will find a lot to love in Country of the Blind: a jaded hero, an atmospheric setting (the Scottish Lowlands!), and an unflinchingly satirical take on politics, media, and murder.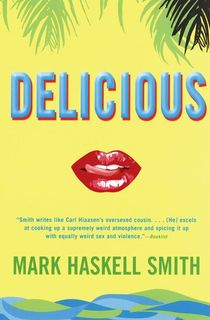 Delicious
The Tanumafilis' catering service has an uncontested monopoly on the Honolulu area—until a new food hall comes to town. Now, the family must duke it out for an upcoming Hollywood movie gig if they hope to prevent their competitor from destroying their business altogether. So begins a food fight of the highest, most intense order, as everyone starts to take sides—from the locals and the film crew to a pimp and a missionary.
The similarities between Smith and Hiaasen's books go beyond their bright, tropical covers. Delicious is set in a little-known area of Hawaii that is as corrupt as the Everglade communities featured in Hiaasen's work.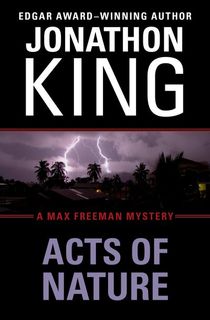 Acts of Nature
Hiaasen isn't the only author to focus on the underworld of the Florida Everglades. Jonathan King's novel plunges readers into the same setting, combining natural disaster with deadly crime to craft a heady, edge-of-your-seat thriller.
While vacationing in the swampy Everglades, private investigator Max Freeman and his girlfriend, Sherry, find themselves amidst a major hurricane. Serious injuries make escape virtually impossible—unless they can manage to get help. But the available saviors are limited: The only people nearby are either greedy criminals or the henchmen of a nefarious oil company. Max and Sherry must work as a resourceful, tough-as-nails pair as they go head to head with these human and environmental enemies.
A Man With One of Those Faces
Take a dose of Irish humor, a crazy case of mistaken identity, and a murder plot, and you'll get the first novel in the Dublin Trilogy. Someone has tried to kill Paul Mulchrone multiple times—and he has no idea why. He teams up with an explosive cop and a nurse who thinks she's Sherlock Holmes (she's read a lot of crime novels) to figure out who's out to get him. But solving the mystery is more complicated than it sounds—especially when it's connected to an infamous, long-ago kidnapping. Readers can expect plenty of laughs, as Caimh McDonnell is also an award-winning stand-up comedian.
The King Tides
Former PI and Navy SEAL Jon Lancaster is called out of retirement to protect Nicki—the daughter of a wealthy Florida family—after she's nearly kidnapped. It's up to Jon and his FBI agent partner, Beth, to determine why the 15-year-old has become such a popular target for the Sunshine State's most dangerous creeps. But as the duo starts to investigate the case, they start to question who's the real threat and who is the real victim...The King Tides comes with a rough-around-the-edges but lovable hero, a sweaty South Florida setting, and twists you could've never predicted.
Key Lime Blues
The Darlings have been solving crimes for over 150 years, and Wes Darling's mother says it's time he take over the family business. Considering there's been a crime drought in the area, Wes believes his days will be spent sipping cocktails and seducing women in the Florida sunshine. But of course, dead bodies start turning up shortly after his arrival, presenting Wes with more work than he's ever done before…
Jastrzebski's takes place in a tight-knit community of the Florida Keys, and it has no shortage of eccentric characters—including Wes' chain-smoking mother, a fortune teller, and violent thieves.
The Cuckoo's Calling
The victim in The Cuckoo's Calling is a glamorous starlet named Lula Landry who bears some resemblance to Hiaasen's pop star heroine in Star Island. Unlike Cherry Pye, however, Lula doesn't survive long—her suspected suicide sets an entire mystery into motion. Despite the police reports, Lula's brother believes foul play is to blame, and he hires Detective Cormoran Strike to prove his theory.
Robert Gaibraith (aka J.K. Rowling) uncovers a hidden world of debauchery within London's elite social circles, as the financially destitute Strike works out of his temporary apartment on the outskirts of the city. Strike's self-deprecating personality and interactions with his secretary add humor to the drama, which will keep Hiaasen fans reading past their bedtimes.
The Perfect Couple
Just as Hiaasen mainly pens novels based in the Everglades, Hilderbrand exclusively writes books set in Nantucket. Both authors expose the dark sides of places we mainly see as idealistic getaway destinations.
The Nantucket wedding of a glamorous, well-to-do couple comes to halt when a guest is found dead just hours before the ceremony. Suddenly, everyone becomes a suspect—and it seems certain that somebody has blood on their hands. The subsequent police investigation widens the cracks in the couple's not-so-perfect life and proves that people aren't always who they appear to be...
Featured photo: Cover of Razor Girl by Carl Hiaasen
KEEP SCROLLING FOR MORE BOOK STORIES