There's nothing better than curling up with a good book, and that feeling is even better when the book you're reading is like hugging a dear friend or slipping under a comfy blanket. Yes, we're talking about cozy fantasy books.
These stories work their way into your heart and make you feel good. They become exactly what you didn't know you needed, and you can turn to them whenever you need a pick-me-up.
Here are nine cozy fantasy books that you will instantly fall in love with this winter.
The House in the Cerulean Sea
Linus Baker is a case worker for the Department in Charge of Magical Youth. He lives a quiet life, alone with his cat. When he's suddenly called in front of Extremely Upper Management, he's given an unexpected case: to evaluate six dangerous children—including the Antichrist—and report on whether these orphans are going to end the world.
But as he gets to know the children and their protective caregiver, more secrets come to light. Now, Linus has to make a choice. Does he destroy a home? Or the world?
In what has been described as an almost perfect book, The House in the Cerulean Sea shows you that family can be discovered in the most unlikely places, and that love truly is the most important thing.
Caught Dead Handed (A Witch City Mystery)
Salem, Massachusetts might be known as the city of witches, but for Lee Barrett, it's just home. When a local call-in psychic is murdered, Lee finds herself interviewing for the job. She's not psychic, but that doesn't matter—at least, until she starts seeing things in the prop crystal ball, she thinks maybe it's more than a role on TV.
When she discovers that the previous psychic may have actually been a witch and the cat she left behind starts exhibiting some peculiar behavior, Lee has to work overtime to find the killer and get answers.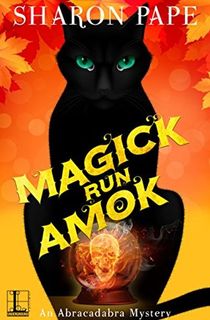 Magick Run Amok
Kailyn Wilde's shop in upstate New York always feels magical to her customers. Little do they know that's because it is. Kailyn works hard to keep that under wraps—a task made harder after the grumpy Merlin is transported to the modern world.
Kailyn's boyfriend Travis is certain that his friend was murdered. Now, he's determined to investigate, and Kailyn does whatever she can to help.
But keeping Merlin under wraps, while making sure her customers never run out of their magical remedies, keeps her busy enough. Can she stay one step ahead of the killer long enough to find them?
The third in a series, this magical story can be read on its own, but be warned—you'll find yourself craving more of Kailyn, her cozy shop, and the outrageous characters she calls friends.
Legends and Lattes
Battle-weary orc Viv is ready to hang up her sword and start over. Her dreams include opening a coffee shop in the city. But that's easier said than done. Rivals stand in her way. And no one knows exactly what coffee is. If she wants her coffee shop to succeed, Viv has to figure out who is trying to shut her down. And why.
It's never easy starting something new and it's never too late. But as Viv discovers, sometimes the friends you make along the uncharted path make the journey worthwhile.
A Psalm for the Wild-Built
When the robots of Panga gained self-awareness centuries ago, they put down their tools and went into the wilderness, never to be seen again. They became legends. Myths.
Until one fulfills its promise to check in.
In true Becky Chambers fashion, A Psalm for the Wild-Built dives deep into the hearts of its characters. In a world where people have everything they want, what do they truly need?
A Wizard's Guide To Defensive Baking
Fourteen-year-old Mona can't defend the city with other wizards her age. Her magic only works on bread, and her familiar, Bob, is a sourdough starter.
But life isn't so bad in her aunt's bakery, especially because she can make gingerbread men dance. Of course, everything changes when she finds a dead body on her bakery floor.
There's an assassin preying on magic. Mona doesn't want to be a hero, but she might be the only one who can save the city—and herself.
Howl's Moving Castle
As the oldest daughter of three, Sophie's fate is grim. If she ever leaves home to find her fate, she's destined to fail—miserably. But when she crosses the Witch of the Waste, she's transformed into an old woman and her only hope is in the wizard Howl's castle.
As if wrangling a constantly moving castle weren't difficult enough, Sophie has to handle the cranky Howl himself, bargain with a fire demon, and face the Witch once more.
Filled with whimsy and sass, Sophie, Howl, and the rest of the delightful cast are enchanting as they embark on an adventure none of them ever saw coming.
To Say Nothing of the Dog
Temporal physicist and Oxford historian Ned Henry has made one too many time jumps. He's sent back to quiet Victorian England to rest. Since he's already there, he might as well pick up an artifact along the way.
But when one love-struck suitor threatens the stability of the future, it's up to Ned to stop them, find their real one-true-loves, and maintain historical balance.
A hilarious nod to Jerome K. Jerome's Three Men in a Boat, To Say Nothing of the Dog will charm and delight as Ned's vacation turns out to be anything but restful. Bad Victorian art threatens more than taste—it can take down the entire space-time continuum.
Cinnamon and Gunpowder
When renowned chef Owen Wedgwood finds himself kidnapped by ruthless pirate Mad Hannah Mabbot, the last thing he expects is to cook for her. But her deal is more complicated than creating simple dining fare: Every Sunday, he has to present her with a meal of the finest quality, with nothing mundane—or he swims home, possibly in pieces.
To Owen's surprise, he finds himself enjoying their weekly interactions. But things are complicated. With a privateer chasing them and a saboteur on board, Wedgwood has to rely on the pirates that once terrified him.