As lovers of all things word related, crossword puzzle books are one of our favorite ways to stave off boredom and keep our minds sharp. They're perfect for long road trips or lazy Sunday afternoons, and can be done with friends, family or by yourself.
No matter whether you prefer doing crossword puzzles from The New York Times or TV Guide, we've rounded up some of the most popular crossword puzzle books you can buy, complete with Amazon recommendations from real reviewers. All that's left for you to do is get solving!
Note: Due to coronavirus, Amazon is currently experiencing delays in shipping.
The New York Times Monday Crossword Puzzle Omnibus
Created by famous crossword puzzle editor Will Shortz, this book is perfect for the solver who doesn't like their puzzles to be too much of a challenge.
"These puzzles are just perfect for me. Not so difficult that I give up but not so easy that they're not challenging." —Cindy S.
75 Easy-to-Read Crossword Puzzles
Not too easy, not too hard—this crossword puzzle book is just right.
"I've never been a major crossword puzzle fan, but I decided to try this as one of the ways in which my brain can get some exercise. I'm really glad I got this because I'm really enjoying the puzzles." —ComfyShoeMaven
The New York Times Hardest Crosswords Volume 6
Looking for a challenge? Try the most difficult puzzles The New York Times has to offer.
"Very difficult yet fun! I have decades of NYT Crossword books. This is the toughest one yet." —Kevin
Simon & Schuster Mega Crossword Puzzle Book
Get a mix of crossword puzzles in this giant book of 300 puzzles. Plus, the pages are perforated, so you can tear them out to write more easily.
"Simon & Schuster Mega Crossword Puzzle Book #1 is just about the right mix of hard and easy, common and esoteric, without the usual New York-centric references that so many other crossword authors include." —Jerry Gillooly
The Everything Easy Large-Print Crosswords Book Volume 7
If you need something that's easy on the eyes, go for large print!
"Just the right amount of difficulty!! Very easy to see-- I give one of these books to anyone who is laid up for awhile, along w/ pencils and a mini-sharpener." —Marcy
People Celebrity Puzzler Superstars: Word Searches, Crosswords, Second Looks, and More
If you know your celebrities, then you'll be a pro at these crosswords.
"I was so happy to see that there was a new People Puzzler coming out. I love these books." —Misty Mcclellan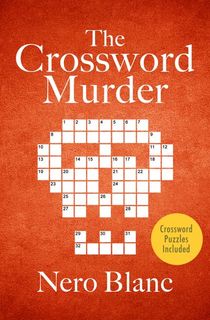 The Crossword Murder
If you're a reader who wants the best of both worlds, check out Nero Blanc's crossword puzzle mystery books. Each novel includes solvable crossword puzzles!
"This was a great cozy murder mystery. I selected it because I am a crossword fanatic. They were relatively easy but an integral part of the story." —Ruthanne Taylor