While "keto" and "meal prepping" may sound like trendy buzzwords in the cooking and diet world, they've both been popular for years now, and for good reason. Meal prepping has been making busy people's lives much easier, and ketogenic diets are well-known for kickstarting weight-loss goals.
One of the most popular purveyors of these food trends is FlavCity, a YouTube channel created by husband and wife team Bobby and Dessi Parrish. FlavCity's main focus is on meal prepping, AKA carving out a few hours to prepare your meals for the rest of the week. But their YouTube channel isn't just meal prep: they also feature shopping tips, cooking basics, and shorts featuring Rose, the couple's young daughter. See Rose help make chocolate chip pancakes below! (Note: If you don't see the video below, click here.)
Though we love watching cooking videos, we often find it's easier to refer to cookbooks while actually making a recipe. And lucky for us, FlavCity delivered with their Keto Meal Prep Cookbook!
Keto Meal Prep combines the best of cooking videos and traditional cookbooks by creating video tutorials to accompany their recipes. This is extra useful for any techniques that might be new to beginner cooks.
Related: The Best Cookbooks for Beginners, Experts, and Everyone in Between
For example, their keto gnocchi (yes, gnocchi!) recipe includes easy-to-reference ingredients and directions in the cookbook, and directs readers to their YouTube tutorial on how to make the gnocchi. We have to admit—as much as we love cookbooks, sometimes it is easier to have someone show you exactly what to do on screen.
Those gnocchi really do look delicious—and they're just one of 50 different recipes included in this cookbook. Plus, Keto Meal Prep is set up to help you make the most of your time while sticking to your diet. In just a few hours, you'll be able to prepare a whole week's worth of healthy meals!
Want more keto meal prep recipes? Download the ebook now!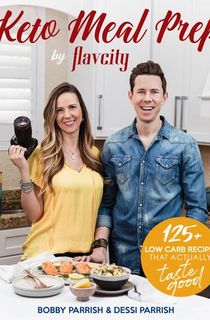 Keto Meal Prep by FlavCity
Keto Meal Prep by FlavCity includes:
50 keto meal prep recipes, each containing 2–3 components
25 individual keto-approved recipes
Detailed macros and carb count for each recipe
Allergen index for nuts, dairy, and eggs for each recipe, and with Paleo designation
Video tutorials that are live on YouTube
Tips for becoming a meal prep boss
Actual fan reviews and more!