Tis the season for books. It's the perfect time to cozy up under a blanket and warm yourself with a good read over the festive period. Perhaps the holidays are when you choose to dig into something heftier, a big literary novel that demands 100% of your attention. Or maybe you know someone with lofty tastes who's always in need of a new book. Whatever the case, we've got ten novels to recommend.
This list is part of the Gift Guide for our 2021 Holiday Ebook Exchange. Click here before December 16 to learn more and sign up!
The Promise
This year's winner of the Booker Prize charts the rise and fall of a white South African family living on a farm on the outskirts of Pretoria. The Swarts are divided by their generational differences, with the younger members resenting everything the family stands for in the shadow of apartheid.
After years of service, their Black servant Salome was promised her own house and land, yet the Swarts have yet to make good on their pledge. As the decades pass, the Swarts' fortunes decline while South Africa's political landscape changes, and Galgut examines the guilt of a nation built upon a racist system.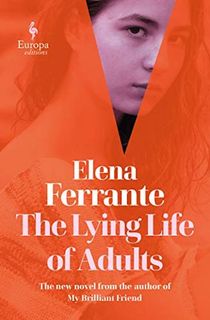 The Lying Life of Adults
One of the undisputed giants of modern Italian literature, Elena Ferrante returns with another novel that pierces through the heart of modern womanhood. Adolescent Giovanna overhears her father claiming that she's growing ugly, turning more and more into her aunt Vittoria, a woman he despises. Soon, Giovanna finds herself eager to figure out the reasons behind this family rift and what it means to be ugly.
Following her life from the ages of 12 to 16, Ferrante charts Giovanna's development as she grows into a rebellious teenager who journeys through Naples and its vast class gap to find her mysterious aunt.
A Single Rose
Rose has just turned forty when she gets a call from a lawyer asking her to come to Kyoto for the reading of her estranged father's will. New to this country, Rose is guided through a strange itinerary by her father's assistant Paul.
In Kyoto, Rose also meets several friends and acquaintances of her father: a potter, a poet, his chauffeur, his assistant, and others who open up to her about the man her father was; the man who she never got to meet. Only after his passing can Rose's dad open his heart to his daughter.
Trust
Pietro and Teresa's love affair is all-consuming but not particularly smooth sailing. They fight and make up and continue in that cycle even as things get more tempestuous than ever. After yet another argument, Teresa gets an idea: they should tell each other something they've never told another person. This will surely help bind them together more intimately than ever.
But then, a few days after sharing their shameful secrets, they break up. Pietro soon falls for Nadia, and quickly proposes marriage, but the pain of the secret he confessed to Teresa haunts him. Can he trust her not to tell anyone else about his shameful confession?
Heaven
The international best-selling author Mieko Kawakami has emerged as one of the most exciting and urgent voices in 21st century Japanese fiction. Her most recently translated novel, Heaven, was celebrated as a bold new direction for her.
The protagonist and narrator is a 14-year-old student who has been bullied his entire life for having a lazy eye. He finds an ally in a fellow classmate, Kojima, who has also been the target of cruelty from other students. She has a unique view on their status as victims: to be singled out is a sign, and to suffer will allow them to rise to a higher understanding of what pain truly is.
For Kojima, the daily torments of her bullies are almost purifying. It's a damaging perspective but one our protagonist cannot help but be drawn to, despite its potential dangers.
Breasts and Eggs
Another book from Kawakami, this wonderfully titled novel was her breakthrough work in the English-language market. Breasts and Eggs tells the story of three women bound together through their experiences of contemporary womanhood in Japan: thirty-year-old Natsuko; her older sister, Makiko; and Makiko's daughter, Midoriko.
Makiko has traveled to Tokyo in search of breast implants, and Midoriko, who is accompanying her, has recently stopped talking altogether, unable to voice her fears over the growing pressures of adulthood. Many years later, Natsuko wants to have a child but her body cannot tolerate sex and artificial insemination is illegal for unmarried Japanese women. All three women struggle with ideas of autonomy and what it truly means to have rights over the body you inhabit.
Cathedral
Ben Hopkins's epic historical novel combines the scope of Hilary Mantel's work with a Medieval drama centered on the building of a cathedral in the vein of Ken Follett's The Pillars of the Earth. The town of Hagenburg, Germany, is the setting for this tale of political intrigue, religious squabbles, and the battle to create a vast new place of worship over the course of several decades.
Cathedral follows the lives of several characters from the highest and lowest levels of society and their changing fortunes as the eponymous structure slowly comes to life. Nobody is safe and everyone's lives will change before the cathedral opens its doors.
Fresh Water for Flowers
Violette Toussaint is the caretaker at a cemetery in a small town in Bourgogne, France. In contrast to the gloominess of her occupation, Violette leads a charmed life, with her friends and colleagues visiting her frequently to provide laughter and companionship in her lodge.
Violette's routine is disrupted one day by the arrival of the local chief of police who insists on depositing the ashes of his recently departed mother on the gravesite of a complete stranger. She finds herself entangled in his family drama and scandalous past, which includes a clandestine affair with ties to Violette's own history.
Shadowplay
Before he wrote the world's most famous vampire story, Bram Stoker was the unremarkable manager of the Lyceum Theater in London. Working alongside Henry Irving and Alice Terry, two of the most acclaimed actors of their era, Stoker finds himself trying to achieve his own artistic aspirations.
As he crafts his magnum opus, London's streets turn darker with the threat of a mysterious killer and Stoker finds inspiration that leads him to create one of the greatest literary icons of all time.
Nives
The award-winning Italian writer Sacha Naspini receives his first-ever English language translation with Nives, a story of loss and the ways that grief warps the mind. Nives didn't cry when she found her husband's body, nor did she shed a tear at his funeral.
Unable to fully understand her feelings on this life-changing moment, she finds herself clinging to her favorite chicken Giacomina for company. He proves to be an ideal friend until he goes into a hypnotic trance while watching a detergent commercial. Nives is forced to call the town veterinarian for help, and the conversation between the two leads to the revealing of decades of very dark and strange secrets.
Want to give or receive one of these books this holiday season? Click here before December 16 to learn more and sign up for our 2021 Holiday Ebook Exchange!