When Agatha Christie published her third Hercule Poirot book, The Murder of Roger Ackroyd, she introduced readers to a spinster character by the name of Caroline Sheppard. However, when the novel was adapted to the stage, the character was replaced with a younger actress. According to AgathaChristie.com, "This change saddened Christie and she determined to give old maids a voice: Miss Marple was born."
Next to Poirot, Miss Marple may be Christie's most famous character, having appeared in more than a dozen books and been portrayed on screen numerous times, by actors such as Margaret Rutherford and Angela Lansbury. Christie first introduced her to readers not long after the publication of The Murder of Roger Ackroyd, in a 1927 story written for The Royal Magazine. "The Tuesday Night Club" sees a group gathered at Miss Marple's home to tell mystery stories. While she seems the most unlikely one to solve them, she proves to have the most discerning ability to do so – thus would begin Marple's literary career.
The first Miss Marple novel came just a few years later, with Agatha Christie's The Murder at the Vicarage in 1930. More than a dozen other books would follow, including eleven more novels and several short stories. After Christie's death, other authors have also taken up the pen and put new Miss Marple adventures onto the page.
Not sure where to start with the original "old maid" detective? Not to worry! We've gathered all of Christie's Miss Marple books here for you, in the order that they were originally published!
The Murder at the Vicarage
For most readers, this 1930 novel was their introduction to both Miss Jane Marple and to the seemingly quiet village of St. Mary Mead, which one writer, in the 1990 book A Talent to Deceive – an appreciation of Agatha Christie, described as "a hotbed of burglary, impersonation, adultery and ultimately murder."
There's a bit of all the above in Miss Marple's first novel-length adventure, and a good idea of what readers will come to expect from these books.
The Thirteen Problems
Also published as The Tuesday Club Murders, this was the first collection of Miss Marple short stories, including her very first published adventure, "The Tuesday Night Club." In fact, many of the thirteen stories contained herein are framed as tales told at the eponymous club, which acts to transform the collection into something of an episodic novel recounting some of Miss Marple's earliest adventures.
The Body in the Library
More than a decade elapsed between the publication of the first Miss Marple novel and the release of the second. While The Body in the Library picks up at St. Mary Mead, much of the action shifts to a seaside resort, as Miss Marple investigates the murders to two young women who, outwardly, appear virtually identical.
Unraveling the question of "whodunit" (and why) takes many twists and turns, before arriving at a denouement as only Christie can deliver.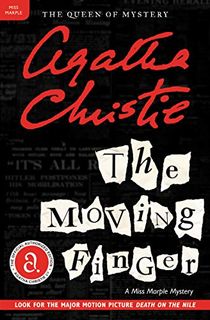 The Moving Finger
In one of Agatha Christie's more memorable setups, a town is held in the grip of terror by a campaign of "poison pen" letters, making false accusations about the townsfolk that may nonetheless have deadly consequences.
Narrated by one of the characters affected, The Moving Finger is unusual among Miss Marple novels in that the venerable detective doesn't actually arrive on the scene until partway through the mystery, though she is certainly there to see it all resolved.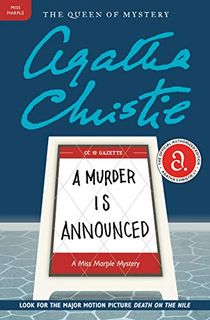 A Murder Is Announced
Hailed at the time of its release as Agatha Christie's 50th book – though the veracity of that claim depends upon how you count – A Murder is Announced opens with just what its title suggests: An announcement in the local paper of the small town of Chipping Cleghorn which broadcasts the date and time of a forthcoming murder, though not who the victim will be.
When the appointed time comes, there is, indeed, a dead body left behind, and a mystery that will require the touch of Miss Marple before it is solved.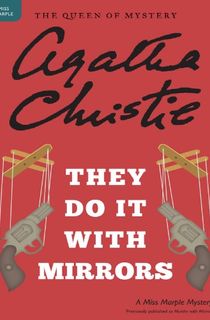 They Do It With Mirrors
What could be more atmospheric than a séance held in a big Victorian house in the English countryside? Possibly one that ends in murder. An argument at gunpoint ends in shots fired, but neither of the two men involved are the victim. Instead, he is found dead elsewhere in the house.
So, what happened while the lights were out? That's for Miss Marple to piece together in this thrilling addition to Agatha Christie's esteemed body of work.
A Pocket Full of Rye
Like many of Agatha Christie's novels, A Pocket Full of Rye takes both its title and the inspirations for its murders from a children's nursery rhyme. And like many of her books, it is filled with twists and turns that, according to one contemporary reviewer are "ingenious at the expense of probability." Probable or not, the many mysteries that abound in A Pocket Full of Rye, which sees Miss Marple investigating a string of deaths among one wealthy family, will keep readers guessing – and turning the pages!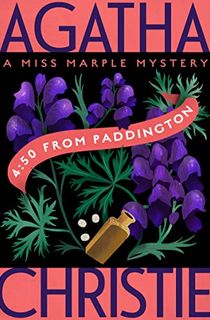 4:50 from Paddington
Published in the U.S. as What Mrs. McGillicuddy Saw!, the seventh Miss Marple novel was also the first of several stories starring the sleuth to be adapted to the screen, in this case as the 1961 film Murder, She Said.
In the book, an acquaintance of Miss Marple's witnesses a murder being committed on a moving train, describing the act to her detective friend who, of course, manages to get to the bottom of it, though not before the innumerable red herrings and twists that Christie fans have come to expect.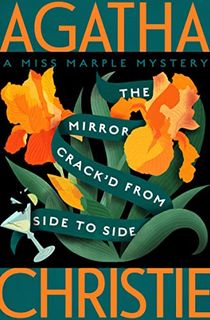 The Mirror Crack'd from Side to Side
Once again, murder has come to St. Mary Mead, this time following on the heels of an American actress who recently settled in the community.
Though Agatha Christie was reportedly not a fan of the early Miss Marple movies starring Margaret Rutherford, the novel is nonetheless dedicated to her – perhaps not the compliment it could have been, given the nature of the plot and its ultimate denouement.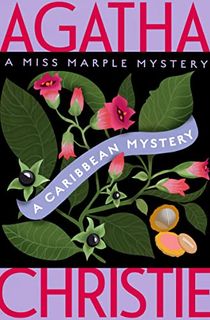 A Caribbean Mystery
While many of Miss Marple's adventures take place in her own hometown of St. Mary Mead, several others see her traveling far and wide, visiting London and other villages throughout England.
Rarely does she travel as far as in A Caribbean Mystery, however, where she is visiting the Caribbean island of St. Honore as a rest cure paid for by her nephew when she becomes embroiled in yet another murder mystery – one that many reviewers declared shows Christie at the top of her form.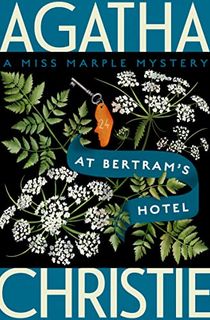 At Bertram's Hotel
Staying in a London hotel that is a scrupulous recreation of the Edwardian era, At Bertram's Hotel finds Miss Marple once again away from home and in the midst of a new mystery, this time one with a "hotel atmosphere" that is "very well conveyed and used" (Barnard Robert again, writing in A Talent to Deceive).
There's a murder or two before all is said and done, but this novel also sees Miss Marple thwarting a band of robbers that have ties to the hotel itself – why stop at one mystery when you can solve two?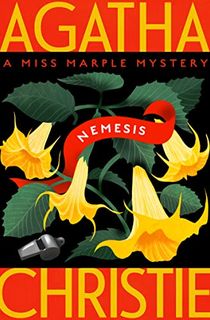 Nemesis
The last Miss Marple novel that Agatha Christie ever wrote – though the second-to-last published, due to the vagaries of the book publishing world – Nemesis features the posthumous return of a character first introduced in A Caribbean Mystery.
In his will, Jason Rafiel leaves Miss Marple one more mystery to solve; one that will help to exonerate his son and also net Miss Marple an inheritance, if she can pull it off. Naturally, we the readers know that she will, but getting there is more than half the fun!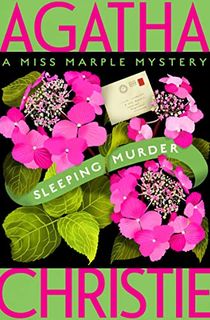 Sleeping Murder
Released posthumously following Agatha Christie's death in 1976, Sleeping Murder may be the last of Christie's Miss Marple novels to see publication, but it may have been one of the first she wrote. Early drafts of the book seem to date back as far as the 1940s, when it may have been written during the Blitz.
It concerns a woman who seems to have memories from her infancy of a murder, and attempts to solve it with the help of her husband and Miss Marple, even though it would have been committed 18 years prior.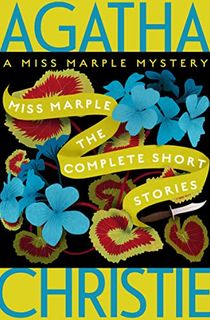 Miss Marple
Alongside a dozen novels, Agatha Christie wrote some 20 short stories featuring the spinster detective. These were often gathered into collections featuring others among Christie's various sleuth characters.
However, in 1985, virtually all of the Miss Marple short stories were assembled into a single volume, pulling short stories from numerous publications to offer a broad portrait of one of Agatha Christie's most beloved characters – and an ideal spot to end this list.