On January 4, 2023, Fay Weldon passed away at her nursing home in Northampton, England. Though the 91-year-old author was unable to physically write, her son Dan Weldon told the New York Times she was still writing in her head. "She was thinking about writing poetry," he said. "She was a writer to the very end."
Weldon published many books over the decades. She often called the first 30 or so years of her life "scandalous" and "delinquent," a period that she chronicled in her memoir, Auto da Fay.
The rest of her life was spent examining the human condition, particularly the divide between men and women, with her trademark dark satire. Her sharp writing proved popular: The Lives and Loves of a She Devil was adapted into a movie starring Meryl Streep, and Praxis was shortlisted for the Booker Prize.
Though Weldon was considered a feminist writer for much of her career, she later made comments criticizing modern feminist beliefs. Then again, as reviewer Kate Kellaway once concluded, "the delight of Fay Weldon is that one can seldom be absolutely sure if she is serious."
Fay Weldon Books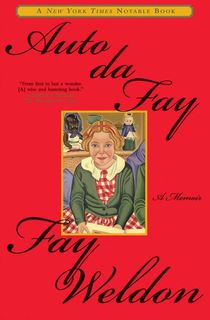 Auto da Fay
A New York Times Notable Book: The "wise and haunting" memoir from one of England's most witty and beloved writers is "from first to last a wonder" (Jonathan Yardley, The Washington Post).

From life as a poor unwed mother in London to becoming one of England's bestselling authors, Fay Weldon has crammed more than most into her years. Wife, lover, playwright, novelist, feminist, antifeminist, winer and diner—Fay leads us through her peripatetic life with barely a role she can't illuminate.

Born Franklin Birkinshaw in 1931, Fay spent most of her youth in New Zealand. With her glamorous father, a philandering doctor, generally absent, Fay's intrepid mother and bohemian grandmother raised her along with her sister, Jane. Brought up among women, Fay found men a mystery until the swinging sixties in London where she became a central figure in the literary scene. She scraped along penning winning advertising slogans before she began to write fiction. As this memoir comes to a close, we witness the stirring of her first novel.

Riddled with Weldon's fierce opinions, as well as her "stinging wit, jaunty prose, memorable bon mots," this frank and absorbing memoir is vintage Fay. An icon to many, a thorn in the flesh to others, she has never failed to excite, madden, or interest. And now she has finally turned her authorial wit and keen eye on . . . herself (Publishers Weekly, starred review).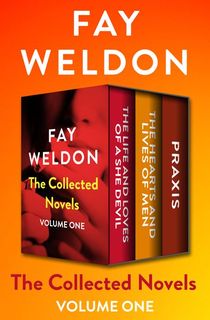 The Collected Novels Volume One
The Life and Loves of a She Devil
A New York Times Notable Book
"With infectious, wicked glee," Weldon tells the story of Ruth, whose husband, Bobbo, has fallen in love with Mary Fisher, a bestselling romance novelist who lives in a high tower overlooking the sea (Chicago Tribune). Mary is petite, dainty, and lovely. Ruth is not. When Bobbo moves out, Ruth decides to orchestrate an elaborate and masterful revenge. Weldon's "powerfully funny and oddly powerful" novel was made into a film with Meryl Streep and Roseanne Barr (The Washington Post Book World).

"A scintillating, mind-boggling, vicarious thrill for any reader who has ever fantasized dishing out retribution for one wrong or another." —The New York Times Book Review

The Hearts and Lives of Men: In Weldon's "imaginative work of Dickensian scope" set in 1960s London, Clifford Wexford and Helen Lally meet at a party and fall passionately in love (Los Angeles Times). But their baby, Nell, isn't even a year old when their marriage unravels. Divorce quickly follows, and so begins a battle for Nell's care and affection. Helen remarries; Clifford has affairs—and something quite remarkable happens to little Nell, as an ill-conceived kidnapping plot sets her on a series of picaresque adventures in this modern-day fairy tale.

"Wry, gutsy and loaded with fun." —The New York Times

Praxis
Shortlisted for the Man Booker Prize
Praxis Duveen is a survivor. At five years old, in 1920s England, she is still innocent, the product of an unstable mother and a father who abandoned her and Hypatia, her half-crazy sister. As the decades fly by, Praxis experiences many incarnations, from prostitute to rape victim, wife to adulteress, and eventually becomes the accidental leader of an international women's movement. Now, from her dingy basement apartment where she's attempting to write a memoir, Praxis recounts her remarkable journey—peppered with more than a few detours along the way.

"Weldon's most directly feminist novel . . . A narrative that convinces, horrifies, and entertains." —Library Journal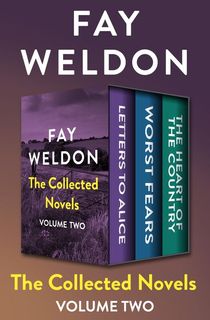 The Collected Novels Volume Two
Letters to Alice: With the dire warning, "You must read, Alice, before it's too late," Aunt Fay implores her niece to immerse herself in the works of enduring authors. Taking its inspiration from Jane Austen's relationship with her niece, Weldon's epistolary novel explores the literary life, as lived by both Austen and eighteen-year-old Alice, as she struggles with her own writing, school, parents, romance, ambition, and spiky green hair.

"Wise, sharp, informative . . . shrewd and funny." —The Times Literary Supplement

Worst Fears
A New York Times Notable Book
A darling of the London theater world, Alexandra Ludd is playing Nora in Ibsen's A Doll's House when her husband, Ned, former theater critic and stay-at-home father to their young son, Sascha, dies of an apparent heart attack. But when Alexandra returns to their country home, her grief begins to give way to suspicion. Ned didn't keel over in the dining room, as her good friends told her. He died in their bed—and he wasn't alone. What's a widow to do?

"This splendid and spiteful novel shows Fay Weldon to be in as fine form as ever." —The Philadelphia Inquirer

The Heart of the Country: When her husband kisses her and their children goodbye, departs for the office, and never returns, Natalie blames herself. Perhaps if she hadn't been cheating on him every Tuesday and Thursday, he wouldn't have left her for his secretary, a local beauty queen. Penniless and soon homeless, Natalie finds herself navigating the heartless labyrinth of the state welfare system. There, she meets Sonia, who offers to shelter Natalie and her children. But Sonia has her own agenda (hint: she's narrating from a mental institution) that will culminate in a monstrous act of vengeance at the town's carnival.

"Galloping, good, mean fun." —Kirkus Reviews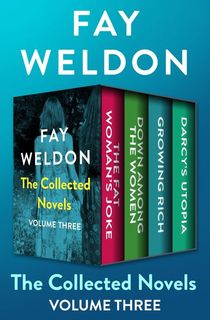 The Collected Novels Volume Three
The Fat Woman's Joke: A novel about sex, food, marriage, and the indignities of the 1960s. After a lifetime of gorging herself, Esther Wells has an epiphany: She and her husband are going on a diet. Dedicated foodies throughout their marriage, they are about to discover what happens when new passions supplant old.

"[Weldon is] an insightful and persuasive social commentator with an exhilarating mind." —Susan Isaacs, author of Compromising Positions

Down Among the Women: In 1950s London, Scarlet was raised by her mother—a former radical who left her husband to be fiercely independent. But at twenty, Scarlet has already had one abortion, and is about to become a single mother to the child she's naming Byzantia. Over the course of twenty years, Scarlet and her friends will discover it's never too late to become the women they are meant to be.

"[A] stinging, brilliant comic novel." —The Christian Science Monitor

Growing Rich: Carmen is sixteen when Bernard Bellamy spies her from the back seat of his big, black BMW. He's just made a bargain with Mephistopheles: his mortal soul in exchange for the fulfillment of his desires. As time passes, inexplicable things happen to Carmen and her friends. But she's determined to hang on to her soul, no matter what obstacles—or temptations—are erected in her path. Will she succumb? Only the devil knows . . .

"Glorious entertainment." —Women's Journal

Darcy's Utopia: With her husband in prison for financial crimes, Eleanor Darcy is a media sensation. A self-professed "feminist of the socialist variety," she grants an interview to a pair of journalists. During the course of their conversations, two journalists find themselves on a life-changing journey as Eleanor spins her vision of a future where money is abolished and "all men will believe in God and be capable of love."

"A dazzling tour de force from one of Britain's most inspiring and intelligent novelists." —Cosmopolitan