The great Japanese writer and Nobel-prize literature winner Kenzaburō Ōe passed away on March 3rd, at the age of 88. His publisher confirmed he left this world peacefully, and his end was brought on by old age. Known for his powerful, deeply personal writings, his narratives confront difficult and controversial human issues head-on and know no boundaries.
He is considered one of the most important and influential writers of post-World War II Japan and was a fierce critic of wars, nuclear power, and the revival of Japanese nationalism. Many of his stories and essays reflect important events from his life, such as the impact of war on Japanese society, as seen in The Silent Cry, which was hailed as his masterpiece by the Nobel committee. He also drew inspiration from raising his handicapped son Hikari, exploring his own experiences as the father of a disabled child in his novels A Personal Matter and A Quiet Life.
His mastery of the world of bizarre-yet-human circumstances takes readers on a journey of raw and tortured imagination amidst shocking self-discoveries. With personable characters, he tackles themes of the nature of human suffering and the search for meaning in a chaotic world.
Some of Oe's most poignant and profound writings are included below to remember the great talent he was.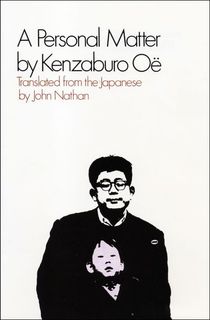 A Personal Matter
This work was hailed by the New York Times as an "almost perfect contemporary novel." Oe masterfully tells a tale of human predicament and self-discovery. Bird is a depressed twenty-seven-year-old grasping at his failing marriage with a bottle of whiskey. He dreams of running away to Africa and putting the past behind him.
However, his fantasies must be put on the back burner when his wife gives birth to a son with a brain hernia. In a dark and twisted, although very comedic, turn of events, Bird contemplates his selfish human desire to kill his newborn son.
The question that lingers in Bird's mind is how he and his wife can carry on with the burden of their son's debilitating condition. Bird believes he has found a solution. However, before he can act on his plan, he embarks on a self-destructive journey of sexual encounters and heavy drinking, driven by feelings of shame and self-hatred, and leads to a shocking self-discovery that could change everything.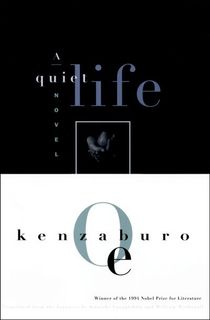 A Quiet Life
The boundaries between reality and imagination blur in a haunting fusion of memoir and fiction in A Quiet Life. Reading as the diary of a twenty-year-old Japanese girl named Ma Chan, we enter into the complexities of her family dynamics. Her father is a famous and captivating novelist, her older brother has severe brain damage but is musically gifted, and her mother has devoted her life to caring for them both.
Despite living under the same roof, Ma-Chan feels like an outsider in her family, struggling to find a place in their hearts. However, when her father accepts a visiting professorship in America, the family household is abruptly altered, thrusting Ma-Chan into new responsibilities, and prompting each sibling to explore new dimensions of their lives.
This powerful novel challenges readers to think critically and embrace differing perspectives, inviting them to delve deeper than surface-level observations and understand the complexity of the human experience.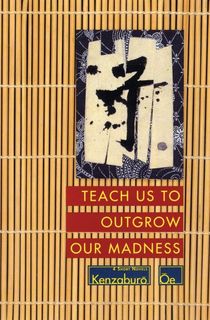 Teach Us to Outgrow Our Madness
Oe immerses readers into the world he knows best—one of twisted and bizarre imagination—with this stunning four-novella collection.
The first novella, The Day He Himself Shall Wipe My Tears Away, features a self-centered protagonist on his deathbed who reminisces about his painful childhood, marked by militarism, humiliation, sacrifice, and revenge. However, his narrative is met with skepticism by those who knew him.
The second novella, Prize Stock, winner of the Akutagawa Prize, portrays the story of a black American pilot who crashes in a Japanese village during World War II and is viewed as an exotic and forbidden treasure by the local children.
The third novella, Aghwee the Sky Monster, follows a young man on his first day at work who is inexplicably haunted by the floating ghost of a baby.
Finally, the title story, Teach Us to Outgrow Our Madness, tells the tale of a devoted father who believes he is the only bridge between his mentally disabled son and reality.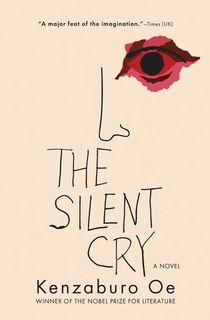 The Silent Cry
The Silent Cry tells the heartbreaking story of two estranged brothers returning to their ancestral village in Japan. Their reunion brings no joy, as they are both consumed by personal tragedies. One brother is tormented by his friend's suicide, the birth of his disabled son, and his wife's descent into alcoholism. The other brother, meanwhile, fights to revive the crumbling community culture and economy threatened by the influence of a foreign businessman.
The brothers are haunted by the deaths of their siblings and their great-grandfather's legacy, a political hero. As family secrets are unearthed, their bond is stretched to the brink, and their lives are forever altered. This novel is a poignant reminder of the fragility of family ties and the weight of unresolved grief that still resonates with readers today.