While many readers associate sci-fi and fantasy with giant doorstopper-sized tomes, the SFF publishing world has always been heavily defined by its shorter fiction.
Sci-fi and fantasy novellas remain very popular with readers, and some of the most beloved authors in the genre have written their best work in this form.
The Hugo Awards, one of the biggest names in celebrating SFF, defines a novella as a work of fiction between 17,500 and 40,000 words: not brief enough to be a short story, but still more compact than your traditional 300+ page novel.
If you're searching for some bite-sized adventures, look no further than these sci-fi and fantasy novellas.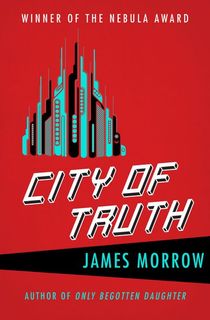 City of Truth
James K. Morrow writes sci-fi, fantasy, and unconventional historical novels, many of which tackle immense theological issues with a wry satirical edge. He took home the Nebula Award for City of Truth in 1992.
In Veritas, truth reigns supreme. Radical candor is commonplace, and residents are trained to be painfully honest through violent conditioning known as brainburn.
For Jack Sperry, this life is perfectly normal. But then Jack's son becomes sick, and lies are the only way to heal him.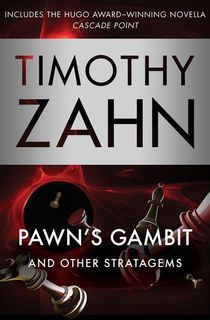 Pawn's Gambit
If you're a fan of the extended Star Wars literary universe then the name Timothy Zahn will be familiar to you. His Grand Admiral Thrawn series is so beloved by fans of the franchise that there have been calls for the Thrawn character to be brought into the films.
Before Thrawn, however, Zahn was already a Hugo Award winner thanks to the novella Cascade Point. This story of future space travel based on dimensional theory follows the passengers and crew of one starship as they try to find a way back to their own realm.
Cascade Point can be found in the collection Pawn's Gambit.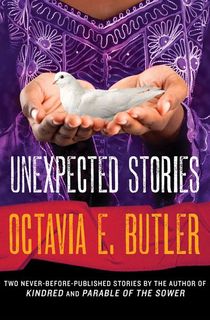 Unexpected Stories
Modern sci-fi simply would not exist without the work of Octavia E. Butler. Her novels imagined worlds that could feel utterly alien yet terrifyingly prescient.
Butler's works like Kindred and the Lilith's Brood trilogy raised the bar for what the genre could and should accomplish. Her novella A Necessary Being was written in the 1970s but went undiscovered for decades until it was found in the Huntington Library in San Marino, California.
A companion story to Butler's Patternist series, the novella follows two tribes of alien creatures and their respective efforts to preserve their cultures in the face of potential erasure.
"A Necessary Being" can be found in the Unexpected Stories collection.
Binti
Nigerian-American writer Nnedi Okorafor won her first Hugo Award for Binti, the first novella in a trilogy that blends space opera, Africanfuturism, and intergalactic diplomacy.
Binti is the first member of the Himba ethnic group to be admitted into the Oomza Uni. She boards a transport ship to her new school, only for the vessel to be attacked by the Meduse aliens.
Binti soon finds herself the lone human left to stand against a terrifying force, and she'll need both ancient technology and new discoveries to stay alive.
Stories of Your Life and Others
There may be no modern short story writer in the sci-fi genre as lauded as Ted Chiang, whose work has received no fewer than 12 Hugo nominations.
Story of Your Life is Chiang's most famous work, in large part thanks to the film adaptation Arrival, starring Amy Adams.
A linguist named Dr. Louise Banks is called upon to help translate the mysterious language of aliens who have arrived on Earth. The more time she spends with them, the more disjointed her understanding of time becomes, and soon she can see far into her past and future.
The Deep
The rap group Clipping is comprised of Tony Award-winner and original Hamilton star Daveed Diggs, William Hutson, and Jonathan Snipes. In 2017, the group wrote "The Deep", a song about merpeople born from the descendants of African slave women who were thrown overboard.
Writer Rivers Solomon was then brought on board to turn this song into a hugely affecting novella.
In the underwater society depicted in The Deep, one citizen acts as a historian, holding onto all of the memories and trauma of their people so that it won't be forgotten but also can't inflict endless pain on everyone else.
This job falls to Yetu, and the weight is too much to bear. She tries to flee to the surface to escape it all, but history is not so easily pushed aside.
Magic for Beginners
Over the past two decades or so, Kelly Link has established herself as one of the most beloved modern writers of magical realism (although her work frequently combines speculative genres).
Among her many awards, Link has won a Hugo, three Nebula Awards, and a MacArthur "Genius" Grant. One of Link's books was even shortlisted for a Pulitzer Prize, a serious rarity for the SFF genre.
The title story of her 2006 anthology, Magic for Beginners, is a great starting point for those new to Link's work.
Jeremy Mars is a teenage boy who is a fan of a television program called The Library. He's also, curiously, a main character in it, as are the people he loves. As new episodes of The Library air, we see how Jeremy and those around him deal with this strange disjointed way of life.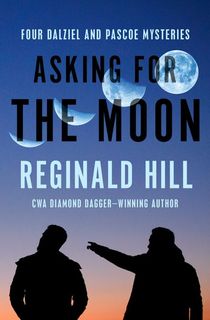 Asking for the Moon
Dalziel and Pascoe are two of the most famous detectives in British crime fiction, a classic pair of mismatched sleuths who work together to solve the murder of the day.
For One Small Step, a novella published in 1990, Reginald Hill decided to take Dalziel and Pascoe out of their comfort zone and transport them to the moon.
In May 2010, Emile Lemarque, a French astronaut, is killed by a malfunction of his urine collection device, so our officers must fly into space to figure out if foul play is afoot. It's certainly an unexpected direction for the series to take!
One Small Step can be found in the Asking for the Moon collection.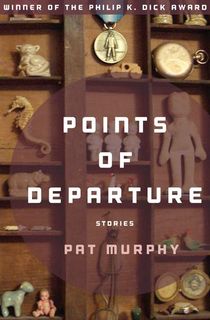 Points of Departure
In addition to winning multiple awards for her celebrated works, Pat Murphy also co-founded the James Tiptree Jr. Award (now called the Otherwise Award) to celebrate SFF that expands the understanding of gender.
Perhaps Murphy's most famous work is the novelette Rachel in Love, which was first published in 1987 and quickly went onto win the Nebula and Locus Awards.
When a neurologist's teenage daughter Rachel is killed, he transplants her personality into a chimpanzee with increased intelligence and teaches her sign language. Their reunion is short-lived when the neurologist dies, and Rachel is sent to live in a primatology center with nobody aware of who she really is.
Rachel in Love can be found in the collection Points of Departure.