Science fiction has alway imagined post-apocalyptic civilizations and oppressive dystopian societies. Too often, the world we live in even feels like the pages of a dystopian novel.
America has a seemingly ever-growing and more intrusive surveillance state, with extreme social inequality and ongoing ecological disaster. Against this stark reality, optimistic speculative fiction can be radical.
Pick up one of these sci-fi and fantasy books with a hopeful vision for the American future—one that offers a framework for what a more equal, sustainable country might look like.
Ecotopia
Originally published in 1975, Ernest Callenbach's visionary novel remains as timely now as the day it hit bookstore shelves.
Set in a future where California, Washington and Oregon secede from the Union to create an ecologically stable society, the novel tells the story of Will Weston, a reporter who becomes the first officially-sanctioned U.S. visitor to Ecotopia.
RELATED: 10 Solarpunk Books for When You Crave Optimistic Sci-Fi
Written as an epistolary novel combining Weston's personal diary and the newspaper dispatches he sends to his publisher, Ecotopia charts Weston's initial skepticism and eventual enchantment with a world very different from the one he knows.
It is a fascinating and thought-provoking imagining of a what a radical shift in our conception of society could produce.
Three Californias
Best known for his Mars Trilogy and his extraordinarily detailed alternate history fiction, Kim Stanley Robinson's first foray into speculative fiction imagines three distinct futures for his hometown of Orange County, California.
The Wild Shore centers around the survivors of a nuclear war enduring in an America increasingly cut off from the outside world.
The Gold Coast imagines Southern California as an extension of Los Angeles's urban sprawl – an endless dystopian mass of condos, freeways, corporate malls. And Pacific Edge posits a world where the U.S. acts swiftly and boldly on the threat of climate change, creating a green utopia that may, in reality, be more complicated than it appears. This richly-imagined trilogy is quintessential Kim Stanley Robinson.
RELATED: 8 Vital Sci-Fi Climate Change Books
Woman on the Edge of tTime
An enigmatic and unforgettable speculative fiction novel, Woman on the Edge of Time centers around Connie Ramos, a bereaved patient in a New York mental health hospital.
During her stay, Connie is visited by time-travelers from 2137, who show her a vision of a world of equity, peace, and environmental prosperity.
Connie knows this new future is within humanity's grasp, but not guaranteed. A sobering exploration of what it's like to be marginalized in America, Woman on the Edge of Time also suggests an alternate world that feels tantalizingly close.
LaGuardia
In this alternate world graphic novel, aliens have fully integrated into human society.
The story centers around Nigerian-American doctor Future Nwafor Chukwuebuka, a recent immigrant to the US who arrives pregnant with a child of "complicated" heritage, smuggling a sentient illegal alien plant named Letme Live.
As she adjust to her new community, Future is suddenly swept up in the unrest and protests against the government's strict new immigration laws. Drawing inspiration from current events and its ripped-from-the-headlines themes, LaGuardia is speculative fiction at its best.
Station Eleven
Emily St. John Mandel's fourth novel is set against the backdrop of a world ravaged by a catastrophic plague. At its core, though, Station Eleven is a genuinely hopeful and radical meditation on the power of art in the face of tragedy.
The novel divides its focus between a troupe of performers touring across the remnants of the Great Lakes Region, and another group that has been stranded for years in an airport.
When the troupe is threatened by a violent cult, they are forced to splinter and make their way toward what will hopefully be a safe haven.
Interspersed with the main narrative are flashbacks to the beginning of the pandemic in America and Canada, which explore the extraordinary consequences a single event had for this strange and brave new future.
RELATED: Authors Share How Apocalyptic Fiction Can Be An Antidote to Panic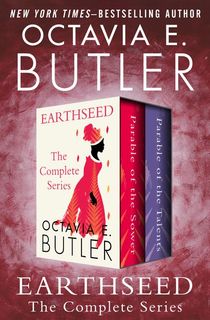 Earthseed
In the two-book Earthseed series, Octavia Butler imagines a near-future dystopia in the aftermath of an ecological and economic collapse that brought the world to its knees.
In Parable of the Sower, Butler tells the story of Lauren Oya Olamina, a young woman with an extraordinary capacity for empathy, who escapes the slaughter of her family and flees the protection of her gated community.
Lauren eventually creates a new community with her fellow survivors built around an idea she calls Earthseed, but when that community is threatened by outside forces, Lauren will be forced to choose between preserving her faith in Earthseed or saving the small family she's created.
Like the best speculative fiction, Earthseed is both timeless and shockingly prescient. And although the uncannily accurate world of Earthseed is terrifying and brutal, Lauren's ideology conceptualizes a better, more sustainable world.
RELATED: Listen to the First Episode of Octavia's Parables, a New Episode Dedicated to Octavia Butler
The City We Became
The City We Became is an uncompromising and dizzyingly imaginative ode to New York City.
The novel imagines a city on the verge of sentience, in need of an avatar to protect it against an eldritch horror set to strike at the most vulnerable time.
New York has five avatars. In Manhattan, a multi-racial grad student with no memory of his past; in Brooklyn, an African-American rapper turned city council woman; in the Bronx, a Lenape woman and director of an art center; in Queens, an Indian math prodigy living on a visa; and in Staten Island, a racist Irish-American woman struggling in a world she feels is no longer safe for her.
Each can feel the heartbeat and soul of their city. Together, they heed the call and come together to stop the insidious – and all too familiar – horrors that threaten to rip the city apart.
RELATED: 9 Books by Black Fantasy Authors Getting Me Through 2020
The Fifth Sacred Thing
Set in California in 2048, Starhawk's debut fiction novel is set in a dystopian future where a corporate theocracy rules the country with an iron fist and has its sights on the independent ecotopian state that has sprung up in the Bay Area and northward.
In this new San Francisco, a peaceful enclave of eco-feminist witches come together to hold off the invading forces of the Corporate Stewards and maintain their way of life.
RELATED: 9 Sci-Fi and Fantasy Novels That Celebrate Rebellion
All the Birds in the Sky
Patricia is a nascent witch only just discovering her powers. Laurence is a technological prodigy building gadgets and supercomputers in his bedroom. The pair meet in junior high, but are quickly parted as Patricia is sent to a secret academy for witches and Laurence to a military reform school.
The duo stumble on each other years later at a party. Patricia is now part of coven seeking to hold off the world's impending ecological ruin. Laurence has joined an enclave of tech geniuses attempting to build a wormhole generator to escape what they see as a dying earth.
As a battle between magic and science wages in their beloved San Francisco, the pair must envision a bold new world—and find the courage to thrive even when the future is uncertain.
RELATED: Charlie Jane Anders on Supporting Bookstores, and Ourselves, During Coronavirus