Blazing saddles, cowboys and Indians, more -isms than you can shake a stick at—that doesn't do it for you? We get it. More into romance, raw emotion, and regret? What about contemporary violence set against a frontier backdrop, spattered with fits of wit and pathological pathos? Us, too.
With that in mind, here are eight westerns for people who hate westerns. They've all got true grit—and substance, too.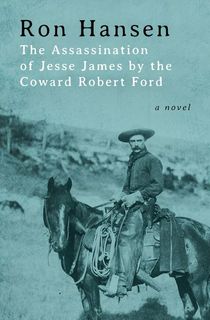 The Assassination of Jesse James by the Coward Robert Ford
Try and ignore the ridiculously infinite title. Trust us, this account of the gentleman bandit during his final days on Earth is a blend of narrative and history you wanna ride off into the sunset with. When you're done reading, head off into the novel's alarmingly accurate and hauntingly beautiful film adaptation directed by Andrew Dominik.
Juliet in August
Juliet is a no-stop-sign kind of town, landlocked by desert hills and the facts of life. Though it's a modest area, the stories of its people make it richer than any cosmopolitan hotspot. You have a compassionate banker with a pregnant teenage daughter, an entrepreneur who offers rides on a camel named Antoinette, and several other endearing characters whose paths cross on one summer day in Diane Warren's poetic western.
The Orchardist
Here's a contemporary western for the modern age. About a solitary orchardist who tends to the land at the foot of the Cascade Mountains, the two teen girls he takes under his wing, and the consequences that come of his hospitality, Amanda Coplin's debut novel wrangles themes of brutality, empathy, and family.
Lonesome Animals
Lonesome Animals challenges old-school westerns to a duel with a reimagined western-meets-detective drama that harkens a bit of Cormac McCarthy but with a swagger all its own. Bruce Holbert writes about a lawman named Russell Strawl called out of retirement to hunt down a serial killer carving up Native Americans and ditching their bodies along the Okanogan Mountains, but ends up confronting a most unlikely monster: himself.
Lonesome Dove
Do you prefer true emotion over true grit? Opt for this Larry McMurtry saga set in the old frontier of a Texas border town. It's the first of the Lonesome tetralogy, and it has everything you want in a dusty soap opera: impossible romances, juicy scandals, and good old-fashioned murder.
Blood Meridian
A contender for the Great American Novel, this anti-western follows "the kid" as he crosses paths with the Glanton gang. Set in the mid 1800s, on the border of the U.S. and Mexico, the novel features plenty of Cormac McCarthy's trademark violence and an incredible amount of research.
Vermilion
Are you annoyed with Westerns because they so rarely feature female heros? We've got just the book for you.
Vermilion brings much of the feminist, genre-(and gender-)bending weirdness that Tanzer is known for to the wild West as we follow a "gunslinging, chain-smoking, Stetson-wearing Taoist psychopomp" named Elouise "Lou" Merriwether who is on the trail of several missing youths from San Francisco's Chinatown.
Related: 8 Books About Outlaws From the Days When the West Was Wild