Let's be honest, it can be hard for all of us to keep our cool 24/7. The world is not always kind to us, and there's a lot to be angry about. Anger is a natural human response. And when channeled healthily, it can be beneficial in decision-making and everyday life.
However, unhealthy anger can lead to broken relationships and loss of control in life. Luckily, there is an abundance of resources out there from professionals who are proven to aid in managing your anger.
If you're ready to take the next step and learn how to get a hold of your anger, you're in the right place. We have compiled a list of 9 exceptional anger management books that you can start reading today. Find judgment-free programs, interactive challenges, happiness guidebooks, and ancient approaches to target and transform your rage. Start spending less time exploding with anger and more time achieving inner peace.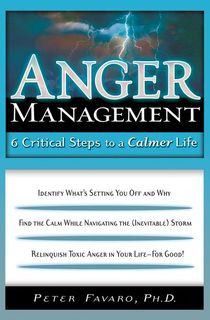 Anger Management
Peter Favaro tackles anger management in an easy-to-follow and interactive way. The book is separated into two sections. The first helps characterize the psychology and behavior of aggressive people; the other teaches you how to keep calm under triggering situations.
Find out where your anger comes from and why. Discover the role anger and conflict plays in your everyday life with the help of real-life examples. And start living your life free from toxic anger.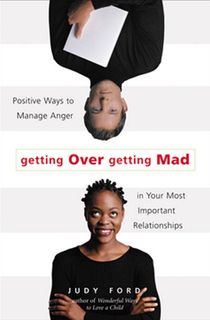 Getting Over Getting Mad
When your anger weighs on your relationships, it can be hard to keep people around. Judy Ford is a renowned psychotherapist offering help in managing anger in your relationships.
She focuses on teaching us how to handle stress and annoyances as they occur, to limit fallouts and hurt feelings. With real-world situations like workplace conflict and marital arguments, this book helps navigate life's rockiest roads.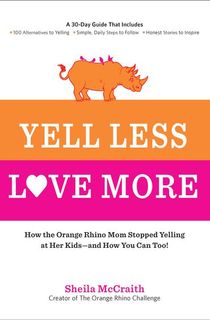 Yell Less, Love More
A rhino is a naturally calm animal that attacks when provoked. An orange rhino is a person who parents without anger and harsh words, even when annoyed. Take the 30-day "Orange Rhino Challenge" to become a happier parent and leave your anger behind.
Aside from the challenge, this guidebook shares daily motivations, life lessons, and parenting stories from the author. It's judgment-free and reads like an open conversation with your best friend.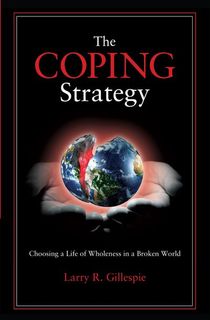 The Coping Strategy
Retired psychologist, Larry R. Gillespie shares his management strategy that uplifts and encourages you to deal with your problems, while gaining happiness and a new purpose in life.
This coping strategy involves embracing the powers of choosing, overcoming, pausing, initiating, negative thinking, and giving. Gillespie's method works by targeting the brokenness in your life and applying the powers to fix it. Learn to replace your anger with joy and welcome a new life of wholeness.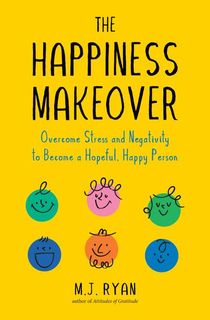 The Happiness Makeover
M.J. Ryan's positivity self-help book offers a comprehensive guide to cultivating an optimistic mindset, even when faced with life's toughest situations. With stress management strategies and a collection of inspiring quotes, you can learn to transform your mindset and confidently face any challenge that comes your way.
The Happiness Makeover provides a plan to clear away the roadblocks to happiness, such as worry, fear, envy, and grudges. Discover boosters to happiness through practicing gratitude and hope. The guide also helps you rewire your brain to experience joy, and think optimistically, leading you to become a better person.
How to Keep Your Cool: An Ancient Guide to Anger Management
If modern approaches aren't your thing, try out one that dates to 45 A.D. This ancient approach is based on the Roman philosopher Seneca, and his essay "On Anger." Seneca held the belief that anger is the most destructive emotion and is the leading cause of humanity's unhappiness.
"Nothing is great unless it's also at peace." Seneca's timeless guidebook teaches us how to recognize and control anger, and what happens when we don't. By illustrating the ethical dilemmas that anger exposes us to, we are empowered to live a life of avoidance. Seneca's thoughts on anger are more relevant today than ever before. These philosophical teachings will provide a powerful antidote to your aggression and help you grow.
Letting Go of Anger
Husband and wife counselor duo Ronald and Patricia provide a guidebook to healthy anger expression. Their program focuses on categorizing 11 styles of anger and teaches you how to apply them to different situations.
Learn how to channel your anger to fit your everyday routine and any annoyances that may come up. By understanding the full spectrum of anger styles, you will be empowered to use your anger more thoughtfully and creatively. Enhance your life and relationships by changing the way you use your anger.
The Cow in the Parking Lot
When navigating a crowded parking lot, frustration and anger often arise if another driver takes a spot we had our eyes on. However, imagine if a cow appeared in that parking space. Our reaction changes from anger to amusement. The shift comes from our new perspective of the situation.
If we approached every situation like the cow in the parking spot, we could learn to take life less seriously and avoid angry outbursts. Authors Scheff and Edmiston use Buddhist principles to explain how to replace anger with happiness. They outline the four most common types of anger (Important and Reasonable, Reasonable but Unimportant, Irrational, and Impossible) and demonstrate how to find our unmet needs, diffuse our anger and alter our responses when triggered.
How to Fight
This is the sixth installment of world-renowned Zen master Thich Nhat Hanh's mindfulness essentials series. Hanh uses his trademark clarity, compassion, and humor to explore how we often express ourselves through anger, frustration, despair, and delusion.
Through meditations and illustrations, Hanh guides us into transforming our inner turmoil. By learning to care for our own suffering, we can assist others in doing the same. Strengthen your relationships and harmony with your families, friends, and colleagues.
Featured photo: Rishikesh Sreehari/ Unsplash