For more than 50 years, the British novelist Barbara Taylor Bradford has been topping bestseller lists. After starting out as a columnist (she wrote a column on interior decoration that was syndicated to over 183 newspapers nationwide), she turned to fiction in 1979 with her debut novel, A Woman of Substance. It quickly became a beloved read and a slew of books followed in its path.
Bradford's books have sold more than 92 million copies worldwide in more than 90 countries and 40 languages. Since then, every book she's written became a bestseller in the U.K. and America. Many of them have been adapted into miniseries and made-for-TV movies. She is frequently listed as one of the biggest selling authors of all time.
At the age of 89, she's still writing—her most recent novel, A Man of Honor, was published in 2021. If you're looking for a great starting point to check out Barbara Taylor Bradford, we recommend these eight titles!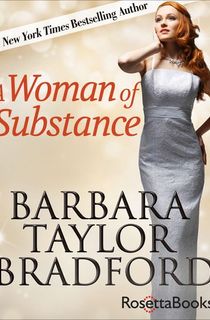 A Woman of Substance
This is the book that started it all. A Woman of Substance laid the groundwork for what readers would come to expect and demand from Bradford's work. The book, the first in the long-running saga of the Harte family, introduces us to the retail empire of an elite family across three generations.
Emma Harte is a wildly successful businesswoman who earned her vast fortune from scratch after a tough childhood in rural Yorkshire. We follow her from her youth onwards as she fights to make something of herself, all while dealing with warring and backstabbing friends and family members, illness, and broken hearts.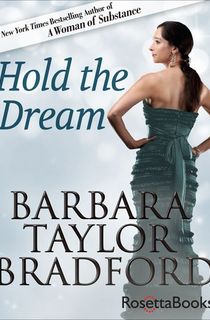 Hold the Dream
Emma Harte's story continues in the second novel in her story, published in 1985. After regaining control of the Harte Stores empire following familial subterfuge, Emma relinquishes power to the one family member she feels that she can trust: her beloved granddaughter Paula. She's determined to maintain her grandmother's extraordinary legacy, but there are snakes around every corner waiting to snatch that power from her hands. That means going up against her own family, in particular her devious cousin Jonathan Ainsley.
Struggling to prove herself in a male dominated world, Paula feels a special bond to Emma, who suffered from many of the same perils and pitfalls. To keep Harte Stores on top, Paula may have to make some sacrifices and break long-held bonds.
Related: 15 Historical Fiction Authors We Can't Get Enough Of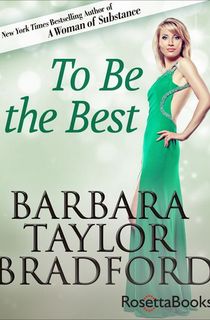 To Be the Best
Paula O'Neill is continuing to uphold the legacy of her grandmother Emma Harte in the third part of the Harte family saga. Now, Pauline is working to keep their empire afloat across the world, from England to Hong Kong. If she thought things were cut-throat on her own territory, things are far more scathing and dangerous overseas. But Pauline is Emma's granddaughter through and through, and she'll walk through fire if it means she can maintain her hard-fought heritage.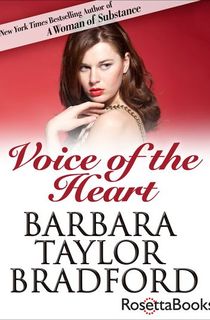 Voice of the Heart
Katherine Tempest has the world at her feet. She fought her way to the top of Hollywood, becoming a legendary movie-star adored for her talent as much as her astounding beauty. The public sees a perfect woman but underneath the glitz is a woman of ruthless ambition who has made intense sacrifices to get what she wants. Around her are her dearest friends, people who deal with the fallout of her machinations and can no longer deal with the damage. To regain their trust, Katherine will do anything, even if it means confronting her most painful secrets.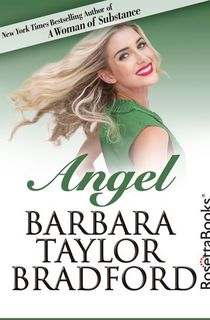 Angel
A quartet of children—Rosie, Gavin, Nell, and Kevin_are bound together through love and the tragedy of being orphaned at a young age. They vow to be the family they all need, loyal to the end, no matter what. As they grow, they all take very different paths in life: Rosie becomes an award-winning costume designer; Nell forms a powerful PR firm; Gavin makes his way up the Hollywood ladder; and Kevin is promoted to the head of the NYPD Crime Intelligence Commission.
As they reunite at a film party in London, a mysterious French aristocrat and an iconic singer enter the scene and threaten to tear this family apart with their revelations.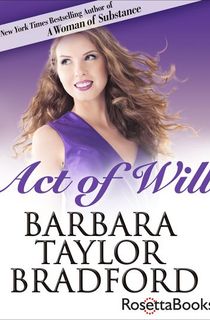 Act of Will
Written in 1986, Act of Will was heavily inspired by the story of Bradford's own parents. Orphaned after the death of her mother, Audra Kenton became a nurse and servant to a suffragette activist before marrying the love of her life. Their happy-ever-after was cut short by an unforeseeable tragedy, which left Audra to pour all of her unsatisfied desires and dreams into her daughter, Christina.
As an adult herself, Christina chooses love over a career, much to the chagrin of her mother, and her own child, a beautiful girl named Kyle, tries to carve her own path as an independent woman in a new age. Act of Will binds together three generations of women who are constantly torn between love, duty, and desire.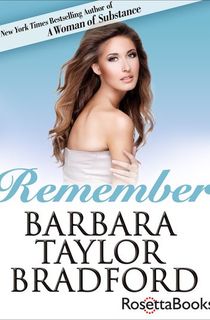 Remember
Nicky Wells is a woman of immense passion and ambition. Beautiful and much-desired by those around her, she has fought against the odds to carve out a successful career as a television war correspondent. This mighty occupation sends her to some of the most dangerous locations in the world, but nothing could prepare her for the loss of her great love.
Moving on seems impossible, especially when she is forced to confront some deeply hidden suspicions about him. Did the man she adored beyond all reason lead a mysterious double life, and did he ever truly care about her?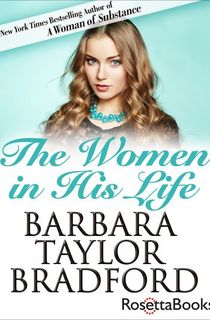 The Women in His Life
Maximilian West is a one of a kind gentleman: a billionaire tycoon and corporate raider whose business powers are near-mythic among his supporters and enemies alike. He spent decades working his way to the top, hiding his true self from the world. But now everything has fallen apart and Maxim is left to pick up the pieces. That means making peace with his dark past, from Nazi Germany to the majestic suites of New York City, and the remarkable women who have loved and protected him.
Related: Luxe Literature: 10 Novels About the Rich and Famous