Sarah J. Maas has undoubtedly cemented herself as a household name in the YA fantasy genre, and even inspired a new subgenre: romantasy books. And within her treasure trove of stories lies A Court of Thorns and Roses as her crowning jewel. Steeped in faerie lore and impossible curses, this magical series remains widely loved and incredibly popular, especially among its dedicated fans, despite its nearly seven-year publication.
Novellas and spinoffs aside, Feyre's story officially closed after the third installment. With that, you may be wondering what to read next, or you might just be looking for more books that can give you the same level of serotonin as A Court of Thorns and Roses.
Luckily for you, I spent the last weekend catching up on ACOTAR and carefully curating a list of book recommendations for this specific purpose. Here are 10 great books that passed my ACOTAR vibe check and might just be what you need!
A Curse So Dark and Lonely
A Curse So Dark and Lonely similarly draws inspiration from the classic Beauty and the Beast. In this grimmer version, the cursed prince is forced to repeat the quest for love over and over each season, while causing more and more bloodshed. His hope in finally breaking the cruel curse is reignited upon meeting a courageous girl with cerebral palsy and a heart of gold.
A Deal With the Elf King
As hinted by its title, this follows nineteen-year-old Luella who is forced to be the new Human Queen to a cold yet undeniably attractive Elf King. In addition, it offers a breathtaking fantasy romance that's character-focused and deliciously slow-burn. Fitting for fans of the grumpy/sunshine dynamic and arranged marriages.
An Enchantment of Ravens
In a world where fairies are impossibly vain and human emotion is perceived as weakness, Isobel makes a disastrous mistake by painting mortal sorrow in her fairy patron's commissioned art, causing her to be summoned to the fair folk's kingdom to stand trial for her crime.
Aside from a brewing romance between Isobel and a surly fae court prince, this book also weaves an interesting tale about the human gift to create and the cruel price of immortality.
Related: 16 Impactful Female Science Fiction and Fantasy Authors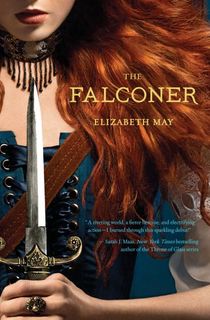 The Falconer
Set in a steampunk version of Scotland, Aileana leads a double life: one as an aristocratic young lady, and one as a ruthless fae hunter with the rare ability to sense faeries and a knack for inventing deadly weapons.
If you're looking for a vengeful, badass female protagonist, this might be the right read for you.
The Iron King
In a fantasy realm where faerie existence relies on human imagination and memory, Meghan must travel through the dangerous Nevernever to save her kidnapped brother from mysterious creatures who wish to use her half-fey, half-human heritage as a pawn in a deadly faery war.
This is personally my favorite fey series, especially since it incorporates A Midsummer Night's Dream into its world-building. A wonderful treat if you like stubborn heroines, snarky animal companions, and well-written love triangles!
In the Jaded Grove
In this portal fantasy, a pixie knight warrior and a Filipino-American poet are brought together by fate and magic. Inadvertently bound, Simith and Jessa must put a stop to an impending war that threatens to invade the human realm.
Centuries worth of political strife between mythical creatures aside, this book also serves great romance and an honest depiction of grief.
The Never Tilting World
Set in an environmentally fraught world that was wrecked by a defiant goddess, two young sister goddesses take on separate journeys across wastelands in the hopes of mending the brokenness of their realm.
Without delving into spoiler territory, the plot of A Court of Thorns and Roses involves a riddle or two. For readers who are intrigued by mysterious curses, ominous prophecies, and well-written riddles, I guarantee that The Never Tilting World won't disappoint.
Stolen Songbird
When Cécile is kidnapped and forcibly bonded to the cursed prince of Trollus, she uncovers a magical curse sweeping over their underground city and a strange prophecy foretelling a union that has the power to set them all free.
If you're in the mood for a fantasy romance with arranged marriages and political intrigue, look no further!
These Hollow Vows
To win her sister back from the vicious king of the Unseelie court, Brie must pose as a potential bride for the Seelie Prince and steal magical relics from their court. To make matters more complicated, she also allies with a band of Unseelie misfits who are obviously hiding their own agenda.
Absolutely perfect for ACOTAR fans, this fantasy novel revolves around a fey-hating girl who is caught between two untrustworthy magical courts and their dangerously charming princes.
Related: New Science Fiction & Fantasy Books to Read in Summer 2021
Where Dreams Descend
Set in a ruined city where magicians are predominantly male, Kallia is an ambitious showgirl who is determined to prove that she has what it takes to become a powerful magician. Shortly after joining a daring magic competition, an unseen danger reveals itself and her competitors start disappearing one by one.
While this may not seem comparable to A Court of Thorns and Roses at first glance, this book similarly follows an admirably willful heroine who is caught between two brooding, enigmatic men whose motives remain unclear. Sounds like a fitting recommendation to me!