You'd be hard-pressed to find someone who hasn't read E.L. James' Fifty Shades of Grey series. It's been over five years since the moody and crop-wielding Christian Grey took the world by its panties—and given there are no signs of it losing momentum, it seems Fifty Shades has a stamina just as impressive as its hero's. But what do you do when you've read (and reread) all the books and watched the movies multiple times?
Luckily, plenty of spankin'-hot romances released over the past year—and we've compiled a list of them just for you. Get cozy beneath the covers with the books like Fifty Shades of Gray below for more toe-curling drama. Your inner goddess can thank us "laters."
Mastered
Bestselling author Maya Banks is at it again, and serving up some serious Grey-style heat with her Enforcers series. Drake is good looking, wealthy, and successful—a man who's used to getting what he wants. And what he wants is Evangeline, the girl he spots at a club, and her complete submission. Mastered and Dominated, the series' first two installments, follow their relationship in all its "naughty, dirty, and do-me-on-the-desk HAWT!" glory (Examiner.com). Kept shakes things up and introduces readers to a new (but no less sexy) couple. Either way, you'll be blushing on the subway and running home for a cold shower.
Mr. President
Presidential candidate Matt Hamilton has more than foreign policy and affordable healthcare on his mind. He can't stop imagining his campaign manager, Charlotte, with her skirt above her waist, screaming "Hail to the Chief!" But what begins as harmless flirting soon turns into illicit trysts—a dangerous game to play if Matt hopes to maintain his Good Boy reputation. But which victory is more important, the election, or Charlotte's heart? If Scandal and Fifty Shades ever got hot n' heavy, Mr. President would be the oh-so-sexy result.
Hard Rules
Shane wants to transform his not-so-above-board business into something legitimate, but rectifying his family's mistakes is no easy task. By a stroke of luck, his father's newest assistant wants to help him along the way (and out of his pants, no less). But while Emily is an eager student in bed, she's not as innocent as she seems. The secrets she keeps could do more than just destroy their relationship—they could ruin their lives entirely. Hailed as "edgy, brilliant, and all-consuming" by bestselling author, Katy Evans, Hard Rules features the smoldering billionaire and salacious romance you've been missing since Grey.
Dirtiest Secret
Dallas is a notorious playboy whose "number" is even bigger than his bank account—and Jane just can't seem to resist. But she and Dallas share more than just a mind-blowing, headboard-banging passion. They also share a history, a secret so haunting it's like a third person sleeping in their bed. New York Times bestselling author J Kenner has combined the best of the best into this twisty, erotic romance: "mystery, thrills, emotion, and dirty, hot sex" (Shameless Book Club).
Off the Clock
Marin Rush has a predicament: her bedroom inexperience threatens her credibility as a sex therapist. Enter Dr. Donovan West, her supervisor with an easy solution. He's willing to show Marin a thing or two about rolling in the sheets … and with an offer like that, who minds working around-the-clock? But a passion this powerful—and sex this kinky—is hard to keep under wraps, and it just might cost Marin and Don their jobs. While Off the Clock is light on the BDSM, it's still heavy on the petting, and the teacher-student dynamic is deliciously reminiscent of Ana and Christian.
Marriage Games
Adam has always believed his marriage was rock-solid. That is, until he learns Diana wants to call it quits and take their thriving business with her. But Adam is a man who sets his own terms, and he's prepared to tie Diana down—literally—if he has to. For thirty days, they agree, Adam will reconnect with his inner Dom while Diana obeys his every command. Both New York Times bestsellers, Marriage Games and Separation Games "deliver the most compelling kink" (Skye Warren) as one couple tries to whip their marriage back into shape.
Stuck-Up Suit
What's better than The Girl on the Train? Graham, The Hot Dude on the Train who accidentally leaves his phone behind. Soraya plans to give it back (and to leave a nice surprise too), but when she finally visits Graham's office, he refuses to see her. It's only after Graham takes a peek at his phone—and gets more-than-a-peek of Soraya—that they finally meet and get frisky. From the authors of the wildly popular Cocky Bastard, Stuck-Up Suit is sure to seduce any Fifty Shades fan with its wit, drama, and red-hot romance.
Well Hung
If you're in the mood for laughs and a dose of "do-me-now" fire, look no further than Lauren Blakely's smash-hit, Well Hung. Wyatt owns a successful construction company, so it's no surprise that he's good with his hands and has an ego bigger than … well, maybe not that big. Finally, he's met his match in Natalie when a night in Vegas takes a wild turn. Shots are poured, bets are placed, and as soon as Wyatt's got Nat screaming for more, they're in a roadside chapel saying "I do." They'll handle the annulment in the morning—or that's the plan, at least, until Wyatt realizes marriage isn't all that bad when your wife is a sexpot.
Master Professor
For years, Andie Lincoln has pined after her friend-turned-starlet, Terrence Knight. But he's more than just a Hollywood darling—he's a Dominant with a strict of set of rules. Before he gives Andie what she wants, she must train as a sub at RACK Academy and keep her virginity intact. Desperate, Andie agrees, only to find that Terrence has some stiff competition in RACK's director, Fulton. Will she stay loyal to Terrence's binding contract, or will she let Fulton bind her wrists every night?
Betrayal
Annie is enjoying a resort vacation, her last bit of freedom before she heads off to grad school. Nox is there too, and he's just as determined to have a bit of fun. Both strike a deal: they'll hook up for one week, no names and no strings attached. But that one week comes and goes—and Nox and Annie are still, shall we say, coming. So begins their tumultuous relationship, the through-line of all five books in the Infidelity series. The final installment was released earlier this year, and trust us: it's as hot between the pages as it is off the press.
For 100 Days
On the hunt for a new job? For 100 Days might just convince you to try house-sitting. Avery Ross is an artist down her luck: she's homeless, penniless, and in desperate need of a break. Her salvation comes in the form of Dominic Blaine, whose house-sitting gig will keep her pockets full—and her underwear around her ankles. But Dominic is a lot like Christian Grey: rich and aloof, a master of the bedroom haunted by his rough upbringing. And with dark secrets of her own, Avery isn't so sure she and Dominic even stand a chance. For 100 Days is the first book in Lara Adrian's "sexy, sizzling"100 series.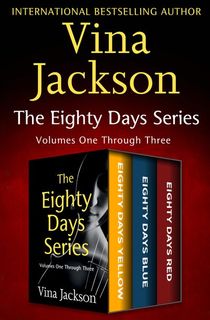 The Eighty Days Series Volumes One Through Three
Dominik has always admired his students' musical talents, but none more so than Summer Zahova, a fiery violinist at his university. When Summer's violin is damaged beyond repair, he offers to replace it—but for a price. First, Summer must play a private concert at Dominik's home, and while you can put a price on an instrument, you can't put one on love. A simple exchange becomes a steamy, passionate romance that is sure to stir your heart…and maybe a few other things besides. For the first time ever, you can get Vina Jackson's The Eighty Days series in one collection! It's our second favorite kind of package.
Featured Image: Poster of "Fifty Shades Darker" (2017), via Universal Pictures
KEEP SCROLLING FOR MORE STORIES