Some people prefer books, while some people prefer movies. But is it possible to have the best of both worlds?
Well, I'm here to tell you that the answer is a resounding yes! And you're in luck! Because we've rounded up ten incredibly written books that read as if you were watching the silver screen.
So, sit back, relax, and don't forget the popcorn!
Counterfeit
A Resse's Book Club pick, this ambitious caper of a novel follows two unsuspecting Asian American women who join forces in running an illegal counterfeit handbag enterprise.
What makes this story feel utterly cinematic is its clever use of the unreliable narrator and its seamless alternation between past and present timelines. I could easily imagine every scene, every splice, and every zoomed-in shot as I gobbled up the story like buttered popcorn. When it comes to books that read like full-fledged movies, no other title comes to mind sooner than Counterfeit.
Crownchasers
What's more exciting than a deadly interstellar space race for the right to rule the galaxy? Crownchase is exactly that – with the empire's prime families rushing to claim the royal seal that's hidden somewhere in the stars. And they're absolutely ready to kill for that throne.
Following a headstrong heroine who's unwilling to rule but bound by her duty to her late grandfather, this story offers as much high-speed adrenaline as any blockbuster action film.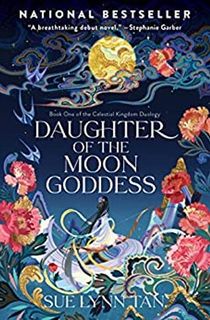 Daughter of the Moon Goddess
In this YA fantasy retelling of the legend of Chang'e, a dutiful daughter embarks on an epic quest to challenge the fearsome Celestial Emperor in exchange for her exiled mother's return.
Romantic, lush, and with just the right amount of gorgeously descriptive prose, this debut novel creates a divinely atmospheric experience that can easily rival the most popular Asian drama films. For readers who enjoy stories with a light, dreamy, vibe and compelling characters, this might just be the book for you.
Dial A for Aunties
The story begins with a frazzled Meddelin Chan accidentally killing her blind date. When her four meddlesome Asian aunties swoop in for the rescue, the dead body somehow ends up in a cake cooler at their client's billionaire wedding at an island resort on the California coastline.
It's an intriguing setup for some lighthearted comedy with a side of fun family shenanigans. And I'm happy to report that the book reads exactly like the funniest film you've seen at the movie theater.
Iron Widow
Set in a society where male pilots battle with giant transforming robots at the expense of risking the lives of their female concubine-pilot partners, this queer YA fantasy novel revolves around a young woman who's determined to destroy the patriarchy and avenge her sister's unfair death.
With epic mecha fights against dangerous aliens and fast-paced storytelling, Iron Widow delivers a lot of excitement with a cinematic, sci-fi flair. This is not a series to be missed.
Rebel Skies
From sprawling sky cities and impressive flying ships to wild paper spirits, the world in Rebel Skies is absurdly picturesque, brimming with fathomless wonder and amazement. On top of that, its immersive atmosphere is reminiscent of the childlike delight found in Studio Ghibli films.
While many stories try to reel in readers through fast-paced plots and high-adrenaline action scenes, this unassuming novel captivates through its characters and the unique vividness of its magical setting. If you're in the mood for a breath of fresh air, look no further!
Silver Under Nightfall
A murder mystery turned sweeping conspiracy that requires the combined sleuthing skills of a married vampire couple and a disgraced vampire hunter? Great! But with the combined force of an action-heavy plot, the palpable romantic tension between all three characters, and immaculate regency era vibes? It sounds like the makings of a cinematic masterpiece to me!
Perfect for fans of Netflix's Castlevania who are ravenous for more vampiric content, this adult novel has many enthralling elements that will satisfy all cravings.
Slay
Following the vein of Ready Player One, this addictive YA contemporary novel revolves around a secret online role-playing card game designed specifically for Black gamers. As its plot progresses, readers witness the many capabilities and innovations unique to the virtual reality world of SLAY. And notably, the intricacies of this game are written with such care and finesse that I'm genuinely baffled that this book still hasn't been picked up for a movie adaptation.
Nonetheless, my personal grievances aside, the vivid descriptions and imagery in SLAY are part of why it's such an addictive read. It's amazing, brilliant, show-stopping, and totally movie adaptation-worthy.
A Spark of White Fire
Drawing inspiration from Mahabharata and other Indian lore, this story is about an absurdly powerful family whose dysfunctions are enabled by meddlesome gods and goddesses.
Its brisk pacing tends to leave readers gripping at the edge of their seats, kind of like your favorite binge-worthy series or movie. And to make the deal even sweeter, it has just the right amount of everything entertaining: messy characters, political machinations, betrayal, and even a sentient warship!
Where Dreams Descend
With a stubbornly proud and ambitious showgirl as its headliner, it's no surprise that Where Dreams Descend is rife with lavish descriptions of magical performances and show-stopping circus acts – that would look amazing on the big screen.
If you are in the mood for a character-focused fantasy with tons of thrill and twists, you should consider picking this one up.