When you're scrolling through Instagram, watching television or flipping though magazines, it's easy to forget that celebrities are people, too. While their day-to-day lives may look different from the average person's, at the end of the day, we're all human—and many of our struggles are universal, from the pitfalls of parenthood to struggles with addiction.
This is what makes celebrity memoirs and biographies so fascinating: despite the differences in our lives, we still share so many of the same highs and lows.
Below, check out five of the most fascinating celebrity memoirs and biographies of 2023.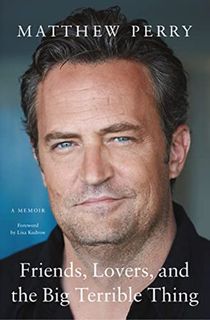 Friends, Lovers, and the Big Terrible Thing
After years of publicly struggling with addiction, even while he was still starring in Friends, Matthew Perry opened up even further with his memoir, Friends, Lovers and the Big Terrible Thing. The book immediately became a bestseller upon being published in November 2022, and resurged in popularity a year later, following Perry's shocking, sudden death.
"Remarkable, startling, and heartfelt...The bravery of Perry's book is not just in what he says, or how he says it, and how unflinching he is in his commitment to say it, but that he chose to say it at all." ―GQ
Pageboy
In December 2020, Elliot Page, formerly known as Ellen, announced to the world that he was a trans man. In June 2023 his memoir Pageboy was released, giving fans further insight into his coming out process and transition.
Above all else, Pageboy is a "raw, harrowing and often heartbreaking" reflection on searching for oneself and what it means to be human (LA Times).
The Daddy Diaries
What's just as dramatic as hosting Real Housewives? According to single dad Andy Cohen, raising a toddler and a newborn in Manhattan.
The first openly gay late night television host, Andy Cohen became a father twice over with the help of a surrogate. And while he has far more resources than the average single parent, Cohen's trials in balancing child-rearing and being a media mogul are still deeply entertaining. This hilarious, heartwarming memoir is an honest account of fatherhood, changing expectations, and trying to have it all.
Thank You (Falettinme Be Mice Elf Agin)
As the frontman of Sly and the Family Stone, Sly Stone played for crowds at Woodstock, created some of the most memorable songs of the 60s and 70s, and continued to entertain listeners for decades.
But while many people knew his music, few knew the real Sly Stone—or about his struggles with addiction. Taking readers through his early start as a radio DJ and the thirty years of fame that followed, this is a story about "flawed humanity and flawless artistry."
Magic
As anyone who knows anything about NBA can tell you, Earvin "Magic" Johnson was one of the most charismatic players of the 80s. After being selected first by the LA Lakers in the 1979 draft, Johnson led the team to five NBA championships.
But in 1991, Magic Johnson publicly disclosed his positive HIV status and abruptly retired.
In his biography Magic, famed sportswriter Roland Lazenby charts the unlikely success of Magic Johnson, both in his basketball career and in his second act as an entrepreneur. It's an epic work that shines a light on Magic Johnson, basketball, and America itself.