My expertise in poetry goes about as far as, "I'm a poet and didn't know it." But just because I cannot pen a pretty verse doesn't mean that I don't appreciate poetry. Poetry is a genre that adults often wince at simply because they are stuck in thinking it is only iambic pentameter from Shakespeare or other heavy works.
If you introduce children to poetry early, they are likely to cultivate a lifelong fondness, if not love, for it. The truth is that poetry comes in so many forms. It can be silly. It can be a means to tell a story. It doesn't even have to rhyme. This is a list of children's poetry books but as is always the case with children's books, adults are strongly encouraged to read along!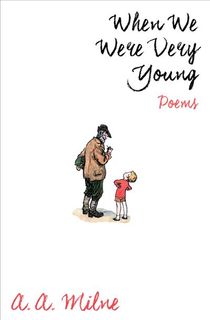 When We Were Very Young
Milne is the father of Winnie-the-Pooh, and within these pages the author reveals that Pooh originally was a swan. How could this be? Christopher Robin (yes, he was a real boy and in fact, Milne's son) saw a swan and named him Pooh, and that set into motion this book of poetry and later the better-known book series.
This is a very rare look into Milne's thoughts on other non-Pooh topics such as Buckingham Palace, animals at the zoo and the joy and freedom of playing without abandon that seems to be forgotten by us grownups. The illustrations are a delightful accompaniment to the verses and add to the book's overall tone of lightness.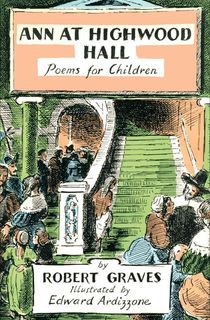 Ann at Highwood Hall
This selection is written by Graves, who is best known for a more adult work of historical fiction, I, Claudius. The author does not approach this book of poetry in the same way, but there is the setting of Victorian England throughout each of the seven poems and an appearance by King George II.
The poems offer a wide array of topics including the first that features the little girl in the title. Kids might best enjoy the poem that features a brother and sister arguing with each other with gusto. The poem evokes a timelessness of the emotions that siblings bring out in one another like no else can.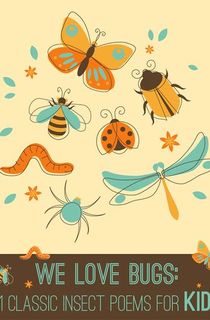 We Love Bugs
Did you find bugs fascinating as a kid? You could probably point out ladybugs, caterpillars, beetles and more. It is this curiosity about crawling creatures that has led to this collection of poems all about…you guessed it, bugs.
There are poems that have been shared through generations like "Itsy Bitsy Spider." But there are also surprising poems by heavy hitters such as Emily Dickinson and John Keats. This book is probably best enjoyed on a blanket in the park, preferably with a picnic box filled with food to share with the local ants.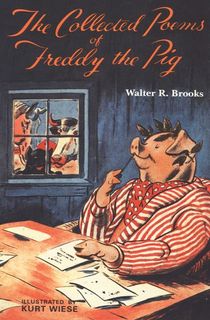 The Collected Poems of Freddy the Pig
Meet Freddy. He is a pig who is quite gifted at writing. Freddy is inspired by all the happenings at Bean Farm. He finds topics in the change of seasons and the different types of animals that reside at the farm along with him.
But don't be fooled into thinking that Freddy is superficial. He can wax poetic on deep topics such as his days as a young piglet. And while he could fill a whole book on just pigs, Freddy does throw in a section that he calls Not About Pigs, just to keep the collection balanced.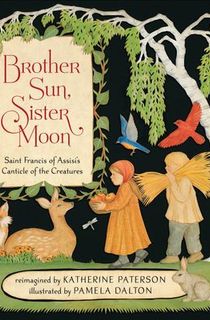 Brother Sun, Sister Moon
The basis of this poem goes back a long time. In fact, the inspiration is a hymn written by Saint Francis of Assisi in the 13th century. Paterson has taken some liberty with the original and even added cut paper illustrations.
The text is religious and has some concepts that might be a little difficult for kids to grapple with conceptually, but the illustrations will captivate readers of all ages. The beautiful depictions include animals, plants, and scenes of day and night. Kids will enjoy a bit of hide and seek in the illustrations and piecing together scenes that tell a story while being read Paterson's lines.
A Beautiful Day in the Neighborhood: The Poetry of Mister Rogers
At first, you might be thinking, "Hang on a moment, Mister Rogers was a poet?" And then it will dawn on you that Fred Rogers spoke, or sang as was often the case, in verse. Hence, a collection of familiar words in the form of poems that will evoke major nostalgia for those of us who were lucky enough to grow up with the show.
And for those new to Mister Rogers, this book is the perfect way to introduce a child to his kindness. Singing the poems out loud also underscores how we are all exposed to poetry everyday just by listening to our favorite songs.
How to Write a Poem
How clever is writing a book full of poetry that invites the reader to become a poet as well? That's just what Alexander and Nikaido have done. The reader is invited to ponder a question and in answering it creates their own piece of art.
If you're met with resistance by a child who thinks writing poetry is too hard, then look no further. The illustrations emphasize just how inspiring the world around us truly is and how simply describing it can be poetry in itself. Be forewarned that after reading this with a young and curious mind, the poetic observations may continue unprompted for some time.
Inside Out and Back Again
Not all poetry books are full of standalone poems. While being able to pick up a collection of poems and flip through the pages, starting and stopping wherever you want and not having to go in any order is a freedom not often found in books, poetry that features a specific story arc is just as much of a gem.
In this case, Lai takes the reader on a journey from her homeland in Vietnam to the home she makes in Alabama as a young girl. Each chapter moves the plot forward while containing beautiful imagery and resonating emotions in the words that are shared in verse form. It's an unusual but absolutely fitting way for the author to express her experiences of that time.