We always love a good mystery book. But they're especially fun to read in the fall and winter, when the sun sets sooner and the nights get chillier. To bring an extra dose of chills to your autumn, we're giving away five fantastic mystery books, from acclaimed authors such as Patricia Wentworth, Barbara Parker and Ellis Peters.
Enter below for your chance to win this cozy mystery bundle!
NOTE: This giveaway is now closed.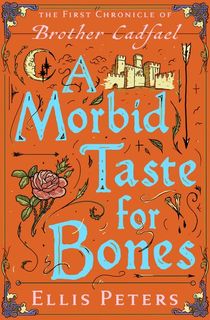 A Morbid Taste for Bones
The "irresistible" and "compelling" first novel in the historical mystery series featuring a Welsh Benedictine monk in the twelfth century (The Washington Post).
A Welsh Benedictine monk living at Shrewsbury Abbey in western England, Brother Cadfael spends much of his time tending the herbs and vegetables in the garden—but now there's a more pressing matter. Cadfael is to serve as translator for a group of monks heading to the town of Gwytherin in Wales. The team's goal is to collect the holy remains of Saint Winifred, which Prior Robert hopes will boost the abbey's reputation, as well as his own. But when the monks arrive in Gwytherin, the town is divided over the request.
When the leading opponent to disturbing the grave is found shot dead with a mysterious arrow, some believe Saint Winifred herself delivered the deadly blow. Brother Cadfael knows an earthly hand did the deed, but his plan to root out a murderer may dig up more than he can handle.
Before CSI and Law & Order, there was Brother Cadfael, "wily veteran of the Crusades" (Los Angeles Times). His knowledge of herbalism, picked up in the Holy Land, and his skillful observance of human nature are blessings in dire situations, and earned Ellis Peters a Crime Writers' Association Silver Dagger Award. A Morbid Taste for Bones kicks off a long-running and much-loved series that went on to be adapted for stage, radio, and television.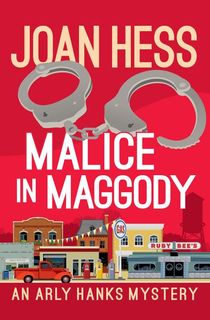 Malice in Maggody
After a crossbow killing at a cheap roadside motel, Ozarks police chief Arly Hanks finds herself investigating her first murder case.
Her marriage over and career gone bust, Arly Hanks flees Manhattan for her hometown: Maggody, Arkansas. In a town this size, nothing much ever happens, so Arly figures she's safe as the town's first female chief of police—until the husband of one of the local barmaids escapes from state prison and heads for town. And that's not all. An EPA official with ties to polluting the local fishing hole has suddenly vanished off the face of the earth.
As if two manhunts aren't enough to contend with, a body has been discovered at the pay-by-the-hour Flamingo Motel, shot clean through the neck with an arrow. For some reason, Maggody's residents—all 755 of them—have gone tight-lipped, stonewalling Arly's investigations, and Arly hasn't a soul to trust but her half-wit deputy. Now, as Maggody's finest, she'll have to show a little muscle and a lot of cunning to curtail the inhospitable mountain malice that's overtaken her town. And she'll have to watch her own back every step of the way.
From Agatha Award–winning author Joan Hess, Malice in Maggody is the novel that introduced police chief Arly Hanks—the indomitable sleuth of the popular and long-running Maggody series.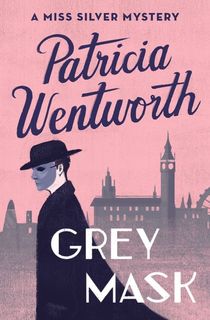 Grey Mask
Governess-turned-detective Miss Silver investigates a deadly conspiratorial ring.
Charles Moray has come home to England to collect his inheritance. After four years wandering the jungles of India and South America, the hardy young man returns to the manor of his birth, where generations of Morays have lived and died. Strangely, he finds the house unlocked, and sees a light on in one of its abandoned rooms. Eavesdropping, he learns of a conspiracy to commit a fearsome crime.
Never one for the heroic, Charles's first instinct is to let the police settle it. But then he hears her voice. Margaret, his long lost love, is part of the gang. To unravel their diabolical plot, he contacts Miss Maud Silver, a onetime governess who applies reason to solve crimes and face the dangers of London's underworld.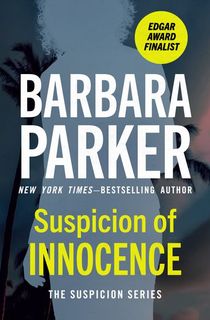 Suspicion of Innocence
Edgar Award Finalist: This Miami crime thriller by a New York Times–bestselling author is "an exhilarating debut [and] a sizzling page-turner" (Publishers Weekly).
Gail Connor is a fast-rising attorney in a major South Florida law firm, about to make partner—until her life is derailed by the discovery of her sister's body in the Everglades. What at first appears to be a suicide soon becomes a homicide investigation with Gail as the prime suspect. To defend herself, Gail must unravel the tangled web of her wild younger sister's life, which includes connections to drug traffickers, a Native American artifact, Gail's own estranged husband, and a handsome Cuban-American attorney, Anthony Quintana, to whom Gail is strongly attracted. But who can she trust as she fights for justice for her sister and herself?
Written by a former prosecutor, the first book in the New York Times–bestselling Suspicion series delivers "a sun-drenched variation on the work of Scott Turow and Patricia Cornwell" (Library Journal).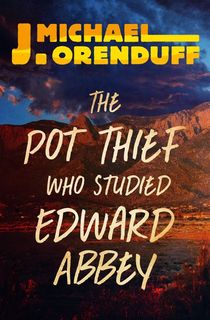 The Pot Thief Who Studied Edward Abbey
The pot thief is going back to school, but someone on campus is trying for a different kind of degree—murder in the first—in this "smartly funny series" (Anne Hillerman).
Before making a somewhat notorious name for himself as a salvager of antiquated pottery and other desert artifacts, Hubie Schuze was an eager student at the University of New Mexico—right up until they booted him out. Now, he's back at UNM as a pottery teacher. It should be a breeze, but campus life has changed dramatically in the past twenty-five years. From cell phones to trigger warnings to sensitivity workshops, Hubie has to get up to speed fast or risk losing control of his class.
But his dismay at the state of modern academia takes a back seat when a young beauty working as a life model is murdered—and Hubie becomes a suspect. Taking the investigation into his own hands, he soon uncovers a wide palette of sketchy suspects that includes both the self-involved student body and the quarrelsome art school faculty.
But what he doesn't know is that the murderer has a new artistic project in the works: a headstone for the grave of Hubie Schuze . . .
For full details, see official rules.
Note: The sweepstakes is open to all legal residents of the 50 United States and Washington, DC who are 18 years of age and older by November 13, 2020.