Terry Giles is, by all accounts, a success. By the time he was 30, he had built one of the largest criminal defense firms in the nation, and had generated tens of millions of dollars by working with high-profile clients. Less than four years later, Giles decided to leave the safety of his law firm and try his hand at entrepreneurship—and he succeeded there, too. Giles has owned some 35 businesses, and is now the president of Giles Enterprises.
While there's a certain amount of luck to anyone's success, Giles believes that, for the most part, people have the ability to succeed regardless of the odds. Or at least, fifteen percent of us do.
Related: Enter before March 9 to win a copy of The Fifteen Percent by Terry Giles!
In his book The Fifteen Percent: Overcoming Hardships and Achieving Lasting Success, Giles delves into research that shows about fifteen percent of people in dire circumstances are able to rise up and overcome their circumstances. To explain how this occurs, Giles analyzes his own difficult upbringing and path to success, determining which skills and traits are present in "the fifteen percent." The best part? According to Giles, you don't have to come from bad circumstances to acquire these skills and traits for yourself—anyone can achieve their goals.
More than just a business book or a list of secrets to success, The Fifteen Percent is inspiring, entertaining, and full of useful insights. As author Stedman Graham said, "It's clear to see why Terry has been able to accomplish so much and how he's used all those experiences to elevate others. His story is one of inspiration and information and will inspire you to push yourself to the next level."
Read on for an interview with Terry Giles, and learn even more about the man who has written one of the best books to read for success.
Was there a specific moment that made you decide to write The Fifteen Percent?
In 2016 I was at my home in Puerto Vallarta, Mexico sharing a bottle of wine with a good friend, Harry Stein, who is an author of a number of books. I was sharing with Harry the science behind the 15 percent and how I became aware of it. He said, "That would make a great book." I began organizing my thoughts the next day.
What are some of the hardships that you have personally overcome?
My father came back from WWII with an alcohol problem. After I was born (when my Mom was 18), he would disappear for months at a time. We were very poor and lived in a small town in the foot of the Missouri side of the Ozark mountains.
Dad eventually ended up in jail in Arizona. Mom moved my sister and myself out of Missouri, and I had changed schools 21 times and lived in three different states by 10th grade.
What are some of the skills common to those in "the fifteen percent"? Do you think anyone can learn those skills?
Skills needed to overcome hardships include developing a low fear factor, visualizing your future, being willing to live life outside your comfort zone, developing underdog strategies, realizing the power of words, and remaining flexible and positive.
Put it all together and it equals this—if you can align your consciousness with your communication and conduct, you cannot be denied. In other words, visualize the best you and then back it up with everything you say and do—and the world is yours.
For avoidance of doubt, I do believe that these skills can be taught and learned. That is the real reason for the book. Why be limited to fifteen percent? By teaching how to develop the skills to overcome hardships, why can it not be the twenty-five percent, or the fifty percent, or the seventy-five percent?
Which of your personal achievements are you most proud of?
I had prepared my whole life to be a criminal defense trial lawyer. After eight years of practice I was at the top of my field. Being willing to quit when I no longer could figure out why the world was a better place because I did what I did for a living, was the hardest thing I have ever done.
Then, recreating my life in an entirely new career was the most challenging thing I have ever done. But I am most proud of having the guts to do it.
Who are some other people with incredible success stories that have inspired you?
I am a member of the Horatio Alger Association of Distinguished Americans. The organization was founded by Norman Vincent Peele in 1948 as a tribute to his "Power of Positive Thinking" doctrine.
Every year, ten Americans are given the award based on overcoming adversity and becoming successful. At any one time there are about 240 living members. The membership is a who's who of American success stories and every one of them is an incredible inspiration.
What are some of your favorite books? Are there any books that have particularly motivated or affected you?
Anything written by Michael Lewis and Malcolm Gladwell. My favorites are David and Goliath by Mr. Gladwell and The Undoing Project by Mr. Lewis.
Are you ready to achieve success? Read this book. Get The Fifteen Percent today.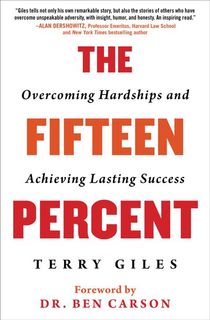 The Fifteen Percent
"Giles tells not only his own remarkable story, but also the stories of others who have overcome unspeakable adversity, with insight, humor, and honesty. An inspiring read." –Alan Dershowitz, Professor Emeritus, Harvard Law School and New York Times Bestselling Author
This post is sponsored by Open Road Media. Thank you for supporting our partners, who make it possible for Early Bird Books to continue publishing the book stories you love.