Get out your warmest blanket, some fuzzy socks, and a cup of pumpkin spice tea. We've compiled a list of charming Halloween cozy mysteries that will put you in the spirit of the spooky season.
Let the playful nature and light-hearted humor of these cozies take you on a journey full of spooks and surprises. Follow a cast of clever sleuths as they solve small-town murders before the big Halloween bash, commune with Halloween ghosts in a haunted house, or even help prove a pup's innocence. Packed with thrills, chills, and plenty of laughs, these cozies make for the sweetest Halloween treat.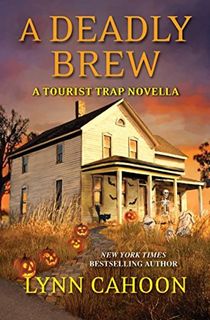 A Deadly Brew
Jill Gardner, her boyfriend, and three more couples decide the best way to get into the Halloween spirit is by staying in an abandoned house along the coastline. The house is set for demolition, as its last known owner mysteriously disappeared. It's the ideal location for a weekend-long fright fest. But when the ghost of Maryanna Demerit, the home's long-vanished owner, contacts Jill, the group realizes they've got a mystery on their hands.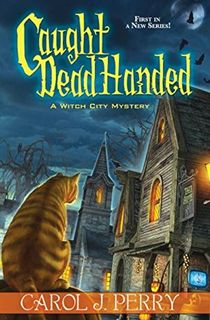 Caught Dead Handed
Lee Barrett returns to her hometown of Salem, Massachusetts with hopes of finding a new job in television. Instead, she encounters a haunting mystery: WICH-TV's previous on-air psychic, Ariel Constellation, apparently didn't see her own murder coming and now she's dead. Reluctantly, Lee replaces Ariel as the channel's call-in psychic.
It's all a character she plays on TV, at first. Soon, however, Lee starts seeing real events in the obsidian ball she's using as a prop. To ramp up the creep factor, the cat Ariel bequeathed to Lee's aunt starts exhibiting strange powers of his own. The last person with psychic abilities in Salem was killed for practicing witchcraft, and if Lee isn't careful, she could be next.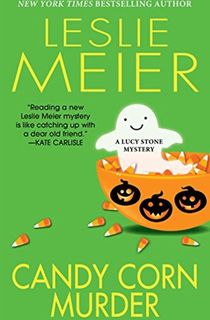 Candy Corn Murder
Lucy Stone, local reporter, is covering Tinker's Cove's annual Giant Pumpkin Fest. Despite the pumpkin-boat regatta, children's Halloween party, and pumpkin weigh-in, Lucy can't hide her annoyance at her husband, Bill. He and his pal Evan have been working nonstop on their potentially prize-winning pumpkin catapult. On the day of the big contest, however, Evan is nowhere to be found.
Related: Take a Bite Out of Crime: 11 Culinary Cozy Mysteries Bursting with Recipes for You to Try Out While Under Quarantine
When a catapulted pumpkin busts open an old Dodge, Evan's body is found stashed in the trunk. Now Bill's the prime suspect in this Halloween homicide, and Lucy's going to have to seriously up her sleuthing skills to track down the real killer.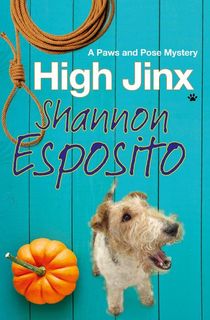 High Jinx
Elle Pressley's life is absolutely perfect. Business is booming at Elle's Pampered Pup Spa & Resort, and her romance with sexy Irish PI Devon Burke is as hot as ever. But when an eccentric new client tells Elle she's been cursed by the evil eye, scary stuff starts happening. At the client's Halloween bash, Elle finds a body hanging from the kitchen rafters.
With Devon MIA, Elle and her seventy-pound bulldog mix, Buddha, must head up the investigation themselves. And with a new bit of bad luck around every corner, the doggie-yoga coach begins to wonder if there really is a curse on her. What she doesn't know is that a dangerous killer lurks in the shadows, a killer who plans to take out Elle permanently.
Related: 10 Quirky Animal Cozies for the Pet-Loving Mystery Reader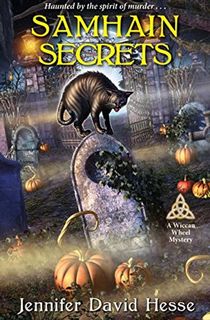 Samhain Secrets
Keli Milanni has been putting in overtime to juggle her recent promotion, her new live-in boyfriend, and her private Wiccan spiritual practice. She doesn't have the mental capacity to deal with the abduction of her Aunt Josephine too.
Josephine was an environmental activist and free spirit who always seemed to embody peace, love, and independence. But the discovery of her body in the woods leads Kelly to believe her aunt's activities weren't as friendly as they seemed. This Samhain season, Kelly has to wield her one-of-a-kind magic to banish the killer's negative energy while fulfilling her duty of appearing as a witch in a "haunted" barn.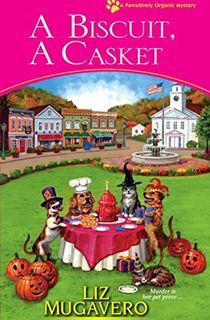 A Biscuit, A Casket
Happy Cow Dairy Farm has recently opened up their land for parties. The farm's star attraction is its "haunted" corn maze. Kristan "Stan" Connor has been asked to cater the farm's Halloween costume party for puppies, and is excited to gain more exposure for her quality organic pet treats.
Her healthy supplements are meant to extend a pet's life, but one local farmer won't be that lucky. Hal Hoffman, owner of Happy Cow, has been found dead in the corn maze, and his wife's the prime suspect. But as Stan searches for the truth in the labyrinth of lies, she finds the former dairy farmer had a number of enemies in his life.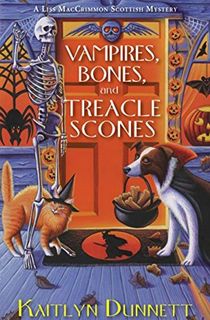 Vampires, Bones and Treacle Scones
Newlywed Liss MacCrimmon Ruskin is thrilled to be catering a Moosetookalok's Halloween community fundraiser. Her plans involve transforming the old Chadwick place into a haunted house, but she soon finds the abandoned mansion may have been too perfect a location. First, objects go missing. Then she finds a decoration with fresh puncture marks. Liss then discovers that the fake skeleton she bought for the party has been replaced with an actual corpse. What's worse, it's someone she knows. Can Liss solve the mystery in time to save her Halloween party, even as the killer circles ever closer?
Related: Patricia Wentworth: An Introduction and Mystery Series Guide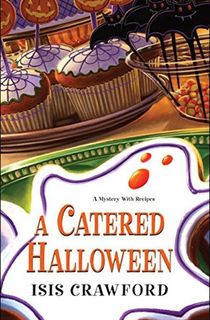 A Catered Halloween
In this delectable culinary cozy packed with recipes, sisters Bernadette and Libby are tasked with catering a charity haunted house event at the old Peabody School. The event will do wonders for their catering business's reputation. What's more, the gig comes with a hefty commission. But when the body of wealthy socialite Amethyst Applegate is found in the school, the sisters must work together to catch the killer and avoid becoming victims themselves. That's not going to be so easy though. It seems Amethyst was the worst, and everyone she had ever met has some motive for killing her.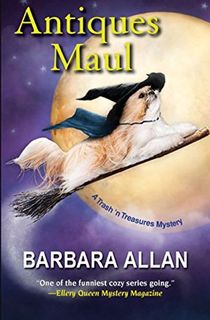 Antiques Maul
Get ready to laugh out loud with this humorous Halloween cozy filled with quirky characters and recipes. Brandy Borne's batty mom can't seem to stay out of mischief, especially around Halloween. So the two open a booth at the Serenity antique mall to keep busy. But when a corpse turns up and local law enforcement tries to pin the murder on the victim's innocent canine—a handsome pup known as Brad Pitt Bull—it's up to this dynamic mother-daughter duo to unmask the real killer before poor Brad Pit Bull pays the price.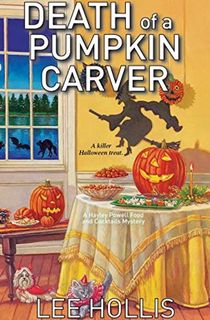 Death of a Pumpkin Carver
For food and cocktails columnist Hayley Powell, Halloween is all about costume parties and holiday treats. Her ex-husband Danny decides to crash the party though, and despite her kids' joy at seeing their father, Hayley is far from thrilled. Danny's probably there to beg for money, yet again. Turns out, the truth is even scarier. Danny's moonshine-making uncle was found dead in a cemetery, and Danny's the prime suspect. Despite her feelings towards Danny, Hayley must use every trick she's got to expose the real killer before someone else in her family is sent to an early grave.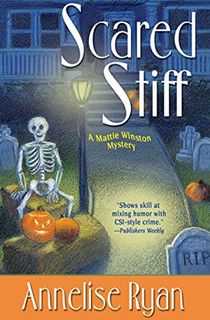 Scared Stiff
Someone's murdered Shannon Tolliver; her body was found among the Halloween decorations. Deputy Coroner Mattie Winston is determined to get to the truth. Mattie knows the prime suspect, Shannon's estranged husband, Erik, truly loved the victim. Despite Erik and Shannon having a very public spat shortly before Shannon's demise, and Erik owning a gun that matches the murder weapon, Mattie's convinced Erik's being set up. What Mattie discovers, however, is far stranger than she could have ever imagined.
This article was first published on Murder & Mayhem.
This post is sponsored by Open Road Media. Thank you for supporting our partners, who make it possible for Murder & Mayhem to continue publishing the mystery stories you love.