In 1996, Joan Didion published The Last Thing He Wanted, an intricate thriller about a journalist named Elena McMahon. Elena has just left her husband and moved to Washington, D.C. with her daughter. Soon, however, she finds herself entangled in another mess—one involving the ambassador to an unnamed Caribbean Island, Iran-Contra, and her recently widowed father.
Didion's sparsely written and quick paced thriller should make for excellent source material for the upcoming Netflix film of the same name. Directed by Dee Rees and starring Anne Hathaway, Ben Affleck, Rosie Perez and Willem Dafoe, the film will premiere at the Sundance Film Festival before it premieres on Netflix on February 21, 2020.
According to the official synopsis "The Last Thing He Wanted is set against the nebulous milieu of the Iran-Contra scandal. Veteran D.C. journalist Elena McMahon (Hathaway) abandons the 1984 campaign trail out of a misguided sense of duty to her father, Dick McMahon (Willem Dafoe). Guilted into running a dangerous fool's errand on his behalf, Elena leverages the moment to pursue her own investigation but instead gets tipped into the confounding center of the very intrigue she's trying to expose. Answers turn into questions and wrong turns lead to dead ends in this stylish political thriller as Elena becomes increasingly lost on a map of someone else's making and the possibility of return — to home and to herself — slowly narrows."
Related: 15 Book to Movie Adaptations Streaming on Netflix Now
If you're anything like us, you'll be itching to read (or re-read) Didion's original novel before watching the film. At just 240 pages, you'll likely feel compelled to read it in one long sitting—after all, "Didion has created a menacing world where the reader is held hostage" (Los Angeles Times).
The Last Thing He Wanted
"Simultaneously lucid and surreal . . . the result is entrancing."
—The New Yorker
This is not the first time one of Joan Didion's works of fiction has been made into a film. Her famous 1970 novel, Play It As It Lays, was made into the 1972 film of the same name, starring Tuesday Weld and Anthony Perkins. Didion has also written screenplays for multiple films, including the 1976 version of A Star Is Born.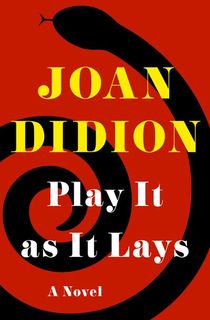 Play It as It Lays
"Simple, restrained, intelligent, well-structured, witty, irresistibly relentless, forthright in diction, and untainted by the sensational, Play It As It Lays is a book of outstanding literary quality." —Library Journal
Featured still from "The Last Thing He Wanted" courtesy of Netflix