We're dreaming of sipping on mint juleps, donning fabulous hats, dressing preppy, and betting on the fastest steeds. Yep, you guessed it: it's time for the Kentucky Derby. With origins in the late 1800s, this iconic event is the longest-running sporting event in the United States. And for good reason: for centuries the Kentucky Derby has provided "the most exciting two minutes in sports" and a walking spectacle for Southern fashion.
Whether you're attending "The Run for the Roses," fully decked out in pastels this year from the stands, or watching from the comfort of your home, these books will give you the lowdown on this legendary derby.
From stories of incredible horses to the best horse trainers in the business and all the history in between, you can celebrate right along with derby fans seated in the stands on Millionaires Row. And keep reading for a cocktails recipe book, perfect for all your Kentucky Derby party needs.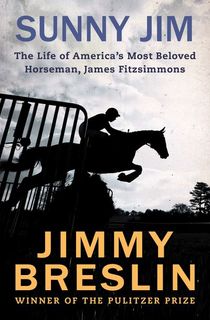 Sunny Jim
If you want a compelling real life story, look for a book by renowned journalist Jimmy Breslin. James "Sunny Jim" Fitzsimmons was one of the best horse trainers the Kentucky Derby has ever seen. With a six-decade career in horse training and three Kentucky Derby crowns under his belt, Sunny Jim was looking toward retirement. That is until he met Nashua.
She was the type of horse that trainers dreamed of taking out of the stables and onto the track. Sunny Jim had a gut feeling that she was a winner and decided to give the derby one last go-around. But Nashua was more remarkable than he ever could've imagined. Just when he thought he was ready to toss in his hat, Nashua made him pick up the reigns again.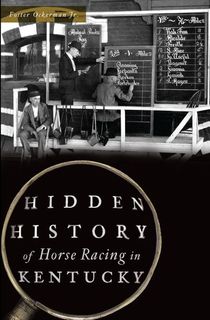 Hidden History of Horse Racing in Kentucky
Horse racing and Kentucky are a package deal. The Bluegrass State's iconic sport has been a part of its history since the eighteenth century, and some of that history has never been told until now.
Hidden History of Horse Racing in Kentucky explores the untold history of the famous Kentucky Derby. Discover the glory stories of famous old jockeys, horse betting scandals, royal visitors, and more.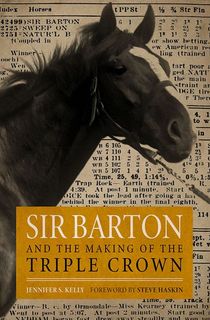 Sir Barton and the Making of the Triple Crown
This is the first book to cover Sir Barton, the horse dubbed the "king of them all." Sir Barton's long-awaited victory in the Kentucky Derby set him on the road to horse racing domination. His impressive collection of wins inspired a new generation of American horse racing and set in motion an elite group of horses that includes legends like Secretariat.
Jennifer S. Kelly explores the storied past of Sir Barton. Through exhaustive research, archival sources, and first-hand interviews, Kelly charts Sir Barton's career, from his near-fatal illness to his Triple Crown win.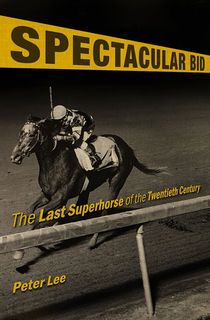 Spectacular Bid
In 1979 at Belmont Stakes, Spectacular Bid suffered an injury in his stall, resulting in a third-place finish. At the time, he had just come off from a win in the Kentucky Derby and the Preakness and was one win shy of becoming a Triple Crown champion for the third time in a row.
But this failure did not get the best of Spectacular Bid, as he went on to become one of horse racing's fiercest competitors. This biography from Peter Lee tells the entire story of the racing champion's legacy and the many obstacles that stood in his way.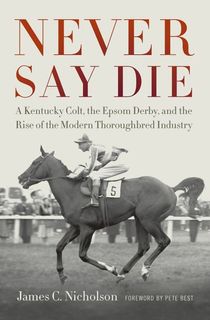 Never Say Die
On June 2, 1954, at Epsom Downs in England, thousands of horse racing connoisseurs gathered to watch what would become an unforgettable derby race. Queen Elizabeth and Sir Winston Churchill watched along, convinced their English-bred horses would take the crown. But to their—and everyone's—surprise, a Kentucky-born horse named Never Say Die galloped to victory and forever changed the world of horse racing.
This extraordinary book features a foreword by Pete Best, the original Beatles drummer. It unveils the true story of an underdog's unexpected triumph that played a part in the Beatle's origins. And it sheds light on how this victory turned the Bluegrass State of Kentucky into the heart of the global horse racing industry.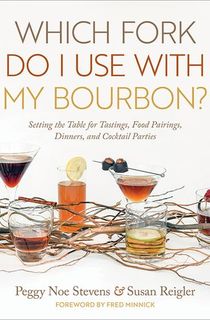 Which Fork Do I Use with My Bourbon?
If you're planning on throwing a Kentucky Derby Day party, look no further than this. With a detailed guide to hosting a bourbon-tasting party that includes cocktail recipes, food pairings, and bar tips, this book is a one-stop shop for all your derby party needs. Introduce yourself to new bourbon-tasting methods or expand your already expert palate.