Political humorist P.J. O'Rourke wrote best selling books for more than 40 years. Born in Toledo, Ohio in 1947, O'Rourke was a longtime proponent of gonzo journalism, and a regular contributor to The Atlantic Monthly and American Spectator, not to mention a favorite panelist on NPR's popular trivia podcast, Wait, Wait...Don't Tell Me!
Before passing on February 15, 2022, P.J. O'Rourke became so popular by realizing that topics like politics, finance and business are considered boring, but they don't have to be. In fact, they can be downright hilarious. If you're looking to find the humor in some of the world's driest topics, P.J. O'Rourke books are a good place to start.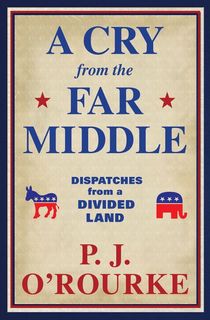 A Cry from the Far Middle
Wherever you land on the political spectrum, most agree that the U.S. is about as divided as it's ever been—and P.J. O'Rourke has a lot to say about that.
In this collection of essays, O'Rourke explores America's inclination toward anger and perplexity in his trademark tongue-in-cheek fashion. From "An Inaugural Address I'd Like to Hear" to a quiz on where you stand in the Coastals-vs.-Heartlanders debate, this book is a hilarious reminder that we should all take a deep breath, relax, and find the humor in it all.
"The funniest writer in America."—The Wall Street Journal
Related: This Kids' Book Explains Why It's So Important to Vote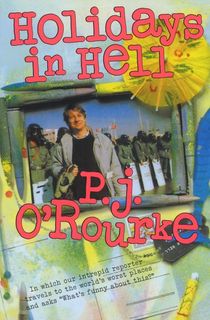 Holidays in Hell
One of his earliest books, Holidays in Hell is a full-tilt, no-holds-barred romp through politics, culture, and ideology. The author's adventures include storming student protesters' barricades with riot police in South Korea, interviewing communist insurrectionists in the Philippines, and going undercover dressed in Arab garb in the Gaza Strip. He also takes a look at America's homegrown horrors as he braves the media frenzy surrounding the Reagan-Gorbachev summit in Washington DC, uncovers the mortifying banality behind the white-bread kitsch of Jerry Falwell's Heritage USA, and survives the stultifying boredom of Harvard's 350th anniversary celebration.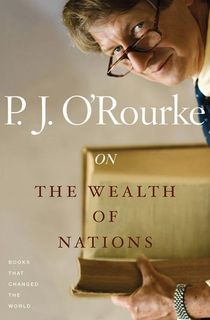 On the Wealth of Nations
Published in 1776, The Wealth of Nations is one of the fundamental works of economics—and at more than 900 pages, it's also a fundamental slog. Luckily, P.J. O'Rourke has read it so you don't have to.
In this witty, approachable, and insightful examination of Smith and his groundbreaking work, P. J. O'Rourke shows us why Smith is still relevant, why what seems obvious now was once revolutionary, and why the pursuit of self-interest is so important.
"If there is anyone on the planet who can make Adam Smith as entertaining and informative as he was prophetic, it's P. J. O'Rourke." —The Weekly Standard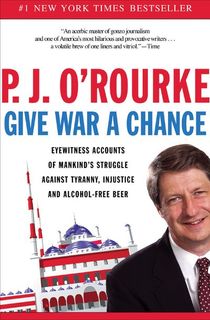 Give War a Chance
Renowned for his cranky conservative humor, P. J. O'Rourke runs amok in this book, tackling the death of communism; his frustration with the opposite side of the aisle; and Saddam Hussein in a series of classic dispatches from his coverage of the 1991 Gulf War.
Mordant and utterly irreverent, this is a modern classic from one of our great political satirists, described by Christopher Buckley as being "like S. J. Perelman on acid."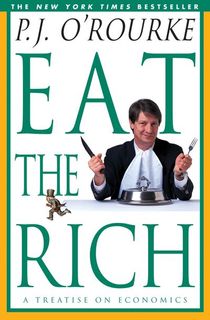 Eat the Rich
In his quest to make money funny, political humorist P. J. O'Rourke helps answer an age-old question: "Why do some places prosper and thrive, while others just suck?" While looking at places like Albania, Sweden, Hong Kong, Moscow, and Tanzania, O'Rourke takes a look at the complexities of economics with a big dose of the incomparable wit that has made him one of today's most refreshing commentators.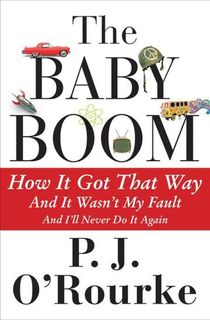 The Baby Boom
Though he is now known as a conservative political humorist, P.J. O'Rourke came up in the 60s and used to be a stereotypical hippie, the same as most of his postwar generation. Now, he's using his wit and wisdom to look back at the mess that his generation made—and the impact it's had on the world.
"A comedic and caustic cautionary tale for future generations—and, for those of us who are Boomers, a nostalgic and hilarious diversion." —NPR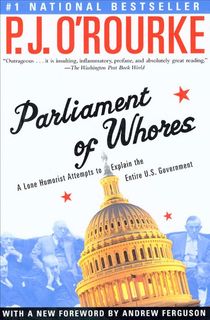 Parliament of Whores
"An everyman's guide to Washington," Parliament of Whores is a modern classic book that explains the American political system (The New York Times). Though it was originally written at the end of the Reagan era, this new edition includes a foreword from journalist Andrew Ferguson—and as he'll tell you, the names may have changed, but the game stays the same.
"Insulting, inflammatory, profane, and absolutely great reading." —The Washington Post Book World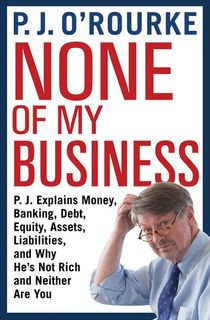 None of My Business
In None of My Business, P.J. O'Rourke takes another notoriously dry subject and makes it palatable–the world of finance. Though you may not walk away with much more knowledge than you already have (O'Rourke hilariously and purposely misunderstands bitcoin and suggests a 200 percent tax on celebrities), but for the first time in your life, you may laugh while reading a book on business, investment and finance.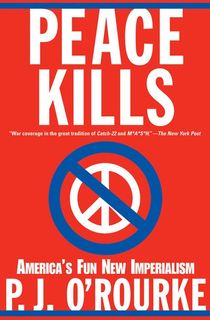 Peace Kills
According to P.J. O'Rourke, "Wherever there's injustice, oppression, and suffering, America will show up six months later and bomb the country next to where it's happening." Addressing everything from airport security to the Iraq War, this collection on war once again shows that O'Rourke is "an acerbic master of gonzo journalism and one of America's most hilarious and provocative writers" (Time).