Though quilting is often seen as a quiet activity, it can have a loud impact. Recently, many quilters have joined the fight for social change by using their creations to make a statement. A form of "craftivism," statement quilts are a nonviolent and beautiful way to emphasize social justice issues.
Together with C&T Publishing, Early Bird Books is giving away two books about statement quilting: Quilt Out Loud by Thomas Knauer, and Stitching Stolen Lives by Sara Trail and Teresa Duryea Wong.
Enter by June 29th for your chance to win. And don't forget to double your chances by signing up for The Reader newsletter, too!
Note: This giveaway is now closed.
By entering, you agree to receive email from Early Bird Books and C&T Publishing.
About the Prizes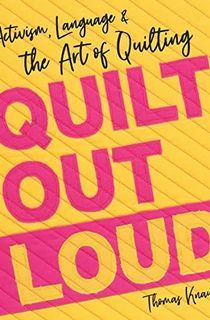 Quilt Out Loud
How do letters, numbers, words, and sentences change when used on a quilt rather than a screen or piece of paper? Statement quilts are an emerging trend within the modern quilt movement. Quilt artist Thomas Knauer's quilts follow the craftivism movement and emphasize social justice issues. From the most serious to whimsical, Quilt Out Loud teaches techniques for making text a part of the readers' quilts. Each chapter focuses on a particular technique, such as raw-edge applique or piecing in Morse code, and explores its conceptual implications.
Craftivism is a rising trend where quilters are using text on quilts to make a statement and take part in social movements
Explore methods of effectively incorporating language and data on quilts, whether profound or playful
Learn how to use applique, quilted text, binary numbers, morse code, and more for self-expression
Stitching Stolen Lives
Stitching Stolen Lives is an in-depth look at the mission and work of the Social Justice Sewing Academy Remembrance Project. Together, we remember the lives lost due to social injustices, with an in-depth sharing of their story. The SJSA compiled extraordinary portrait art quilts that memorialize the individuals and say their names, over and over. SJSA also works with young adults and teens to help find their voice through the art of fabric and quilting, shown through student gallery photography. By working with SJSA, students learn how to cut fabric and make quilt blocks, and along the way, find the strength to express the systemic problems that plague their everyday life through their artwork. This book shares stories and insight into the lives lost and the long-overlooked, heartrending truths shared by teens and young adults.
Personal stories of individuals and their families whose lives have been cut short due to social injustices
Includes thought-provoking art quilt blocks representing those whose lives were stolen
Young adults and teens find their voices through fabric and transform those messages into quilts
Featuring forewords by Hillary Rodham Clinton and Reverend Jesse L. Jackson, Sr.
For full details, see official rules.
Note: The sweepstakes is open to all legal residents of the 50 United States and Washington, DC who are 18 years of age and older by June 14, 2023.