Tracing its roots to the Hellenistic period of ancient Greece, Stoicism is a school of philosophy that was likely started by Zeno of Citium around 300 BCE, making it one of the foundational schools of what is today known as "virtue ethics." Stoicism was practiced by many prominent philosophers of the era, including such august names as Seneca and Epictetus, and taught that "virtue is sufficient for happiness."
Because of this philosophy, Stoics believed that a virtuous man would be largely resilient to misfortune, because his virtue alone would be sufficient to make him happy, regardless of the rigors he faced in his daily life. This emphasis has led Stoicism to be associated with enduring suffering without complaint, and today we often use the word "stoically" to describe the behavior of someone who doesn't show their feelings.
Stoicism is much more than just keeping a stiff upper lip, however. It is a complex philosophical tradition that has been contributed to by many important thinkers, as you'll see when you read these 7 books on Stoicism, from the ancient to the contemporary. Some address the philosophy head on, while others merely sample ideas from it to expand in new and different directions, but all will give you a new appreciation for Stoicism, and maybe help you face your own hardships with greater equanimity.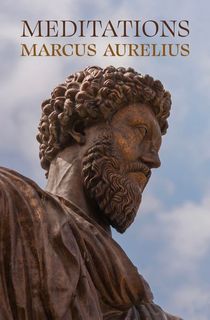 Meditations
Emperor of Rome from 161 CE until 180 CE, Marcus Aurelius was many things, among them an important voice in Stoic philosophy. In the twelve books that make up his Meditations, he embarks upon a personal journey for self-improvement, searching for the key to living a virtuous and meaningful life. It is from these writings – which were likely intended only as a personal journal on the part of the emperor, never meant to see publication – that we draw much of what we know about early Stoicism.
According to Aurelius, the only way that we can truly be harmed is by our own reactions and bad judgements. These and many other observations are recorded in entries that vary in length from a few sentences to many pages, forming one of the key works of western philosophy.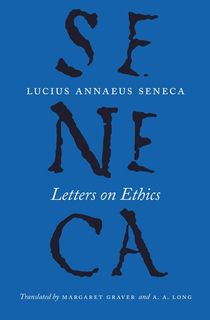 Letters on Ethics
One of the most important thinkers in the tradition of Stoicism, Lucius Annaeus Seneca the Younger lived from 4 BCE until 65 CE. He was a playwright, an essayist, a philosopher, and a statesman, forced to take his own life after his alleged complicity in an assassination attempt targeting the Roman emperor Nero. Among his philosophical writings, this "exceptionally accessible" collection of "lively and urgent writings" (Choice) is perhaps his most famous.
Originally penned as a series of letters to his friend Lucilius, these informal essays tackle everything from country life in Nero's Rome to the tenets of Stoicism. The result is a book that is quick to read but that will stick with you for a long time after you put it down, now available in a new translation for the first time in nearly a century.
How to Be a Stoic
"Highly readable, written in clear and accessible prose, and illuminated with anecdotes of both a person and an historical nature" (Washington Independent Review of Books), Massimo Pigliucci's modern guidebook is "a fine primer for the aspiring Marcus Aurelius" (Donald J. Robertson, author of Stoicism and the Art of Happiness).
It's all well and good to read the writings of the great Stoic thinkers who lived some two thousand years ago, but how do we apply those lessons to our daily lives? That's where this book comes in, breaking down the tenets of Stoicism into things that we can use every day, while doing an "excellent job of writing about each stage of wrestling with a philosophical system" (The New York Times).
Stoic Wisdom
"I can hardly think of a more clear and useful guide to ancient and modern Stoicism than Stoic Wisdom." That's what Massimo Pigliucci himself had to say of Nancy Sherman's involving and modern book that both examines why Stoicism is experiencing a surge of interest in the modern world while also exploring its roots that extend back more than two millennia.
In so doing, she combines quotes from some of the leading Stoics of ancient times with daily exercises and down-to-earth concerns that face us here in the 21st century, including burnout and racial injustice. The result is a book that helps us to find calm in times of stress and uncertainty, while also showing us how the wisdom of the ancient Stoics can remain relevant to us today.
The Subtle Art of Not Giving a F*ck
Mark Manson's controversial blog helped to propel him to internet stardom, and the books that have grown out of it have made him a New York Times bestselling author. While he espouses his principles in language that is… straightforward, let's say, the fundamentals of much of what he is arguing for are rooted in Stoic ideals.
These include taking responsibility for yourself and your own happiness, and pursuing a life that is rewarding and fulfilling without worrying too much about whether or not you will fail. While some of his arguments may rub readers the wrong way, there's obviously something to be said for Manson's in-your-face philosophy, given how popular it has become.
The Obstacle Is the Way
"The impediment to action advances action," Marcus Aurelius wrote nearly two thousand years ago. "What stands in the way becomes the way." That's the founding principle that Ryan Holiday uses as his jumping-off point in this Wall Street Journal bestseller, which counts among its fans everyone from Arnold Schwarzenegger to LL Cool J to the coaches and players of numerous professional sports teams.
It's about finding ways to take control of what we can control, all while turning our greatest obstacles into our greatest strengths. It's a book about finding a way forward, even and maybe especially when you're feeling your most frustrated.
Founding Leadership
It seems that the Founding Fathers are invoked often in political discourse these days. But what were they really like, how did they really think, and what was it about them that made them the influential leaders that they became?
These are the questions that Brent Taylor seeks to answer in this book that simultaneously reveals the human side of these "marble men" while also examining the beliefs and tenets that guided them in their decisions, from Hobbesian political philosophy to the guidance of the ancient Stoics.