Charlie Chaplin once said: "A day without laughter, is a day wasted." He certainly understood the power of a good belly laugh. The silent-film era actor performed in dozens of comedies, entertaining audiences with his madcap character the Little Tramp. Along the way, he became a Hollywood icon, and stands today—with his tipped bowler hat and bowed bamboo cane—as one of cinema's most cherished entertainers.
Chaplin's rise to superstardom has inspired a number of movies and books—including Smile: How Young Charlie Chaplin Taught the World to Laugh (and Cry), a dazzling children's book that chronicles Chaplin's life. We've also selected a few of our favorite Hollywood biographies and books about performers written for young readers. From Audrey Hepburn and the Little Tramp to a wondrous biography of the queen of magic, these entertaining reads are sure to delight book lovers and film buffs of all ages.
Smile: How Young Charlie Chaplin Taught the World to Laugh (and Cry)
Award-winning author Gary Golio has written a number of celebrated picture book artist biographies, including When Bob Met Woody and Spirit Seeker: John Coltrane's Musical Journey. Ed Young is the illustrator of over eighty books for children, including the Caldecott Medal winner Lon Po Po, which he both wrote and illustrated. In Smile, the renowned storytellers team up to create a loving tribute to Charlie Chaplin. With lyrical prose and expressive paper and fabric collage illustrations, Smile explores Chaplin's London childhood, his formative years as a stage performer, and his ascent to silver screen superstardom. The result is a vivid introduction to the Hollywood icon for grades 3-7, with an afterword that provides additional resources and information on Chaplin's life. And keep an eye out for the Little Tramp silhouette in the book's bottom right corner—he ambles to life in your own flipbook movie when you flip through the pages!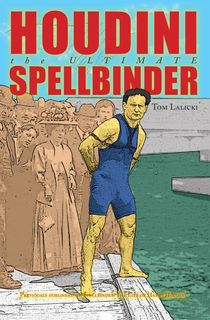 Houdini
This richly illustrated Houdini biography, which the American Library Association included among its Best Books for Young Adults in 2001, is perfect for young readers interested in learning more about the world-renowned magician and escape artist. Lalicki dives into Houdini's illustrious career, from his early illusions and spectacular straight jacket escapes to his forays into cinema as a movie producer and actor in pictures like Terror Island, The Master Mystery serials, and The Man from Beyond. Studded with performance posters and images of the magician on stage, Houdini is a treat for illusionists young and old.
Related: 10 Back-to-School Books That Will Inspire Readers of All Ages
Footwork: The Story of Fred and Adele Astaire
This illustrated biography from Candlewick Press, recommended for grades 3-7, captures the early footwork of young Fred Astaire and his best dancing partner—his sister Adele. Years before he was dancing across the ceiling on the silver screen, Fred Astaire was Frederick Austerlitz, a young boy from Omaha following in the song-and-dance footsteps of his older sibling. The family soon moved to New York City, where brother and sister began performing as a vaudeville duo. With Adele leading the way and little Fred right behind her, the pair danced across the stage and into the hearts of audiences everywhere. Written by award-winning writer Roxane Orgill and with vivid watercolor illustrations by Stéphane Jorisch, Footwork champions the persistence, teamwork, and natural grace of Fred and Adele that led to their becoming two of the biggest names in entertainment.
Anything but Ordinary Addie: The True Story of Adelaide Herrmann, Queen of Magic
While pioneering magician Adelaide Herrmann was not a movie star, her mesmerizing presence ranks her legacy among the best entertainers in Hollywood. Anything but Ordinary Addie, published by Candlewick and recommended for grades 1-4, tells the extraordinary story of Adelaide Herrmann, a vaudeville illusionist who transformed into the reigning queen of magic. Adelaide began her career in entertainment as an assistant to her magician husband, Herrmann the Great. When Herrmann passed away in 1896, Addie struck out on her own, enchanting audiences on both sides of the Atlantic with her grand illusions. Written by Mary Rockliff and wondrously illustrated by Iacopo Bruno, Anything but Ordinary Addie is a striking biography of an inventive female performer—and even includes instructions for performing one of Addie's own tricks.
Related: 20 Biographies of Remarkable Women That You Need to Read
Who Was Walt Disney?
This illustrated biography, part of Penguin Random House's "Who Was?" series, chronicles the man behind the mouse ears: Walt Disney. Recommended for grades 3-7, Who Was Walt Disney? traces the cartoonist's journey from his childhood years in Marceline, Missouri entertaining schoolmates to his arrival in Hollywood, California where he became one of the most successful filmmakers in history. Written by Whitney Stewart and accompanied by Nancy Harrison's charming black and white illustrations, Who Was Walt Disney? delivers a fun and informative sketch of the Hollywood legend whose cherished animated features continue to delight.
Related: On This Day: Walt Disney Testifies Before the House of Un-American Activities Committee
Just Being Audrey
Margaret Cardillo shines a light on one of Hollywood's brightest stars in this Audrey Hepburn picture book biography recommended for grades 1-3. Readers will meet a promising young girl growing up in WWII-era Europe, a determined dancer and performer who became an Academy Award-winning actress, and a devoted humanitarian who strived to make the world a better place. With radiant pastel illustrations by Julia Denos that perfectly capture the subject's style and grace, Just Being Audrey proves that Hepburn was an inspiring presence both on and off screen.
I Am Lucille Ball
New York Times bestselling author Brad Meltzer penned this heartwarming picture book biography of Lucille Ball. Recommended for grades K-3, I Am Lucille Ball portrays the performer in a light and lively style with illustrations by comic book artist Christopher Eliopoulos. Readers will delight in seeing Ball's journey from a cartwheeling child who entertained her friends and family to a world-renowned entertainer who charmed TV viewers everywhere as the star of I Love Lucy. Part of Meltzer's "Ordinary People Change the World" series, I Am Lucille Ball shows how a simple act like laughter can have a dramatic impact on the world.
Movies Are Magic: A Kid's History of the Moving Image From the Dawn of Time to About 1939
This picture book recommended for grades P-5 invites readers on a magical journey through the history of cinema. Illustrated by Howell Edwards design studio, Movies Are Magic stars Weston and his trusted pup Oscar as they explore the world of moviemaking, from its earliest flashes and the first silent films to the stellar performances of Hollywood's classic era. Lovingly written by classic film enthusiast Jennifer Churchill, this delightful read reminds us that movies are magic no matter your age—and is sure to turn your youngster into a budding movie lover.