In a world where simply watching the news can give you an ulcer, a good ol' cozy mystery is the perfect way to unwind and relax. We're always down for a fluffy whodunit on a rainy day—or any day, let's be honest—especially when it comes with a wacky twist. From quilt-makers and sharp needles to bakers and deadly carbs, these 10 cozy mysteries bring the fun, the laughs, and the kind of adorable quirkiness we love most.
Death in Advertising
Now that she's finally landed her first client, ad agency newbie Tobi Tobias thinks her cage-cleaning, animal-handling days at the local pet store are over. But nothing pulls the plug on rising success quite like a dead body; so when a corpse tumbles out of Tobi's closet, she's faced with a mess bigger than any of her pet shop disasters. If she hopes to save her business, she'll have to sniff out the killer herself. And with a scatter-brained parrot as witness, it certainly won't be a walk in the park...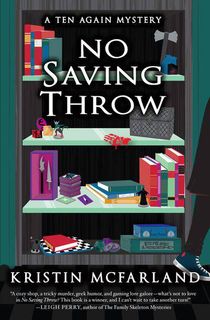 No Saving Throw
Gaming lore and geeky humor steal the spotlight in this charming whodunit. Dungeons & Dragons enthusiast Autumn Sinclair owns Ten Again, a tabletop gaming store that attracts a thriving business while also fostering a tight-knit community of gamers. But this haven of nerd culture and vintage fun is threatened when one of Ten Again's beloved gamers is found murdered. With everyone in the mall coming under scrutiny as a possible suspect, Autumn does some sleuthing of her own to clear her employees' names—and her own.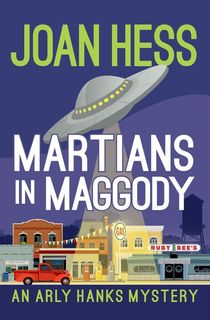 Martians in Maggody
Maggody, Arkansas has always been a bit out there, but the chaos has reached new heights now that extraterrestrial fever has swept across the town. Though strange circles appear in the cornfields and a renowned ufologist winds up dead, Chief of Police Arly Hanks is much more down-to-earth about his theories than his fellow Maggodians. He's convinced that a bug-eyed, green-skinned creature isn't responsible for the crime—but a monster much more familiar and far closer to home.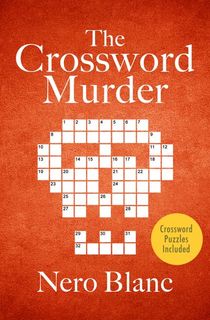 The Crossword Murder
The police believe the murder of Thomson C. Brieph, a notorious playboy and crossword editor, is the result of a certain four-letter word gone wrong. However, cop-turned-private investigator Rosco Polycrates is of a different opinion altogether—and he wants to prove it. He'll team up with another crossword pro, of course, but he'll also need your help to uncover the truths hidden inside the victim's puzzlers. Sharpen your pencils (or pens, if you're that kind of person), and let the wordplay begin!
Permed to Death
Marla is known for being a master hairdresser, but her reputation takes a turn for the worse when one of her clients dies while getting a perm. As if things weren't already hairy enough, Detective Vail thinks she's the culprit. Sure, Bertha Kravitz often made cutting remarks during her appointments, but Marla specializes in a different kind of dyeing. She's determined to de-tangle herself from the situation, and, like a bonafide Sherlock Combs, she launches an investigation that takes her into a knot of estranged family members and greedy businessmen.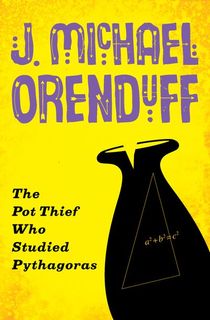 The Pot Thief Who Studied Pythagoras
No, not that kind of pot—though if it were up to the U.S. government, Hubert Schuze would still be in a prison cell. When he isn't dodging the feds, Hubie is digging his way across the world, uncovering long-buried Native American pottery. Shortly after turning down the ultimate pottery heist, that very relic goes missing—and of course, everyone believes Hubie is responsible. With no one else on his side, Hubie must fight to clear his name all on his own—or else he might be the one to wind up six feet under.
Kneaded to Death
We've been warned that carbs are bad, but nobody ever mentioned fatal consequences...When Ivy Culpepper, a struggling photographer, takes her first bread-making class at Yeast of Eden, her soggy spirits start to rise. But the discovery of her classmate's dead body—and the shop owner's possible involvement—creates chaos worse than any kitchen disaster. With justice on her mind, Ivy is determined to prove the owner's innocence and find the true killer. She's ready to follow the trail of breadcrumbs on her own…even if it means getting burned.
Glazed Murder
With her marriage gone stale, divorcee Suzanne Hart decides to follow her sweet tooth and open a donut shop. But not everything is rainbow sprinkles and powdered sugar at Donut Hearts. A body has been dumped at the door—and the stairs are glazed in blood. Everyone in Suzanne's Southern town becomes a suspect, but even danger can't stop Suzanne from sticking her nose into places it doesn't belong. The only thing she finds more delicious than a pastry? A twisty, salacious whodunit.
Quilt or Innocence
Beatrice Coleman has just arrived in Dapple Hill, and there's a lot to learn about her new neighborhood. Luckily, the members of the Village Quilters Guild love to spin a good tale—especially when it concerns the residents of their quaint little town. The murder of the local quilt shop owner gets their mouths blabbing and their sewing needles pointing in all directions. But who's truly responsible for the crime? Only Beatrice can stitch up the loose ends and find the killer.
Cloche and Dagger
When an embarrassing video goes viral, even a wide-brimmed hat can't hide Scarlett Parker's shame. Her British cousin, Viv, has a solution: She can high tail it across the Atlantic, work in the family hat shop, and find a fresh start in London, England. But the minute Scarlett lands in the UK, everything starts to fall apart. A wealthy client winds up dead; Viv mysteriously disappears; what else could go wrong? In order to find her missing cousin, Scarlett must don a fedora and play detective…and hope her sleuthing doesn't get her killed.