As a writer of two popular Victorian series, Anne Perry has occupied a major space in the world of historical mysteries during the past 40 years. The first of these are the Charlotte and Thomas Pitt novels, whose namesake duo sleuth among an upper crust, criminal society. Their relationship is slightly reminiscent of Elizabeth Peters' Amelia Peabody and Radcliffe Emerson: they're married, have children, and remain thick as thieves over the course of several decades (and counting!). Charlotte is way ahead of her time, and though Thomas is a bit too protective of his wife, he always acknowledges her skill as an amateur detective. Together, they're an unstoppable crime-solving force that has enchanted readers since 1979.
Perry followed this success with the 1990 book, The Face of a Stranger, which stars amnesiac detective William Monk. 22 other Monk novels have been published since and, like the Pitt series, each mystery is filled with the historical richness Perry is known for.
With the second book in a new series featuring Charlotte and Thomas Pitt's son Daniel just released, Perry is still churning out exceptional reads. If you're interested in the author's work, but don't know where to start, take a look at the list below. From her latest novels to her biggest hits, they're the Anne Perry books no mystery reader should miss.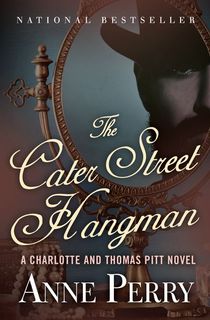 The Cater Street Hangman
A serial killer has come to Victorian London. The weapon of choice? A cheese wire. The latest victim? A maid employed at the posh Ellison household. While most of the surviving residents are left shaking in their petticoats, young Charlotte remains as unflappable as ever. The most rambunctious and curious of the Ellison brood, she butts heads with Thomas Pitt, the inspector on the case, when he insists she mind her own business. But as the plot thickens, the pair's connection deepens—and soon, they become a sleuthing duo no criminal can outrun.
Though originally written as a standalone novel, The Cater Street Hangman became the first in Anne Perry's 32-book mystery series.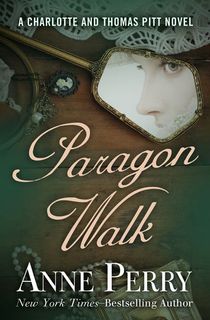 Paragon Walk
Innocent Fannie Nash has died in her sister-in-law's arms—and it certainly wasn't of natural causes. All eyes are on the gentlemen within the victim's social circle, though it's hard to know which waistcoat to tail. Enter the newly-married Thomas and Charlotte Pitt, whose combined skill set may just put all doubt to rest. While Thomas goes about standard investigative procedure, Charlotte takes her signature grass-roots approach: mining information from her sister's upper class friends. With enough evidence and hot society goss, can the Mr. and Mrs. of crime uncover which man is not the paragon of virtue he claims to be?
Related: 10 Mystery Books Starring Husband and Wife Detective Teams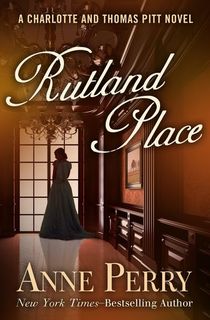 Rutland Place
Much has changed since we first met Charlotte and Thomas in The Cater Street Hangman. Not only are they partners in life and crime-solving, they're also new parents to an infant daughter, Jemima. But even domestic bliss can't keep the Pitts from getting involved in England's criminal wheelings and dealings. In the series' fifth installment, Charlotte realizes that her mother's missing locket isn't a matter of misplaced jewelry—but one thread in a community-wide web of crime. Things escalate when a neighbor suddenly drops dead, bringing Thomas into the fold and to the ultra-exclusive Rutland Place. Who needs date night when you can catch a killer, side by side?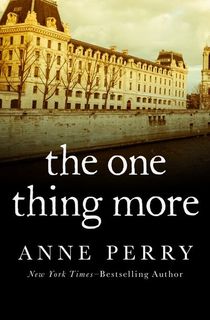 The One Thing More
Tensions are mounting in Revolution-era France, and the shadow of the guillotine looms before doomed King Louis XVI. A court ruling has set his execution in four days' time—but Célie, an unwavering royalist, is determined to keep the blade from falling. While she and likeminded supporters plot to keep their king alive, their group leader is murdered by someone on the inside. It's up to Célie to root out the snake, or both she and Louis will meet violent ends. This 2000 novel is just one in a handful of Perry's standalone books, but it features the mystery, intrigue, and historical detail of her beloved ongoing series.
Murder on the Serpentine
The year is 1899. It has been decades since Thomas Pitt first laid eyes on Charlotte Ellison—then, just an inquisitive lady eager for freedom. Now, both husband and wife have well-honed detecting skills, and Thomas holds the most prestigious position at UK's Special Branch. His latest assignment comes directly from Queen Victoria, whose closest confidante has been fished from the shallows of a Hyde Park lake. Given the nature of the case, Thomas is reluctant to involve his wife—but as always, Charlotte refuses to twiddle her thumbs in the background. As they pursue their own leads, Perry gives readers glimpses of the Pitts' two children and insight into turn-of-the-century London, the Boer Wars, and Germany's rise to power.
Twenty-one Days
Set eleven years after Murder on the Serpentine, Twenty-one Days is the first book in a spin-off series. Thomas and Charlotte have passed the torch onto their son, 25-year-old Daniel, who is working as a junior barrister. Anxious to escape his parents' very long shadows, he eagerly takes a case that will either make or break his career: In three weeks, his client is scheduled to meet the hangman's noose, though he insists on his innocence. Can Daniel save his client's neck, live up to his parents' reputation, and thus earn the respect of his peers?
Triple Jeopardy
Perry's latest novel picks up where Twenty-one Days left off. Young lawyer Daniel Pitt is tasked with defending Philip Sidney, a British diplomat who's been charged with embezzlement. But Daniel's sister Jemima informs him of a separate case against Sidney: He's the prime suspect in the assault and robbery of an American woman. Claiming diplomatic immunity, Sidney fled the U.S. shortly after this allegation surfaced. Convinced of Sidney's guilt, Daniel plans to only provide him an adequate enough defense to avoid a mistrial. That is, until he catches wind of a murder in the British embassy that may be connected to the theft. Daniel enlists the help of accomplished scientist Miriam fford Croft to chase down new leads in the investigation, before an innocent man is put behind bars.
The Face of a Stranger
The Face of a Stranger introduces Perry's other iconic hero, William Monk: a gentleman, a former banker, and a professional sleuth. Not that he knows it. A coach accident has left him without his memory, essentially wiping his brain of all detecting know-how. When a hero of the Crimean War is murdered, William must set aside his pride, start from scratch, and be persistent if he hopes to find the culprit. Along the way, he gets a little help from Hester Latterly—a nurse and friend of Florence Nightingale—whose presence adds a dose of romance that Thomas Pitt fans will love.
This post originally appeared on Murder & Mayhem.
This post is sponsored by Open Road Media. Thank you for supporting our partners, who make it possible for Early Bird Books to continue publishing the book stories you love.