Nothing says teamwork quite like marriage. And if you're ever faced with elusive killers, conniving thieves, or eccentric in-laws, who better to have as a sidekick than your significant other? For the husbands and wives in these ten mysteries, saying "I do" includes more than kids, a cul-de-sac home, and Mr. and Mrs. bathrobes—it means working together as an unstoppable crime-solving force.
Black & Blue (Lord and Lady Hetheridge Mystery Series)
There hasn't been a dull moment in Kate and Tony's marriage, and when their neighbor gets his head bashed in, it seems that life in the Hetheridge household will always be far from settled. Not only is the prime suspect dating the mother of Kate's work partner—but Kate's family is after her and Tony's money, too. From a nefarious art dealer to meddlesome sisters and mothers, Black & Blue is another bestselling installment starring Chief Superintendent Tony and his wife, detective Lady Hetheridge.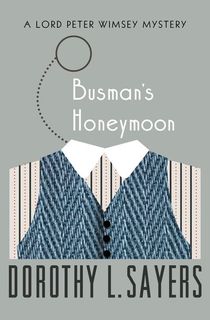 Busman's Honeymoon
Sayers' beloved characters, Lord Peter Wimsey and Harriet Vane, have officially tied the knot, but not all is strictly newlywed bliss. While honeymooning at a country estate, a body is found in the cellar, and Peter and Harriet must abandon their candlelit evenings for a full-on murder investigation. Set on the brink of WWII and based on Sayers' stage play of the same name, Busman's Holiday is the cozy that has it all: "mystery, comedy, love, and drama"—and a power couple you'd want to invite for dinner and drinks (The New York Times).
The Thin Man
What do the glamorous Nick and Nora Charles love more than solving mysteries? Downing a dry martini (or five) every night—and better yet if you can combine the two together. Though recently retired from his detecting gig, Nick finds that even old career habits die hard, and he's drawn into the search for a missing former client. Nick's dry sarcasm and Nora's ahead-of-her-time sass make for an entertaining—if not downright boozy—whodunnit that found box office success in 1943. The couple is even allegedly based on Dashiell Hammet and his mistress, which begs the question: how did Hammet ever write a coherent sentence?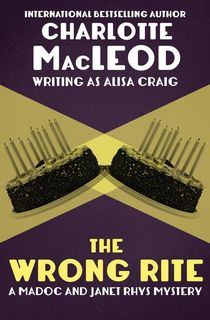 The Wrong Rite
Who would've thought an old man's birthday party could be so deadly? Detective Inspector Madoc Rhys has brought his wife, Janet, and daughter, Dorothy, to the celebration of his grandfather's 90th. But every family has it's odd-balls, and the Rhys clan takes the cake. Madoc's distant cousins, Mary and Bob, corral everyone into an ancient fire ritual, and everything—including Mary—quickly goes up in flames. With their breezy intelligence and charisma, Madoc and Janet aren't afraid of a challenge, and they jump right into a screwball adventure full of pagan rites, jewel thieves, and blackmail.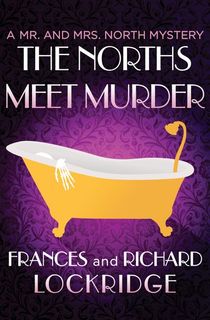 The Norths Meet Murder
Nothing ruins a party quite like death. Pamela North isn't happy when the corpse in her attic shakes up her plans instead of her cocktails. Though a detective has been called to the case, it's Pamela and her husband, Jerry, who can connect the dots using their social connections and sleuthing know-how. Part mystery, part domestic comedy, the Mr. and Mrs. North cozy series is "one of the funniest out there"—and was even written by a real-life husband and wife (The New Yorker)!
Death at Devil's Bridge
Charles and Kate Sheridan are still in the early days of their marriage, but there couldn't be a more perfect pair. Where Charles is all science and logic, Kate is curious and clever —and, together, they make an brilliant crime-solving team. They're at their sharpest in Death at Devil's Bridge, where they must determine how Charles' auto-exhibition went horribly, fatally wrong. Along the way, the Sheridans encounter a cast of historical figures such as Charles Rolls and Henry Royce (of Rolls Royce fame), and readers get a snapshot of Victorian England coming to grips with a changing world.
Related: 11 Cozy Mysteries Set in Bookstores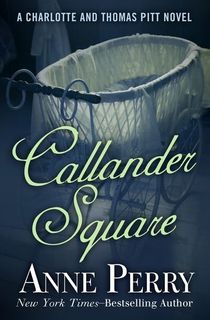 Callander Square
Charlotte Thomas, the wife of Inspector Thomas Pitt, rarely meddles in her husband's work. But after crime descends upon their posh—and supposedly safe—community, her gossip savviness is needed to crack the case. As Thomas goes about his standard procedure, Charlotte begins her own investigation, taking to the parlors and back stairways to mine secrets from the town's residents. New York Times–bestselling author Anne Perry mixes murder mystery with Victorian-era gender politics, and "fans who prefer their crimes with a touch of class should heat some scones and nestle back for the afternoon" (The Atlanta Journal Constitution). We'll raise our pinky fingers to that!
Related: 7 Anne Perry Books About Sleuths and Crimes of the Past
By the Pricking of My Thumbs
In By the Pricking of My Thumbs, the iconic mystery duo Tommy and Tuppence is off to visit old Aunt Ada at the nursing home. Strange things are happening there, Ada tells them—and she isn't the only one to think so. The other residents are quick to chime in with their own suspicions of evil-doings, like poisoned food and bodies in the walls. As can be expected from a Christie novel, By the Picking of My Thumbs involves a slew of red herrings and bizarre characters (creepy dolls! diamond smugglers!), but it's the charming Mr. and Mrs. Beresford who are the bright spots in the dark chaos.
The Clark Gable and Carole Lombard Murder Case
It's the Golden Age of Hollywood, and a kidnapper is targeting the children of the rich and famous. Who better to find the culprit than film superstars—and, as it turns out, amateur sleuths—Carole Lombard and Clark Gable? Set around the premiere of Gone with the Wind and with nods to the Lindbergh kidnapping, The Clark Gable and Carole Lombard Murder Case is one of several George Baxt mysteries featuring iconic celebrities as detectives. Somehow a Kim Kardashian-Kanye West mystery doesn't sound quite so interesting to us.
Day of Atonement
Peter Decker, a LAPD cop, first met Rina when she was a witness in a criminal investigation. Despite their different religious beliefs and opinionated families, they've taken the plunge and finally gotten hitched. But a boy's sudden disappearance cuts their honeymoon short and, once again, Peter and Rina find themselves amidst warring families and religious conflict, in this "entrancing page-turner" from the bestselling Decker-Lazarus series (Library Journal).
Featured photo of "The Thin Man" (1934) courtesy of Wikipedia