Goddess: The Secret Lives of Marilyn Monroe first hit shelves in 1985, three years after Los Angeles reopened the case of her death. The book became a bestseller, and deservedly so. It was authored by Anthony Summers, a best-selling journalist and biographer who has also captivated readers with his writing on topics such as the assassination of John F. Kennedy, the Profumo Affair, and J. Edgar Hoover.
For his book on Marilyn Monroe, Summers conducted extensive interviews to piece together the circumstances of her still-mysterious death—and to establish that President Kennedy and his brother Robert were involved in covering it up.
Now, a new edition of Goddess reveals even more about the tragic night.
"My purpose is to offer new facts, credibility," says Summers. "Reporting involvements with President Kennedy and his brother Robert need not descend to fabrication. Information is now substantiated; sources, identified."
August 2022 will mark 60 years since Monroe's passing, an anniversary Netflix is noting with two new films. Goddess is the basis for a documentary called The Mystery of Marilyn Monroe: The Unheard Tapes, streaming on April 27. Also slated for 2022 is Blonde, a biopic starring Ana de Armas and based on the Joyce Carol Oates novel of the same name.
Recently, Early Bird Books reached out to Anthony Summers to discuss the new edition of Goddess and the upcoming documentary. Read the full interview with Summers below.
Your ten non-fiction books have covered famous controversial figures such as J. Edgar Hoover and Richard Nixon. Why did you decide to include Marilyn Monroe in that list—and why return to her now?
Goddess did not originate as a book at all! I was assigned to go to Los Angeles to write a magazine piece about the D.A. reopening investigations into Marilyn's death, then realized there was more than could be covered in one article. I was hooked, and not just by the puzzles about her dying. People who had known her were themselves getting on in years, and many were ready to talk for the first time.
Goddess is based on more than 600 interviews about Marilyn Monroe. How long did it take you to research and write the book? Do you have a method for doing such exhaustive research?
I lived in L.A., I think, for more than a year of hectic work, then packed everything up in cardboard boxes—audiotapes and paperwork (no internet in those days!) and traveled to a remote island to write. I had one or two trusty researchers, and turned to them for further checks.
What information have you been able to add to the new edition of Goddess?
For the new Goddess, I've gone back to where it began for me, the saga of Marilyn's last months, her storied involvements with President Kennedy and his brother Robert, the Attorney General, and looked again at the question-marks over her death. There's been so much garbage written about that. So much baseless speculation, even today, on the internet and in books.
The changes in my book are limited but significant. Key to her last days was the effort by the Kennedys' enemies to get compromising evidence on the brothers and then—after she died—the brothers' struggle to hide their involvement. Today, I name names that I previously had to withhold and publish law enforcement material that was for years censored, kept secret. I hope I can say that what I have written is close to what will become accepted history.
Almost 60 years after her death, people remain fascinated by Marilyn Monroe. Why do you think that is?
Why were millions mesmerized when she was alive? It was not at all just the cardboard cut-out "sexy" image—she had something intangible. How she differed from other actresses comes through a little in my book, I hope. In April, people who watch her in the upcoming Netflix special—based on my work for Goddess—will glimpse the magic. It is beyond cliché.
Related: 8 Books About Marilyn Monroe
This isn't the first time one of your books has helped create a film—how does it feel to see your work become translated for the screen?
Depends what exactly you mean by "film" treatment! It's always a compliment when an author's work is picked up by filmmakers. The rights to Goddess were picked up by Hollywood—Mira Sorvino played Marilyn. The movie was dreadful and for that reason, I'm somewhat relieved to say that its script virtually ignored the hard information that my book offered.
A film in part developed from another book of mine, on Britain's early 1960s sex-espionage scandal, was little better. But my home turf is factual reporting and happily, there have been documentaries based on all ten of my books. Most were accurate and well-made, and that's fulfilling.
Before researching and writing books, you spent a decade working for the BBC, a job that let you travel the world. What made you decide to pursue a different kind of journalism?
Before the BBC, as a very young man, I wrote and read the news for the overseas news department of Swiss radio—we used to joke sometimes, that both our listeners in Africa were listening. I moved on from there to working for BBC Current Affairs, often in war zones, Vietnam and the Middle East.
The gain, for me, was that both broadcasters prize above all accurate, balanced reporting. I eventually quit to lead a more "normal" life, after a colleague had been killed. But the non-fiction disciplines stayed with me when I turned to writing books. Research, check the research, check it again, hold no bias. The truth is rarely boring.
Related: 10 Top-Notch Works of Journalism
Are there any biographies you've particularly enjoyed reading and would recommend for others?
I am glad you haven't asked me to name my favorite novels, because I rarely dip into fiction. The pressure of non-fiction digging leaves little time for reading for pleasure. Biography? I've plunged into Adam Sisman on John Le Carré and Fintan O'Toole's We Don't Know Ourselves—nominally about his life but really about modern Ireland, where I live.
Michael Lennon's A Double Life, on Norman Mailer, also held me. I knew Mailer, who once sent me a cartoon he had drawn at a time I was finishing one of my own books. He inscribed it: "After the fight was over, after the bell was rung," and the "me" figure in the drawing looks bruised and battered. That's how you feel sometimes as you emerge from the writing. In so many ways, though, it's worth the effort.
Anthony Summers Books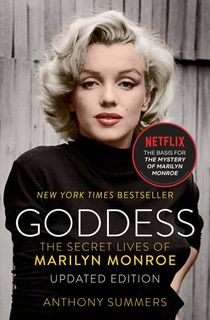 Goddess
Written and updated by a Pulitzer Prize nominee who has authored works on JFK, J. Edgar Hoover, and the 9/11 attacks, this investigation of an iconic star's brief life and early death is "remarkable. . . . The ghost of Marilyn Monroe cries out in these pages" (The New York Times). Netflix's The Mystery of Marilyn Monroe will cement this work as the definitive biography of the unforgettable woman.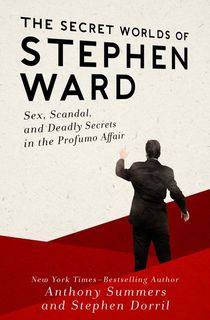 The Secret Worlds of Stephen Ward
The Profumo Affair rocked the British establishment like no scandal before or since. The Tory war minister, John Profumo, had taken up with a teenager named Christine Keeler, who was also sleeping with a Soviet intelligence agent. The ensuing inquiry revealed a hidden underworld in which men of the ruling classes and politicians cavorted with prostitutes at orgies. The revelations shook the British government and sent shock waves all the way to the Kennedy White House. The man at the center of the storm was Dr. Stephen Ward.
Ward was a successful doctor to the rich and powerful, a talented artist who drew portraits of many of his famous patients and fixed up prominent men with young women. He was also a pawn, ruthlessly exploited by the intelligence agencies. When the Profumo Affair threatened the government, Ward became a scapegoat, hounded to death—and perhaps murdered.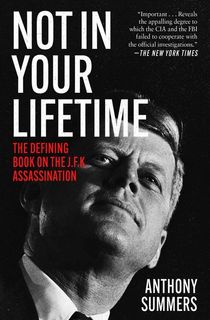 Not in Your Lifetime
Fifty years on, most Americans still feel they have not been told the truth about President Kennedy's death. Chief Justice Warren, who chaired the first inquiry, said "some things" that "involve security" might not be released in our lifetime. Millions of pages of assassination records were finally made public in the late 1990s.
Yet the CIA is withheld more than a thousand documents under "national security"—until 2017. Why? Why hold these records back if—as we were told half a century ago—Lee Harvey Oswald was a lone assassin? Anthony Summers set out to write a reliable account of the murder mystery that haunts America. Not in Your Lifetime, in this fresh edition, is one of the finest books written on the assassination.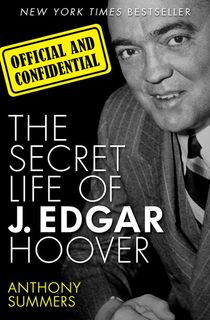 Official and Confidential
No one exemplified paranoia and secrecy at the heart of American power better than J. Edgar Hoover, the original director of the Federal Bureau of Investigation.
For this consummate biography, renowned investigative journalist Anthony Summers interviewed more than eight hundred witnesses and pored through thousands of documents to get at the truth about the man who headed the FBI for fifty years, persecuted political enemies, blackmailed politicians, and lived his own surprising secret life.