It's Women's History Month and we are looking forward to all the events and books that celebrate the impact that women have on the world.
So who is the most badass of them all? The BookTrib Nerd Squad took a break from making the universe safer for nerdkind to reply to an article by Kieran Shea at the Huffington Post where he curated a list of 9 Badass Women from Science Fiction. We think it's a great list with just one teeny, tiny problem—his supercharged heroines are mostly from movies and TV. Yes, Carrie is from the eponymous Stephen King novel, Katniss Everdeen is from Hunger Games (and on EVERY list for badass women) and Michonne's Walking Dead character evolved from a graphic novel, but for us it begins and ends with books. So we went one better and present our 10 Most Badass Women in Sci-Fi, including a few who bend the notion of what it means to be a woman.
Cinder
While this tale operates within most motifs associated with the Cinderella mythos (dead father, evil stepmother, pair of stepsisters, handsome prince, frantic search after a ball), Linh Cinder quickly divests herself of stereotypical fairy tale princess frailty and expectations. Mice and glass slippers are replaced with sarcastic androids and ill-fitting mechanical feet. When Cinder meets her prince, she keeps her distance knowing that dreams of a happily ever after with royalty are merely dreams. When Cinder goes to the ball, it is not to meet her one true love. It is to avert disaster. As she comes to grips with who and what she really is, Cinder faces it with a pragmatism that would have served her Disney predecessor well.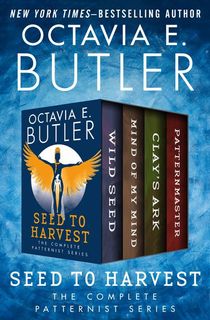 Seed to Harvest
All of Anyanwu's badassery begins and ends with this fact—she's immortal. A shape-shifter who was brought to America in chains as a child during the Middle Passage, she realizes her true ability and power through the arc of Butler's Patternist Stories as she battles a fellow immortal and his attempts to breed a superior race. She's a mother goddess of the highest order.
The Hunger Games
When most people talk about bad-ass females from The Hunger Games by default the conversation leads to Katniss Everdeen. It is understandable; she is the main character. However, there is a dark horse that deserves all of our attention – Johanna "I am not one to mess with" Mason. She is the quintessential loose cannon, unpredictable and potentially devastating. Forged in the fires of the 71st Hunger Games, Johanna has little that she values more than her drive to destroy the system that destroyed her life. She won her Hunger Games by feigning weakness and throwing axes. She survived torture of water-soaked electrocution. Johanna rages against the machine that murdered her family, while refusing to worship at the altar of Everdeen.
The Left Hand of Darkness
What if your best male friend suddenly became female? Estraven is the former prime minister from an ice world (not dissimilar to Star War's planet Hoth) called Gethen or Winter. The inhabitants of Gethen are "ambisexual" beings who only become masculine or feminine during their monthly mating cycle. Estraven's femininity arises when she comes to the rescue of human diplomatic envoy Genly Ai. His diplomatic mission has landed him in a brutal labor camp. Estraven saves his life at great personal cost, a sacrifice that will ultimately save Gethen.
Dune
Talk about a rise to power. In her life time, Jessica went from being the illegitimate daughter of a baron, to concubine of duke, to the mother of an emperor, to the goddess mother of the Fremen. Over the course of the novel, we see Jessica grow into her role as the mother archetype. She is strong enough to stand up to others, as well as to tradition and customs, to protect those she loves.
A Wrinkle in Time
No list of badass women from science fiction can leave out Meg Murry. The daughter of an exceptional family of scientists, she and her remarkable little brother, Charles Wallace, embark on a galaxy-hopping quest to rescue their father. Aided by supernatural beings, Meg discovers that strength comes from an unexpected source. Bonus for fans of Marvel's Thor: the plot revolves around a tesseract.
Friday
OK, so Friday might be an "artificial" person but that doesn't stop her from being smarter, stronger and faster than everyone else. She hides the dangerous secret of her origins in her work as a highly successful combat courier for a Balkanized version of Earth. When she realizes she's been discovered and has been given a one-way assignment she takes her future into her own hands.
The Eyre Affair
Friday, meet Thursday. Thursday Next. Thursday is a literary detective from a rather unusual family; they have a tendency to get unstuck in time—and place. Thursday has the ability to travel inside the world of books and uncover crimes aided by her rather unlikely sidekick, Miss Haversham. Tough, no nonsense and thoroughly professional, Thursday is a delicious British brew of Jane Tennison and Monty Python.
Woman on the Edge of Time
Can the most marginalized person in the world save us all? Connie Ramos is poor, Latina, an ex-felon, and deemed mentally ill—an invisible person in our society—but she just may be the savior of a brighter, utopian future. Piercy's novel still stands as a utopian and feminist classic.
The Ship Who Sang
We've listed artificial humans, aliens and a demigoddess, but Helva surpasses them all in uniqueness. Helva is part human, part spaceship—known as a "brainship." Forever encased in a life-support shell, she experiences her existence as part of her ship, a powerful being who can travel the galaxy. Her story is one of the few that tackles the role of disabilities in a futuristic society.
This article originally appeared on BookTrib.
BookTrib.com, "Where Readers Meet Writers," is a network for readers and writers to make a connection and keep books alive in a distracted world. Created by Meryl Moss Media, a literary PR firm with a successful 25-year track record.
Featured still from "A Wrinkle in Time" (2018), via Disney
KEEP SCROLLING FOR MORE STORIES