When it comes to quality science fiction, there's quite a lot to choose from. With competing classics from sub-genres like cyberpunk and post-apocalyptic fiction, it's hard to narrow the genre down to the most timeless and all-around best.
That's why we turned to an expert.
We asked Open Road Media's own Colleen Lindsay to put her 15+ years of science fiction publishing experience to work—and she came back to us with this extensive list of essential reads. Check out her picks for the 30 best science fiction books below!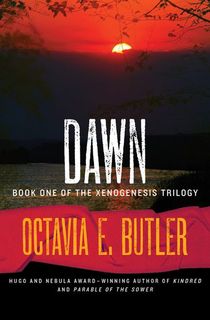 Dawn
Dawn is a post-apocalyptic tale with a twist. Protagonist Lilith Iyapo is here to help rebuild civilization, but she has a little bit of help. In fact, she and the other apocalypse survivors have been held in a cryo-sleep by aliens for hundreds of years. The aliens aren't in it for charity, though: they genetically merge with the humans, meaning that the humans repopulating our planet won't quite be human at all.
Still not convinced? Lupita N'yongo gave the book a glowing review, listing it as one of her favorites: "I was stunned by how relevant the themes of the book are to today. I did not imagine that sci-fi would be an enjoyable genre to get into for me, but Butler writes with such a familiarity that the alien is welcome and intriguing. She really artfully exposes our human impulse to self-destruct."
Remnant Population
This strikingly imaginative story centers on Ofelia, a space colonist who chooses to live in complete solitude rather than leave her disbanded colony. But Ofelia isn't quite as alone as she imagines—something she discovers in shocking fashion when a reconnaissance crew arrives and is slaughtered.
The Sparrow
Humans have long dreamed of making contact with an alien species. But if we found them, what would we say? In this brilliant and thoughtful novel, Russell tells the story of a Jesuit Priest and master linguist who is charged with communicating with our extraterrestrial counterparts for the first time—and emerges from the event broken and maimed.
The Three Body Problem
Cixin Liu is China's best-loved science fiction novelist—and he's quickly becoming a favorite all over the world. The Three Body Problem tells the story of an impending alien invasion, but it brilliantly focuses on how the people of Earth react. A TV version of The Three Body Problem was just greenlit, so hurry up and read the book before the spoilers show up on-screen.
Stories of Your Life and Others
Science fiction has always been a great genre for short stories. Stories of Your Life and Others continues that tradition with its collection of smart and compelling tales. Any one of these stories will capture your imagination—just as the titular story captured the imagination of Hollywood filmmakers, who turned it into Arrival, the Oscar-nominated film starring Amy Adams.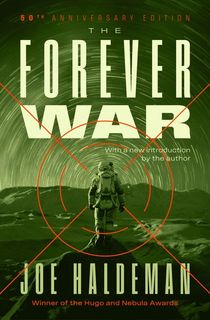 The Forever War
Haldeman's 1970s book ranks among the most famous sci-fi warfare novels ever written. In The Forever War, the reader returns to Earth with conscripted soldier William Mandella. Thanks to relativity and Mandella's high-speed space travel, the Earth has undergone decades of change over a period that has only felt like two years to Mandella. The Forever War captures the feeling of returning from the front in a way that remains evocative and relevant to this day, and it earned Haldeman both the Nebula and the Hugo.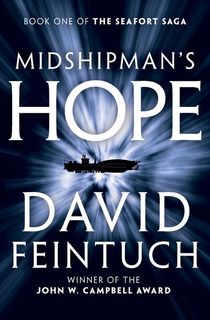 Midshipman's Hope
Midshipman's Hope features a teenage protagonist with a humble job: a midshipman on a starship. But circumstances can change quickly in space, and soon Nicholas Seafort finds himself in a leadership position that he's not at all ready for. There's no time for training, though, because the dangers come fast and furious in this thrilling novel.
Old Man's War
Soldiers are usually young. That's not the case in Old Man's War, where a mysterious military organization only wants the oldest and most experienced people for their fighting force. Nobody knows what to expect once they join up, but our protagonist—75-year-old widower John Perry—is about to find out.
Ender's Game
In Ender's Game, mankind is reeling after two assaults from an insect-like alien species. If they're going to survive a third, the people of Earth need brilliant commanders—tactical geniuses who are raised from a young age to fight and win. That's where Ender Wiggin comes in: he just might have the right combination of intelligence and demeanor to lead mankind to victory.
The Cold Between
Commander Elena Shaw is out to clear her lover's name in a murder case when her investigations lead her to some shocking discoveries. The victim's murder is linked to the explosion of a starship a quarter-century before—an explosion that the government has been lying about for years.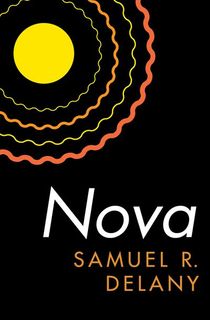 Nova
In Nova, the death of a star represents a huge opportunity. A nova creates Illyrion, a super-valuable element used in interstellar travel. Nova's protagonist—a rich playboy who has a beef with a rival wealthy family—is after Illyrion, but he soon gets more than he bargained for.
Ancillary Justice
Ann Leckie's debut novel kicked off a full space opera trilogy. The universe in the book is huge and dominated by the Radch Empire, which uses artificial intelligence in human bodies to bolster its fighting forces. These creatures are called ancillaries, and Leckie's novel tells the story of one who survived the mysterious disappearance of a starship.
Leviathan Wakes
Leviathan Wakes is a throwback space opera that fans of classic sci fi will love. The story kicks off with a distress signal and a rescue mission, but after a sudden attack, the stakes rise quickly and galaxy-wide war seems imminent. This story is getting the TV treatment courtesy of the SyFy network, which is basing a series called The Expanse on the book and its sequels.
In Conquest Born
Everything in In Conquest Born is on a huge scale: the universe, the plot, and the action. This book features two huge civilizations locked in a serious conflict. The stakes are high, but Friedman still makes her readers care about the fates of her individual characters.
Downbelow Station
Downbelow Station has it all: a vast universe, a civil war, brilliant action, and a deep connection to the planet where it all began: Earth. C. J. Cherryh weaves a compelling narrative that makes her world feel complete and relevant in every way.
The Book of Strange New Things
Faber's novel is about faith, loyalty, and fear. His protagonist, Peter, is a deep space missionary. But the love of his life is back on Earth, and when her letters take an upsetting turn, Peter is forced to question everything.
The Best of All Possible Worlds
The Best of All Possible Worlds begins with catastrophe: a native homeland destroyed, and an indigenous alien species left homeless. Together with nearby humanoids—distant genetic relatives—they work to preserve their culture. Lord's unique voice is the draw here, as her writing blends a science fiction flair with the Caribbean storytelling tradition.
Embassytown
Embassytown's alien species, the Ariekei, have a way with words: they speak a unique language that few in the universe can understand. Still, they manage to get along with human colonists—at least until faraway politics bring big changes to Embassytown. This smart book imagines the difficulties of working with an alien species that humans can never truly understand.
City of Pearl
One planet. Three alien societies. That's already more than enough to keep Shan Frankland busy, but things get even more complicated when a near-omnipotent planetary protector takes notice of Shan and her fellow humans.
The Left Hand of Darkness
The Left Hand of Darkness is smart and psychological. It follows the story of an emissary to Winter, a strange planet where the local species can change genders at will. This thought-provoking novel earned Le Guin both the Hugo and the Nebula.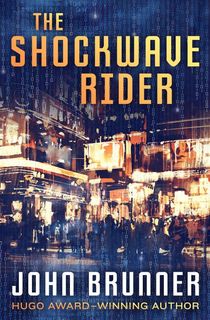 The Shockwave Rider
The Shockwave Runner is an essential science fiction book in our era of big data and surveillance. Our protagonist is a fugitive, and the enemy is the government. This is a book about the freedom and privacy that we surrender to government bureaucrats.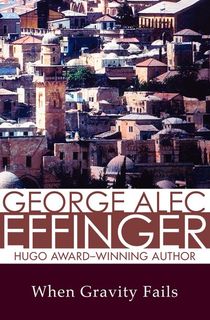 When Gravity Fails
The world of When Gravity Fails grabs you: it's a world with a divided West, rising Arab nations, and unheard-of technology. But the setting is just one part of the book's appeal, and its fast-moving action/thriller plot is what really sucks you in.
Altered Carbon
In Altered Carbon, immortality is achievable. All it takes to live again is to have your mind downloaded into a new body. Our protagonist has just that experience—but his new body and his new job put him light years away from home, in a city that was long ago called San Francisco.
Snow Crash
Snow Crash embodies everything we love about the cyberpunk genre. Our hero is a pizza delivery man, but in this strange future America, even a job like that entails mafia ties. Throw in the "Metaverse"—a virtual reality internet—and a mysterious virus taking out hackers, and you have the makings of a weird and wonderful book.
Neuromancer
Neuromancer is one of the science fiction genre's greatest classics and one of the first examples of the cyberpunk genre. This story of a hustling "cyber-cowboy" who makes his living in a virtual reality called the "matrix" recently celebrated its 30th anniversary, but it feels as fresh and relevant as ever.
Apocalyptic/Post-Apocalyptic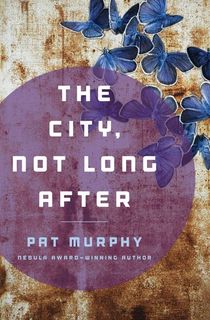 The City, Not Long After
San Francisco has long been a center of art and pacifist ideals. After the apocalypse, survivors rebuild the city with those values in mind. But when a power-hungry general sweeps across California with his sights set on the Golden Gate Bridge, the artists and idealists of San Francisco will have to use their creativity to defend their home.
The Girl with All the Gifts
The Girl With All the Gifts is a moving and personal thriller. In a world where mankind has reached the brink of extinction thanks to a zombie-like infection, one girl represents the hopes of our whole species. But in the process of saving the human race, what are scientists and people in power willing to do to her?
The Gone-Away World
You've never read a book quite like The Gone-Away World. It's a bizarre apocalyptic novel that's funny, heartwarming, and—for some reason—full of kung-fu scenes. Are you ready to save the world?
The Last Policeman
The Earth is doomed, but that doesn't mean you have to give up on your job. In The Last Policeman, an oddball detective refuses to give up on his final case. His job is to solve a murder, and he's determined to get it done. So what if a meteor is destined to obliterate the Earth in a mere six months?
The Dog Stars
The Dog Stars is one of those science fiction books that seems to be bigger than the genre without even trying. The novel is set in post-apocalyptic Colorado, where a lone protagonist defends a secluded airstrip and flies an aging plane with his dog as copilot. It's a quiet, beautiful, and thoughtful book.
Featured Photo: James Joel / Flickr (CC)