Why wait until Spring for a bit of cleaning? As the colder months blow in and you hunker down for some cozy hibernation, there's no better time to declutter your home and embrace the potential of your living space. 2020 has been a mess of a year, but your home doesn't have to be.
Marie Kondo's popular book The Life-Changing Magic of Tidying Up: The Japanese Art of Decluttering and Organizing has altered the way readers look at their homes in drastic ways. And while Kondo's joy-sparking method has been so well-received that it launched a hit Netflix series based on the revolutionary principles—it's one of the more unique book adaptations you can find on Netlfix—this tactic may not work for everyone. So to help you find the right angle to tackle your mess, here are 8 handy and helpful books to help you organize your living space.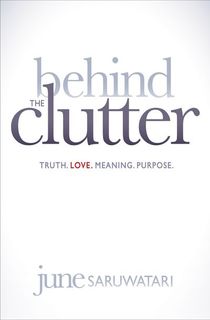 Behind the Clutter
Author June Saruwatari has been a trusted life coach for people from politicians and celebrities to stay at home mothers and their children. The cornerstone of her advice is that clutter—of the physical space and of your soul—is the only thing holding you back from your wildest of dreams.
Melding a vulnerable memoir with an enthusiastic self-help book, Saruwatari tackles the problems of clutter with a four-part mantra: Truth, Love, Meaning, Purpose. And as this book guides readers to finding the meaning and purpose to the objects scattered throughout their homes, it helps shed light on the control we all have in achieving our own purposes.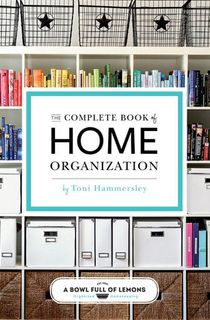 The Complete Book of Home Organization
This guide by Toni Hammersley is the perfect read for any Pinterest addict out there. With an eye and focus on design, The Complete Book of Home Organization offers brilliant tips and quick shortcuts to cultivating a living space that is not only clutter-free, but also beautiful.
There's nothing missing from this extensive how-to, which covers the 30 primary rooms from tiny apartments to massive houses, with illustrations and checklists to keep it all clear and simple.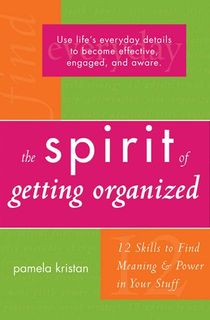 The Spirit of Getting Organized
In this book, professional organizational consultant Pamela Kristan delivers practical and compassionate advice for letting go of the things you don't need to keep and storing away the things you want to hold on to.
While on the surface this guide may seem to merely be about using file folders to keep your office immaculate, The Spirit of Getting Organized gives way to a spiritual and cosmic experience. Managing your clutter no longer has to be a miserable chore—with Kristan's 12 illuminating organizational skills you will clean up your life inside and out and feel all the better for it.
Make Room for What You Love
When a living space is filled with unnecessary clutter, it's easy to feel overwhelmed and bogged down. But a home is meant to be a sanctuary, and it should be treated as such.
Author Melissa Michaels has a deep understanding of how messes can build up slowly over time, and how the fluctuating nature of life can change what we need around us in our homes. With a gentle insight and much needed encouragement, Michaels guides readers into easier ways of developing simplified home habits, embracing a routine and schedule, making space for what matters, and understanding when it's time to let go.
Unf*ck Your Habitat: You're Better Than Your Mess
This is a fantastic guide for anyone who finds that the gentle hand holding of most organizational books just doesn't do it for them. While traditional declutter guides are geared toward DIY aficionados and homemakers, Unf*ck Your Habitat speaks to single people on the go, people sharing space with a collection of roommates, and people battling mental illnesses or going head to head with physical limitations.
This book doesn't focus on the perfection of living in a home that has crisply ironed sheets, but rather pushes for habit-building ways to make your home simply habitable. With realistic and practical methods like the 20/10 system (20 minutes of cleaning with a 10 minute break), Rachel Hoffman gives readers a manageable start to home organization.
The Art of Discarding: How to Get Rid of Clutter and Find Joy
For any reader who is a fan of Marie Kondo's life-changing book, the organizational guide that inspired her might be of interest. Japanese author Nagisa Tatsumi wrote The Art of Discarding in 2000, and it quickly became an international best seller.
This book offers guidance in not only paring down the things we've allowed to clutter our homes, but advice in how not to bring things we don't need into our living space in the first place. By bolstering readers' courage to let go, Tatsumi gives readers back a little control over their lives.
The Gentle Art of Swedish Death Cleaning
Despite the morbid title, this helpful organizational guide offers a warm and humorous approach to decluttering your home. Margareta Magnusson's approach focuses on letting go of the unnecessary things in your life before you're gone and have to put that burden on other people.
She identifies practical things to discard—such as old, tattered clothes and unwanted gifts—as well as a way to set aside things that have value only to you—such as love letters or children's art. Magnusson manages to make a difficult task fun, joyous, and uplifting, and allows for more ease through life and what comes after.
The Home Edit: A Guide to Organizing and Realizing Your House Goals
Home Edit (boasting such famous fans as Reese Witherspoon and Gwyneth Paltrow) have brought together this simple and easy guide to decluttering your home.
This book asserts that any space in your home—no matter how tricky—has the potential to both look amazing and function perfectly. Get rid of all the excess and never struggle to remember where you left something ever again, with this accessible guide that comes complete with full-color photographs.
Keep Reading: 5 Sewing Books with Projects You'll Love
This post is sponsored by Open Road Media. Thank you for supporting our partners, who make it possible for Early Bird Books to celebrate the ebooks you love.