We all know that one of the best ways that we can keep our brains sharp and active as we age is by giving them regular exercise, just like any other part of our body. And one of the best ways to do that is to challenge ourselves every day with puzzles and games that stretch our thinking.
From the crosswords in the newspaper to sudoku and other popular games, there are countless ways to keep our brains active each and every day – and they're fun, to boot! Here are 8 books filled with brain-tickling puzzles that will help keep you sharp and entertained throughout the year.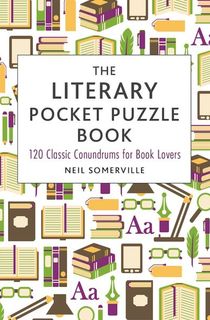 The Literary Pocket Puzzle Book
One of the hardest things about doing puzzles and challenges every day is setting aside the time to do them. Fortunately, The Literary Pocket Puzzle Book comes in a convenient, pocket-sized format that makes it easy to take it with you wherever you go, so you can work a puzzle whenever you have a spare moment.
These 120 classic conundrums will not only test your knowledge of literature, they will also stretch your brain in all sorts of other ways, including anagrams and cryptograms, sudoku, riddles, and much more, dealing with some of the greatest authors of literary history, from Shakespeare to James Joyce and beyond!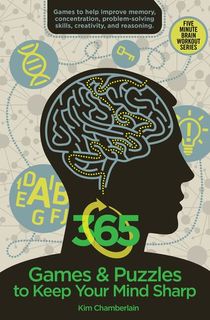 365 Games & Puzzles to Keep Your Mind Sharp
Did you make a New Year's resolution to do a brain-teasing puzzle every day of 2023? Author Kim Chamberlain has you covered, with a variety of mind-bending puzzles for lovers of word and language games, one for each day of the year, all contained in this handy and convenient package.
Of course, it doesn't matter what year (or what day) you start 365 Games & Puzzles to Keep Your Mind Sharp – with 365 to choose from, there'll be enough puzzles to feel fresh and keep you guessing day after day, month after month, all year long!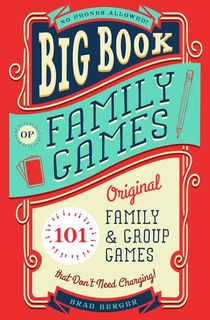 Big Book of Family Games
Let's face it, people of all ages can benefit from these kinds of brain games, and what better way to make the process of keeping your mind sharp and alert fun than by involving the whole family?
Billed as "101 Original Group Games That Don't Need Charging," Brad Berger's Big Book of Family Games provides fun games that you and the family can play with nothing more than a pen and paper (when they even require that), providing hours of entertainment while stretching everyone's imagination and problem-solving muscles in the process!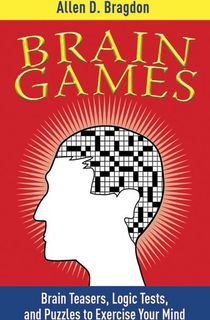 Brain Games
Part of the Brain Teasers series, the appeal of Brain Games by Allen D. Bragdon is right there in the name: These logic puzzles, brain teasers, and other games will help to improve everything from short- and long-term memory to planning skills, spatial recognition, language skills, math, and more.
In other words, they aren't just fun to play, these "brain games" will also help improve your mental acuity, memory, and overall smarts. There are a wide array of games in this straightforward book, including three months' worth of daily crossword puzzles, as well as more than 180 performance tips to help you make your brain its sharpest – and keep it that way!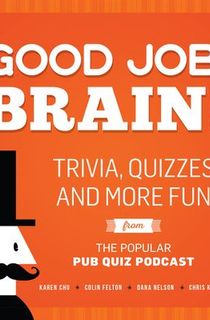 Good Job, Brain!
Taken from the popular pub quiz podcast of the same name, this page-turning book reteams the entire cast for a plethora of freaky facts and perplexing puzzles that'll leave you laughing as often as you're scratching your head.
From quizzes and crosswords to rebus puzzles and more, Good Job, Brain! also offers tips for how to up your pub quiz game, so that the next time you're out for trivia night at your favorite spot, you'll be able to amaze your teammates and blow the folks at the next table out of the water with ease.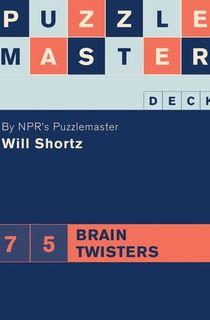 Puzzlemaster Deck: 75 Brain Twisters
Will Shortz, crossword editor at the New York Times and legendary puzzlemaster of NPR, has created a series of these Puzzlemaster Decks, all of them small enough to fit in the palm of your hand. And, in the case of 75 Brain Twisters, they're also playable without pen or paper, making them perfect for putting in your pocket or purse (or on your phone) to keep your brain tuned up when you're on the go.
This particular installment features 75 verbal challenges as fun as they are formidable. And once you've mastered all of these, there are several more Puzzlemaster Decks in the series, each of them as head-scratching and brain-bending as the last.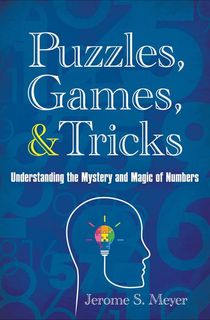 Puzzles, Games, & Tricks
Previously published as Fun with Mathematics, this book of puzzles, games, and factoids has been hailed as "one of the most readable books on mathematics ever published." Let's face it, we're surrounded by numbers every day, but most of us struggle with math at one time or another in our lives.
Fortunately, this book helps make even the most complex and daunting numbers and math concepts not only approachable and comprehensible but also fun, too! From Fibonacci numbers to some tricks to help you remember just how big a billion really is, this book is perfect for readers of any age, and filled with helpful puzzles, formulas, games, and tricks that will help keep your brain sharp.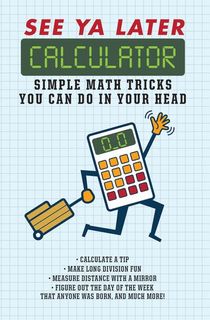 See Ya Later Calculator
These days, most of us have a calculator in our pocket at all times, in the form of our phone. But that doesn't mean it's always convenient to whip it out to do whatever math problem we may encounter. What's more, understanding and demystifying even seemingly complex mathematical concepts can help keep our brains focused and functioning.
That's where this book of simple and straightforward math tricks comes in handy, helping you to do even complex math in your head, including squaring numbers, adding three-digit numbers, and even using geometry to do home renovation projects.