Like many other Netflix viewers, we completely fell in love with their adaptation of the classic Walter Tevis book, The Queen's Gambit. This inspired us to dust off some of our other favorite chess books, and bundle them up in a special giveaway!
One lucky winner will receive a brand new 8GB Kindle Paperwhite preloaded with three amazing chess books: Searching for Bobby Fischer and Mortal Games, both by Fred Waitzkin, and The Queen's Gambit, by Walter Tevis. And for even more fun, we're also including a chess set!
Enter by midnight EST on December 21 for your chance to win, and double your chances by signing up for The Reader newsletter, too!
Note: This giveaway is now closed.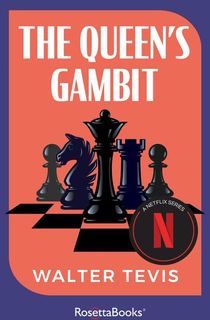 The Queen's Gambit
Netflix's most watched limited series to date! The thrilling novel of one young woman's journey through the worlds of chess and drug addiction.​
When eight-year-old Beth Harmon's parents are killed in an automobile accident, she's placed in an orphanage in Mount Sterling, Kentucky. Plain and shy, Beth learns to play chess from the janitor in the basement and discovers she is a prodigy. Though penniless, she is desperate to learn more—and steals a chess magazine and enough money to enter a tournament. Beth also steals some of her foster mother's tranquilizers to which she is becoming addicted.
At thirteen, Beth wins the chess tournament. By the age of sixteen she is competing in the US Open Championship and, like Fast Eddie in The Hustler, she hates to lose. By eighteen she is the US champion—and Russia awaits . . .
Fast-paced and elegantly written, The Queen's Gambit is a thriller masquerading as a chess novel—one that's sure to keep you on the edge of your seat.
"The Queen's Gambit is sheer entertainment. It is a book I reread every few years—for the pure pleasure and skill of it." —Michael Ondaatje, Man Booker Prize–winning author of The English Patient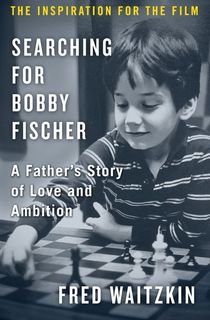 Searching for Bobby Fischer
The inspiration for the iconic film, this memoir by the father of a prodigy reflects on chess, competition, and childhood.
Fred Waitzkin fell in love with chess during the Cold War–era showdown between Russian champion Boris Spassky and young American superstar Bobby Fischer. Twelve years later, Waitzkin's own son, Joshua, discovered chess in Washington Square Park and began displaying the telltale signs of a prodigy. Soon, crowds gathered to watch the six-year-old, calling him a "Young Fischer." An unstoppable player, little Josh was suddenly catapulted into the intense world of competitive chess.
When Josh first sat down at a chessboard, he was a charming, rambunctious, rough-and-tumble child. Within weeks, he was playing the game with poise and constrained violence, as if there were a wise old man plotting moves inside him. Then, renowned coach Bruce Pandolfini discovered Josh in the park and began to refine the child's game.
In Searching for Bobby Fischer, Waitzkin recounts his journey with his son into the world of chess, from the colorful milieu of street hustlers to the international network of grandmasters. Looming large over their story is the elusive Bobby Fischer, whose mysterious disappearance from the chess world created a vacuum that would profoundly affect young Josh and his dad.
Josh went on to win eight national championships before he turned twenty—but his achievements did not come without cost. In this memoir, Waitzkin explores his love and ambition for Josh, who faces pressures far beyond his years. Even as father and son travel to Moscow to watch Kasparov challenge Karpov, Waitzkin doubts his own motives: Is he pushing his son too hard? Is the game a joy to Josh, or is he just fulfilling his father's wishes?
Searching for Bobby Fischer is about more than chess. "A little gem of a book," it is ultimately about the struggle we all face to love our families and do right by them while also setting our own paths as individuals (The New York Times).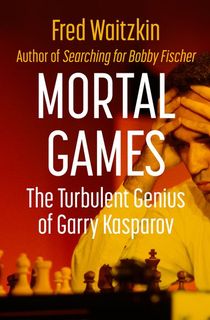 Mortal Games
An illuminating profile of the world champion chess player and political activist by the acclaimed author of Searching for Bobby Fischer.
Over the course of his unprecedented career, Garry Kasparov dominated the chess world with astonishing creativity and explosive passion. In this unforgettable work of reportage, author Fred Waitzkin "captures better than anyone—including Kasparov himself in his own memoir—the various sides of this elusive genius" (The Observer).
Waitzkin had intimate access to his subject during Kasparov's gripping 1990 matches against his sworn enemy, Anatoly Karpov. As the world chess champion defends his title, Waitzkin analyzes the match play with verve and depth that will delight lay readers and aspiring grandmasters alike.
Against this backdrop, Waitzkin assembles a fascinating portrait of a complicated man who is both a generational talent and an outspoken advocate of Russian democracy, brilliant and volcanic, tenacious and charismatic, despairing one moment and exuberant the next.
The thinnest, lightest Kindle Paperwhite yet—with a flush-front design and 300 ppi glare-free display that reads like real paper even in bright sunlight.
Now waterproof, so you're free to read and relax at the beach, by the pool, or in the bath.
Enjoy twice the storage with 8 GB.
Now with Audible. Pair with Bluetooth headphones or speakers to listen to your story.
A single battery charge lasts weeks, not hours.
The built-in adjustable light lets you read indoors and outdoors, day and night.
Get instant access to new releases and bestsellers, plus over a million titles at $2.99 or less.
HANDCRAFTED WITH CARE - Each board is made from high quality walnut, basswood and pine, while the pieces are handcrafted from cherry wood. Enjoy a chess set that will last for years to come
FOLDING BOARD WITH STORAGE - Never lose a piece again thanks to custom internal storage. Each piece has its own place so you'll quickly know at a glance if a piece has gone missing.
MAGNETIC FOR TRAVEL OR KIDS - Enjoy chess on the go or teach your kids to play without the frustration and worry of accidentally knocking the board. Pieces will stay in place up to a 60° angle
EXTRA QUEENS FOR PAWN PROMOTION - Need an extra queen because you're awesome and one queen just wasn't enough? We've got you covered! So go promote that pawn!