The 1960's was a time of political upheaval. The civil rights movement, backlash toward Vietnam, and widespread social unrest were the stories of the day.
But it was also a time of literary upheaval and the rebirth of the Chicano movement, during which Mexican-American authors and artists attempted to reconnect with their culture and proclaim their rights as equals in the pursuit of the American dream.
Since then, Mexican-American authors have created a rich and diverse contemporary literary tradition by exploring the Latino culture through narrative. And some of them are the best authors in America today. Below is a list of 10 contemporary Chicano writers who deserve a spot on your nightstand.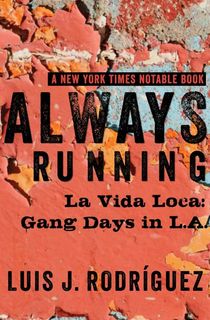 Always Running
After slowly turning his back on the gang violence and drugs that defined his youth in 1960's and 70's Los Angeles, Rodríguez began his career as a journalist and poet. Even during his darker days he was active in the Chicano movement. His award-winning memoir Always Running offers a poignant, yet ultimately hopeful look at life in the barrio.
The Little Death
Mexican American author and attorney Michael Nava is best known for his Henry Rios mystery books following a an openly gay lawyer who leaves no stone unturned in his work for justice in the underbelly of San Francisco. Born in 1954, Nava is also a contemporary example of Chicano literature with a focus on LGBT rights and concerns.
Bless Me Ultima
Considered the godfather of contemporary Chicano literature, Anaya was born in New Mexico in 1937. At first, his unique clash of cultures style (American and Mexican) kept him from finding a mainstream publisher, but he has since been honored with multiple literary awards and published a few dozen pioneering works of Chicano lit. He is the author of Bless Me Ultima, which explores belief and healing, and Alburquerque.
The House on Mango Street
The House on Mango Street—featuring vignettes of a girl growing up in Chicago—is required reading in middle and high schools throughout the country. And for good reason: Cisneros, born in Chicago in 1954, has pioneered Chicana literature though her stories of being caught between the cultures of the U.S. and Mexico while dealing with the misogyny present in both.
Gloria Evangelina Anzaldúa
Borderlands/La Frontera: The New Mestiza
Anzaldúa, a sixth-generation Tejana, was also known for her feminist take on Chicana literature. Her work reflects her unique position as a LGTBQ woman of color, and strongly advocates for the importance of native language in literature. Her book Borderlands/La Frontera: The New Mestiza is a key read on identity politics.
Lotería
Zambrano is a ballet dancer who has travelled the world. But he's also contributed to the Chicano canon with Lotería, the story of a young Mexican American girl whose exposure to tragedy has taken her ability to speak. Using a deck of lotería cards and journal entries, Zambrano slowly reveals her tragic story.
The Hummingbird's Daughter
As the child of a Mexican father and an American mother, Urrea embodies the clash of cultures so prevalent in Chicano lit. Blending the literary traditions of both his parents, his The Hummingbird's Daughter is historical fiction meets magical realism—and get this: It's based on true events.
Autobiography of a Brown Buffalo
Acosta was a Chicano activist, politician, novelist and the model for Hunter S. Thompson's "Dr. Gonzo." Before his untimely disappearance in 1974, he released his autobiographical novel Autobiography of a Brown Buffalo, which explores self-discovering and living as a Latino in the 1960s.
The Miraculous Day of Amalia Gómez
Known for both his scandalous insider look at gay life in pre-Stonewall America, City of Night, and his Chicano outing The Miraculous Day of Amalia Gómez, Rechy is taught in many Chicano lit classes throughout the country.
Aristotle and Dante Discover the Secrets of the Universe
A great recent addition to the Chicano cannon, Saenz's YA outing Aristotle and Dante Discover the Secrets of the Universe explores Mexican American and LGBT identity with a beautiful story of friendship. The former priest has won a PEN/Faulkner Award (The first Chicano author to do so), some Lambdas, an American Book Award, and a Printz Award.