Looking for a scary story to get a young reader in the Halloween spirit? From Goosebumps to The Boxcar Children, a tale of ghosts come back to haunt the living to an alien invasion threatening to ruin Halloween, our favorite tales of horror and mystery are simply timeless. And these frightening Halloween books for kids are the perfect addition to spooky season. Just because they're intended for children doesn't mean they won't scare you this Halloween.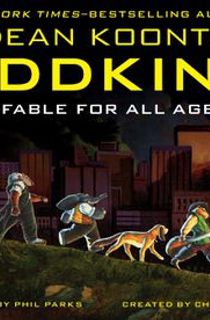 Oddkins
The Oddkins are just like any other toy except for one major difference…the stuffed animals are alive! Oddkins are reserved for very special children—those who facing something difficult and need a friend. However, when their beloved toymaker dies suddenly, he gives the toys one last warning: beware of an evil toymaker… and 'something else.' It's up to the good toys to figure what this mysterious 'something else' is and how to stop the rampage of the evil toys.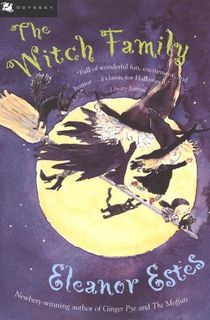 Witch Family
This delightful book follows the story of Amy and Clarissa—two young girls who decide Old Witch is being too "bad" by riding around on her broom and casting spells. To teach her a lesson, they exile Old Witch to a rickety old house on a barren glass hill—telling her that she has to become "good" or else she won't be around to celebrate Halloween. But what they don't know is that Old Witch has plans of her own, and before they know it, they're dragged into her world of make believe that's becoming all too real.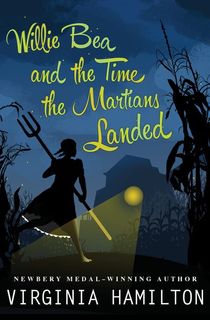 Willie Bea and the Time the Martians Landed
Inspired by H.G. Wells' The War of the Worlds, this ALA Notable Book takes place in 1938. In rural Ohio, 12-year-old Willie Bea can't wait to celebrate her favorite holiday: Halloween. Her entire family comes into town, she gets to dress up and go trick-or-treating—what could be better? But when her Aunt Leah, who reads palms, hears on the radio that aliens are coming to invade their small town, everyone is terrified! What do they want, and just what will they do when they get here?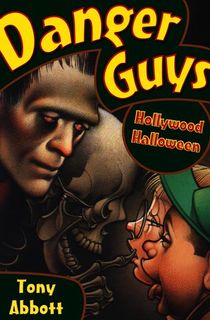 Danger Guys: Hollywood Halloween
The Danger Guys, Noodle and Zeek, want to make a horror movie for Halloween. To help them with their project, Zeek's family takes them to Paragon Studio—the oldest studio in Hollywood. But during their tour, a lightning storm hits, and Zeek and Noodle get separated from their group. They're surrounded by the world's most exciting props and sets, but soon they realize that the lightning storm damaged the studio's central control center and the props are coming to life! They'll have to battle the props in order to warn Zeek's family and make it out unharmed.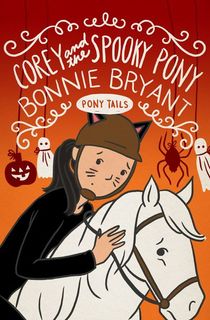 Corey and the Spooky Pony
Much like the fear of black cats, those who are superstitious believe grey ponies are bad luck. The Pony Tails—Corey, May, and Jasmine—are looking forward to throwing their Halloween bash, but leading up to the event Corey's pony Samurai starts acting spooked when he's around a grey pony named Midnight. With black cats crossing their paths and a storm brewing for the night of the party, the Pony Tails begin to wonder if there's any truth to the superstitions.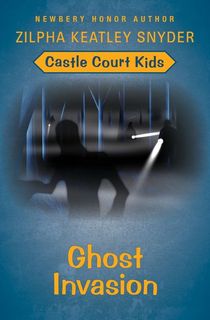 Ghost Invasion
According to the legends, the old Anderson barn is haunted. Every Halloween, the ghosts of Addie Anderson and her bandit boyfriend return to the barn. Hoping to see the centuries-old lovers themselves, Kate Nicely and Aurora Pappas plan to go to the barn on Halloween night. But the Castle Court Kids have plans of their own, as do their younger brothers and sisters. And when their parents suggest they all go trick-or-treating together, they think things can't possibly get worst. It's just beginning of a night filled with thrills and chills...and ghosts come back to haunt the living.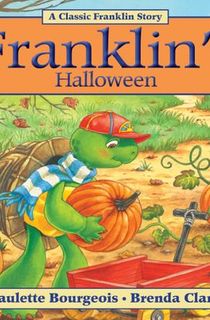 Franklin's Halloween
Franklin and his friends are thrilled about their Halloween party, but things start to get a little spooky when Franklin suspects a ghost may be haunting it. With a dash of suspense to keep young readers on their toes, and a surprisingly heartwarming revelation at the end, this Halloween tale featuring a classic picture book icon will have kids today squealing with mixed fear and delight.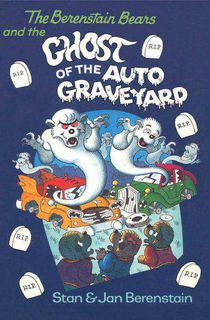 The Berenstain Bears and the Ghost of the Auto Graveyard
Has Beartown been invaded by a band of ghostly car thieves? When a car show comes to town, strange things start to happen. Two-Ton Grizzly saw a ghost in his auto graveyard, and then eight cars from the show went missing. It's up to the Berenstain bears to uncover the truth behind the mysterious happenings, which may be completely different from what they were expecting.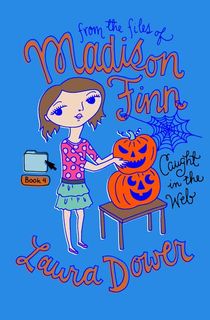 Caught in the Web
Who needs ghosts when seventh grade is spooky enough? For Madison and her friends, this is no ordinary Halloween. Her school has caught Halloween fever with costume parties, ghost stories in English class, and scary-story contests. Everyone is in on the festivities. Now, Madison's biggest fear is not finding the right costume for the party—it can't be too scary or too babyish, it has to be just right. And she'll do what it takes to make this Halloween one to remember.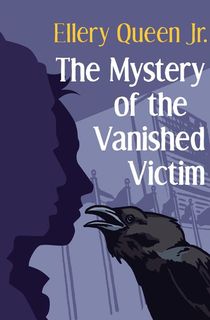 The Mystery of the Vanished Victim
Gully Queen, nephew of world-famous sleuth Ellery Queen, is bored at home one day when a knock comes at the door. He opens it to find a neighbor with a parrot perched on his shoulder screeching 'Katal! Katal!' With his uncle out of town, the neighbor wants Gully to solve the mystery of the where the parrot came from. And Gully soon finds himself in the thick of an adventure, picking up allies and enemies along the way.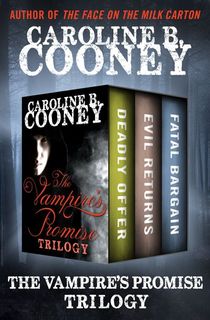 The Vampire's Promise Trilogy
A collection of three riveting titles—Deadly Offer, Evil Returns and Fatal Bargain—these stories introduce readers to Althea, Devnee, and Randy—teens who all encounter vampires. In Deadly Offer, Althea hates high school. New cliques have formed, leaving Althea to eat her lunch alone. That is, until she discovers a vampire living in the attic of her family home—a vampire that can make her high school dreams come true…for a small sacrifice. In Evil Returns, Devnee hopes her new attic room will make her popular in her new school, but instead strange and spooky things begin to happen. And finally, in Fatal Bargain, Randy invites five friends to a spooky shuttered attic tower for a Halloween party. But the night goes horribly wrong when the friends realize that what they've walked into is very haunted.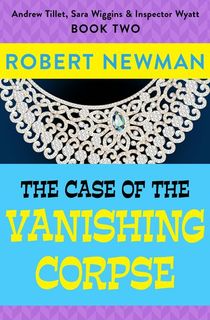 The Case of the Vanishing Corpse
Ben Bartholomew lives in a world where a P.I. must carry a gun if he wants to live past lunchtime, gangs and armed terrorists are ever-present, and danger hides in the corners of the streets. So when a corpse mysteriously vanishes from a sealed tomb, it becomes Ben's duty to uncover the truth. He sets out on an epic quest for answers, in which he encounters religious fanatics, petty tyrants, spies, and nightmares.
The Boxcar Children Halloween Special
This set of three classic mysteries featuring the famed Boxcar Children includes The Mystery of the Signing Ghost, The Mystery at Skeleton Point and The Mystery of the Mummy's Curse. All strange, all exciting, and all downright terrifying, these stories continue to frighten even years after their original creation.
The Berenstain Bears Get the Scaredies
Who's going to get scared next? Everyone is afraid of something, but that just makes us all normal. Join Brother, Sister, Mama, and Papa as they have one scary encounter after another, learning who's afraid of what and how to conquer that fear.
The Library of Souls
Ever since he could remember, Simon could talk to the dead. When his parents are killed in a train accident, he moves in with his estranged uncle to become an assistant in his Ghost Expelling agency. Simon's job: to get rid of the ghosts. Soon, a call arrives from a desperate librarian at an infamously haunted library begging Simon's uncle for help ridding the library's shelves of a ghost. Simon goes to investigate and, with the help of one of the library assistants, discovers there are more than just ghosts lurking in these shelves…there's something much more sinister.
Welcome to Dead House
There's a horror tale for everyone in the Goosebumps series, from scare master R.L. Stein. His classic stories chronicle the strange and supernatural of our world.
The first book in the series, Welcome to Dead House, follows two siblings who move into a house on the same block as a very old and, they suspect, haunted home. And once they meet the kids that live there...the siblings realize they're unlike anyone they've ever met.
Scary Stories to Tell in the Dark Collection
This series of three children's books is overflowing with tales to chill you to the bone. Author Alvin Schwartz draws heavily from popular folklore and urban legends to bring readers stories known for their surreal nightmarish character. Within the collections, there is a story for everyone. From a ghost who takes revenge on his murderer to a haunted house where a head falls down the chimney every night, these stories are not for the faint of heart.
This post is sponsored by Open Road Media. Thank you for supporting our partners, who make it possible for Early Bird Books to continue publishing the book stories you love.
Featured image: Yasin Erdal / Unsplash