Publishers submitted 1,931 books for consideration to receive a prize at the 74th annual National Book Award. In September, the National Book Foundation announced its longlist for the Fiction prize, paring it down to 10 contenders. In October, the finalists were whittled down to five. And on November 15, Justin Torres took home the prize at the foundation's black-tie affair in New York.
Torres won the National Book Award for Fiction for Blackouts, a genre-defying work that's about storytelling as much as it is about queerness, erasure, and oral history.
Blackouts
"A dreamy novel that unfurls among mixed media and Socratic dialogues, moving freely between fact and fiction as it proposes and complicates questions about how history is made."
―Joshua Barone, The New York Times
It's no surprise that the highly lauded author took home the prize. Torres had already made his mark as a National Book Foundation 5 Under 35 honoree, and was chosen as a Stegner Fellow at Stanford University, a Radcliffe Fellow at Harvard University, and a Cullman Center Fellow at the New York Public Library.
Torres has previously published My Body is Paper, a collection of stories and poems; the short story Crewelwork, and the bestselling novel We the Animals, an award-winning coming of age story about a half-white, half-Puerto Rican boy.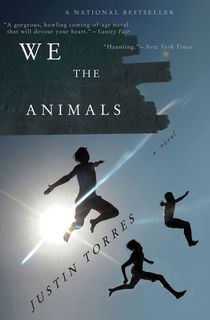 We the Animals
"We the Animals is a dark jewel of a book. It's heartbreaking. It's beautiful. It resembles no other book I've read."—Michael Cunningham