When you think of Korean cuisine, especially if you are new to Korean food culture like me, your first thoughts may be of Korean BBQ or Korean corndogs (which are both immensely delicious, by the way).
You might be less inclined to think about Doenjang jjigae, Gopchang or my personal favorite, sweet and spicy tteokbokki. Whether these dishes are completely new to you or if you're very familiar with eating these meals but not so comfortable with actually cooking them at home, then these cookbooks are the perfect place to start! In this list, you'll find cookbooks with traditional favorites, meals that are completely plant-based and personal family histories told through treasured, passed-down recipes. Enjoy journeying through Korea from the comfort of your kitchen!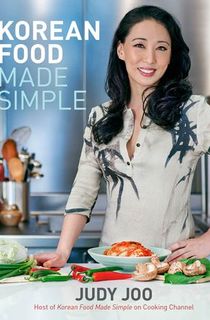 Korean Food Made Simple
If you have been wanting to try cooking Korean food at home but are feeling intimidated, Judy Joo has got your back! Host of her own cooking show of the same name, Judy Joo breaks down intricate Korean meals for the modest home cook.
With over 100 recipes, including beloved traditional favorites like japchae (sweet potato noodles) and revamped recipes with a modern twist like Spicy Pork Belly Cheese Steak, you'll have plenty of recipes to try for whatever flavors your tastebuds might be in the mood for. It also includes Joo's recommendations on what essential Korean ingredients you should have stocked in your pantries, which will make you feel like a seasoned chef.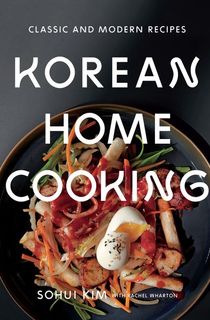 Korean Home Cooking
Like patient family members who guide you in the kitchen, Sohui Kim and Rachel Wharton teach readers about flavorful and vibrant Korean dishes. Sohui has perfected her sense of "son-mat," which roughly translates as a gift for creating tasty meals and capturing the complex flavors in each of her recipes.
In this book, you'll find recipes for kimchee (fermented vegetable, usually cabbage or radish), sundae (blood sausage), and seaweed soup (which is traditionally eaten on birthdays in Korea to honor their mothers for giving birth to them). Interspersed with photographs of Kim's travels in Korea and images of the delicious options you can enjoy, this cookbook is as much a feast for your eyes as it is for your stomach.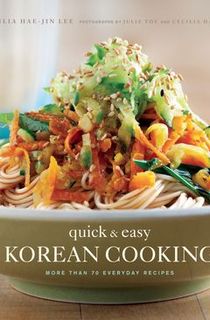 Quick & Easy Korean Cooking
This James Beard Award-nominated author will blow you away with how simple she makes Korean cuisine appear while maintaining the intricate flavor profiles of each recipe. Whether you're craving refreshing Chilled Cucumber Soup or savory Chicken Skewers with Green Onions, this cookbook will satisfy your cravings any day of the week.
You can look forward to appetizers, snacks, entrees, and side dishes—and for lovers of kimchi in particular, a whole chapter is devoted to you!
The Korean K-Drama Cookbook: Make the Dishes Seen in Your Favorite TV Shows!
There have been countless times that I've watched a Korean drama that depicts the two main leads treating themselves to a mouthwatering noodle dish or other delectable meal. I must admit that my bowl of stale cereal starts to seem pretty pitiful right about then. As an admirer of Korean dramas and Korean food, this cookbook had to make the list since it combines both of my loves!
This book gifts readers with 61 recipes, some of which have appeared in your favorite K-Dramas. Some featured K-Dramas include: Itaewon Class, It's Okay Not To Be Okay, Start-up, and Chocolate. You'll also find tasty cocktails and snacks to keep you satisfied as you watch episode after episode. I don't know about you, but the first recipe I'll be trying is the Buchimgae Pancakes from Crash Landing on You (a romantic K-drama).
Simply Korean: Easy Recipes for Korean Favorites That Anyone Can Make
It's no secret that all Korean dishes are delicious, but some recipes can also be time-consuming and labor-intensive. With this cookbook, you won't have to worry thinking that you have bitten off more than you can chew, despite your novice cooking skills.
With uncomplicated techniques, a short list of ingredients, and easy-to-understand instructions, you'll be perfecting tteokbokki (rice cake) and hotteok (brown sugar-filled pancakes) in no time!
Cook Korean!: A Comic Book with Recipes
Not only is this cookbook filled with personal stories and cultural facts about the dishes included, but it's also special since it's both a cookbook and a graphic novel. Colorful pictures and short, funny comics make the 64 recipes shine as they appear to jump off the page into your own kitchen!
Learn to make bulgogi dupbap (soy garlic beef over rice) and gimbap (seaweed rice rolls) whether you are an experienced chef or an eager learner.
The Korean Vegan Cookbook: Reflections and Recipes from Omma's Kitchen
You've probably seen her thoughtfully narrated TikTok's @thekoreanvegan or heard her podcast, Are You Ready?, whose goal is to empower people to lead more purposeful and intentional lives, but in case you haven't, allow me to introduce you to trial lawyer turned Korean American vegan chef, Joanne Lee Molinaro.
This collection of vegan recipes is a deeply personal and vulnerable expression of the chef's life through food. For example, she includes a recipe for Chocolate Sweet Potato Cake to honor her mother since the two foods that comprise this dish are those that saved her mother's life after she fled North Korea.
Molinaro proves that plant-based Korean food can be just as delicious and flavorful while introducing us to ingredients like doenjang (fermented soybean paste), gochujang (chili sauce), and dashima (seaweed). As you try her meals, you'll get to experience a woman's self-growth and healing through the food that has sustained her through life.
Featured photo: Marcin Skalij / Unsplash