One of the most important lessons for kids to learn is that everyone is different—and that's okay! In fact, our differences should be embraced and celebrated. Of course, being different isn't always easy, especially for kids who are still figuring out who they are.
LGBTQ books for kids are a wonderful way to help children (and adults) to open their minds, and to give comfort to any child who feels like they don't belong. Lucky for us, queer children's books are only growing in popularity, even as banning children's books become more common. Below are nine titles with a focus on LGBTQ+ life and love that will please any middle-grader.
Flamer
It's the summer between middle school and high school, and Aiden Navarro is at summer camp. It's a time of change for any kid, but Aiden's got more on his plate than the average boy. There are bullies on his tail who taunt him for being chubby and half-Filipino, changing friendships, and his inconvenient feelings for another boy a camp named Elias.
But Aiden's doesn't want to be gay. To be gay is to be unsafe, to be a target for life. How can he navigate these treacherous waters over the toughest summer of his life?
Heartstopper
Alice Oseman's Heartstopper started as a webcomic and slowly evolved into a minor pop culture phenomenon, complete with a slew of New York Times bestsellers and a beloved Netflix series! Believe the hype. It really is that good.
Charlie is an openly gay kid in Year Ten of Truham Grammar School for Boys. The past year hasn't been too great, but at least he's not being bullied anymore, having been outed against his will. Nick is the popular Year 11 kid from the school rugby team. The pair quickly become friends, and it doesn't take long for Charlie to fall for the big-hearted and handsome Nick. But he's straight, right? Surely he doesn't have a chance? Still, love works in mysterious ways...
Lumberjanes
At Miss Qiunzilla Thiskwin Penniquiqul Thistle Crumpet's camp for hard-core lady-types, a crew of young wannabe adventurers are promised the summer of a lifetime. But things are not always what they seem in this wilderness.
Jo, April, Mal, Molly, and Ripley are five rad, butt-kicking best pals who plan to solve mysteries, find magical animals, kick butt, and figure out what exactly makes this camp so unique. Lumberjanes is the rip-roaring adventure story every kid (or young at heart reader) can enjoy.
Better Nate Than Never
For his entire life, Nate Foster has wanted to be the star of a big Broadway show. That dream seems pretty unattainable when you're stuck in Jankburg, Pennsylvania, where it seems like nobody has even seen a musical, let alone been in one. Then he discovers that there's an open casting call for E.T.: The Musical in New York City, and Nate knows he can't miss this once-in-a-lifetime opportunity. With the help of his best friend Libby, they hatch a daring plan to escape to the Big Apple and make their small-town dreams come true. Is Broadway ready for the one and only Nate?
Melissa
When people look at Melissa, they see a boy, not the girl she's always known herself to be. She worries that she'll have to keep this secret for the rest of her life. Then her teacher announces that their class play is going to be Charlotte's Web.
She desperately wants the title role, but her teacher says a boy isn't allowed to. With the help of her best friend, Kelly, Melissa decides to fight for the part of Charlotte, not just for herself but so that everyone can be whoever they want to be.
Hazel's Theory of Evolution
Hazel loves facts and knows a lot about the world, but none of that has prepared her for her last year of middle school. She's struggled to make friends, is wondering about her own identity, and is terrified for her moms, one of whom is pregnant again after two heart-breaking miscarriages.
Everything's set to change but Hazel doesn't want it to. Why can't everything stay the same? She'll have to figure out the answers to life outside of her beloved encyclopedias.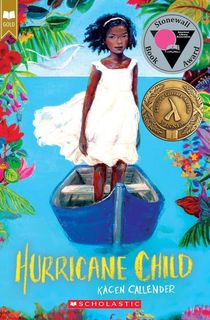 Hurricane Child
Being born during a hurricane is considered unlucky, so 12-year-old Caroline Murphy can't help but feel like she's been cursed since birth. She's hated and bullied by everyone in her small school on St. Thomas of the US Virgin Islands. Her mother left home. A spirit only she can see won't leave her alone. She's never felt more alone, but a new student named Kalinda arrives and changes everything.
She's her first and only friend, and now her first true crush. Now, Caroline must find the strength to confront her feelings for Kalinda, brave the spirit stalking her through the islands, and shake off her reputation as the cursed hurricane child.
The Insiders
In San Francisco, Héctor Muñoz wasn't seen as different for being gay. Now, at his new school in Orangevale, he's The Gay Kid and feeling isolated because of it. He hides in the janitor's closet to get away from bullies, and one day, he finds someone else in there.
This door is a portal to other parts of the country, and now Héctor has two friends who also feel like they don't belong. Together, they'll find magic and solace over a year of endless possibilities.
Princess Princess Ever After
Princess Amira doesn't plan to sit around waiting for a prince to find her. Instead, she rescues the kind-hearted princess Sadie from her tower prison. They're two very different royals, and unlikely friends until they're forced together under strange circumstances. As they adventure across the kingdom, they'll need to join forces and use all of their skills to take on a jealous sorceress who wants to destroy Sadie once and for all. Who says a princess needs a prince?