In Mixed Up, Tineka Smith and Alex Court open up about their experience and explore what it means to be an interracial couple in today's world. Sharing from separate points of view, the couple reveals through anecdotes, analysis and raw confessionals their differing opinions and experiences of overt racism and prejudice in public, racial micro aggressions at work, their hesitance of having mixed-race children in our racially charged world, and being the first interracial couple in their families.
Below, Tineka Smith explains why she and Alex decided to write this book together.
As I walked down the street hand in hand with my husband I kissed him goodbye. I caught the eye of a Black man who saw this and seemed upset. He followed me around the corner, ran up and spat in my face. The whole experience was shocking and awful and it made me realize that my husband and I receive discrimination from all sides. It's a very sad thing that even in 2022 interracial couples are still subjected to hostility, scrutiny and downright discrimination.
I'm a Black American woman and my husband is a White British man; we met whilst studying in London, UK. We never talked about race at the beginning of our relationship, but I really wish we had—it would have saved us years of heartache.
Difficulties would also arise when friends or even strangers would make insensitive, inappropriate or subtly racist comments—and my husband would not perceive this or call them out on it. On occasion, he would even defend them.
It's surprisingly common for strangers to be shocked—and openly show it—when they discover we're married, even if they see us holding hands with our wedding rings on full display. Neighbors have made assumptions that I'm merely my husband's roommate; some even say to him that it "must be hard being with a Black woman." Meanwhile, some men in the Black community query why Tineka is not with a Black man instead.
Related: 10 Books That Reveal What It's Like to Be a Person of Color in America
We decided we needed to write Mixed Up after continuously experiencing racially charged incidents. We looked around for books by interracial couples but quickly discovered there were none that gave a personal account of the external reactions to or the struggles within an interracial relationship from both perspectives .
Each chapter of Mixed Up is written from the point of view of Alex or me. We actually didn't read each other's words until after the final manuscript was submitted. I think that helped the book become so personal and revealing. And afterwards, we learned racial aspects about ourselves through reading the others' chapters.
Related: 10 Unapologetic Books About Race in America
We were initially nervous to share such intimate details about our relationship and struggles to understand each other when it comes to race, as well as some of the horrific racist experiences we've encountered as an interracial couple. But we felt it was vital to share our story to highlight the fact that being in any type of interracial relationship—whether it's romantic, friendship or even family—doesn't erase racial problems and misunderstandings.
Being a part of any type of interracial relationship and trying to understand one another can be a very difficult process that can test even the strongest love to its very limits. But we don't have to let these limits be divisive. We can use them to unify and help us learn.
Mixed Up is available on September 13. Preorder your copy now!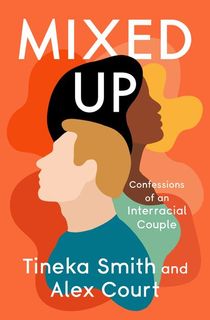 Mixed Up
"An illuminating book that will challenge what you think you know about relationships, cultural diversity and race." —Olivette Otele, historian and author of African Europeans

"A must read book that will change the way we see mixed race couples and make us question our own entrenched beliefs." —Melissa Fleming, award-winning author of A Hope More Powerful Than the Sea