Today we celebrate a man whose name may not be familiar, but whose work most certainly is. James Matthew Barrie (May 9, 1860–June 19, 1937), known better as J. M. Barrie, was the man who introduced Peter Pan to the world in 1904, inspiring hundreds of books and dozens of movies. And though he didn't write the first Peter Pan book until he was 51 (seven years after the play was first performed), little traces of the story of Peter Pan can be found throughout Barrie's life.
Related: Hello, Old Friends: 10 Books That Look Like Your Childhood
Born ninth of 10 children, J. M. Barrie had a crowded childhood. Two of his siblings died before he was born, but when his older brother David died, Barrie spent time with his mother, listening to stories of her childhood, reading books together, and even going so far as to dress in his brother's clothes and whistle his favorite tunes to try and comfort his mother—that is, until his mother mistook him for his deceased brother.
Barrie's mother took solace in the fact that, while her son was gone from her, he would remain a boy forever, something that stuck with Barrie. The thread's of Peter Pan's origins are even tangled in his school years, where he and his friends played pirate games that Barrie said were "in a sort of Odyssey that was long afterwards to become the play of Peter Pan."
After Barrie graduated, his sister found him a job, and from there Barrie's career in writing began: first as a drama reviewer, then as a staff writer for a newspaper. After submitting a work of fiction to a journal, based off the stories his mother told to him growing up, Barrie's literary career began in earnest. He published novels and plays, both to praise and criticism, for years. But the most influential people he met were the Llewelyn Davies family.
This family consisted of Arthur and Sylvia, and their five boys, George, John, Peter, Michael, and Nicholas. Barrie became acquainted with the family at Kensington Gardens, meeting their nanny while he walked his St. Bernard, Porthos. Barrie entertained the boys with his stories, and eventually met the rest of the family, becoming Uncle Jim to the Llewelyn Davies family. Barrie would become somewhat of a fixture at the family home, spending time with Sylvia and the boys and telling them stories. One story that George and Michael were especially fond of was how their little brother Peter could fly. Barrie told the boys that all children were birds before they were infants, and that parents barred nursery windows not to keep dangers out, but to keep flying babies in.
It was this story that led to The Little White Bird (or Adventures in Kensington Gardens), where Barrie introduced the character he would be most famous for—Peter Pan, or The Boy Who Wouldn't Grow Up is Barrie's most famous and lasting work. Performed on stage on December 27th, 1904, the play was well received, and lauded for its appeal to children and adults, alike. After this performance, Barrie had a slew of successes on stage before, in 1911, developing his most popular work into the novel Peter and Wendy.
The character of Peter Pan was created for the Llewelyn Davies' children, specifically George and Jack. Barrie became more involved with the family in 1907, following the death of Arthur, offering financial and emotional support to the surviving family. And after the family matriarch Sylvia died in 1910, Barrie adopted the children, as well as taking care of Sylvia's mother and brother and Arthur's surviving brother.
Much like his childhood, the last years of Barrie's life were crowded, and then tragically less so. The two of the five boys Barrie was closest with died in their early 20s: George was killed in action during WWI in 1915 and Michael drowned at university in 1921. Barrie himself died on June 19th, 1937 from pneumonia. Most of his works were left to his secretary, Cynthia Asquith, except for his Peter Pan books, which he left to Great Ormond Street Hospital, a leading children's hospital in 1929.
Learn more about J.M. Barrie's relationship with the Davies family.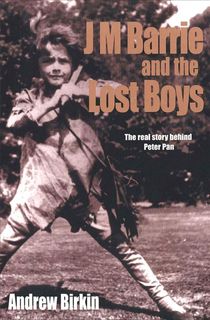 J M Barrie and the Lost Boys
Andrew Birkin draws extensively on a vast range of material by and about Barrie, including notebooks, memoirs, and hours of recorded interviews with the family and their circle, to describe Barrie's life, the tragedies that shaped him, and the wonderful world of imagination he created for the boys. Updated with a new preface and including photos and illustrations, this "absolutely gripping" read reveals the dramatic story behind one of the classics of children's literature (Evening Standard).