It's not every day that a bestselling novelist's Wikipedia bio begins with words like "medievalist," "philosopher," and "semiotician." Yet that is the case for Umberto Eco, who made a name for himself as all those things before the 1980 publication of his first and most famous novel, The Name of the Rose.
Of course, Name of the Rose—which was adapted into a 1986 film starring Sean Connery—was not Eco's first book, even though it was his first novel. He had previously published a book-length iteration of his thesis on Thomas Aquinas, as well as other books of medievalism, literary theory, and semiotics. Indeed, he had published more than a dozen non-fiction books before his first novel hit shelves, and many of his novels engage in the same elements of philosophy and semiotics that occupy his non-fiction writing.
Whether you're a fan of Eco through Name of the Rose, or a newcomer to his extensive array of fiction and nonfiction, you'll find something to keep your brain busy in these 10 books. Eco is notorious for the density and complexity of his writing, which often encourages readers to take notes and solve puzzles as the book progresses, and rewards close scrutiny and careful reading.
Foucault's Pendulum
In Umberto Eco's second—and probably second-most-famous—novel, a trio of bored editors decide to invent their own conspiracy theory. As they become increasingly obsessed with laying out the details of their fictional plan, however, the danger that surrounds them becomes all-too real.
The pace quickens as outside groups begin to believe that their fake conspiracy theory might be true in this "intellectual adventure story" that is "sensational, thrilling, and packed with arcana" (The Washington Post Book World).
On Literature
At once a work of literary criticism and a more personal piece exploring the roots and the rationales behind his own creative processes, On Literature combines essays and addresses from across Umberto Eco's long and storied career.
It is both a love letter to the written word and a unique opportunity to better understand "one of the most influential thinkers of our time" (Los Angeles Times), containing everything from Eco's musings on Ptolemy to his thoughts on some of his personal literary favorites such as Borges and Joyce.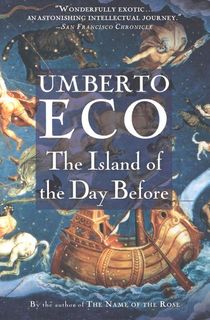 The Island of the Day Before
Set in 1643, in this "astonishing intellectual journey" (San Francisco Chronicle), a violent storm in the South Pacific leaves an Italian nobleman shipwrecked—on a ship! Cast off from his own vessel, Roberto della Griva finds himself unexpectedly onboard another, fully provisioned but mysteriously abandoned, and anchored in the bay of a beautiful island that he cannot reach because of his inability to swim.
The island, he believes, is on the other side of the International Date Line, meaning that it technically exists in the previous day, and as he explores the abandoned ship and muses on the nearby island, he casts back across his own history in this "intellectually stimulating and dramatically intriguing" novel (Chicago Tribune).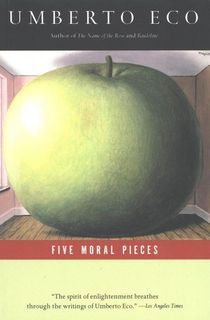 Five Moral Pieces
"Eco's prose here is beautiful," writes January Magazine about this collection of essays on what it means to be moral, and the challenges that face a 21st century world. Among these is Eco's legendary essay "Ur-Fascism," which details the properties which he believes comprise the fascist ideology.
Unfortunately more relevant now than when he wrote it in 1995, excerpts from this essay are often shared online. Now, you can read the whole thing and see what warnings Eco has laid down for the future.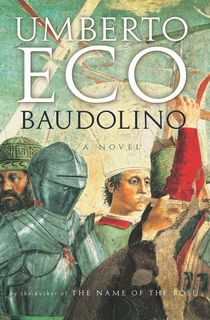 Baudolino
In his fourth novel, Umberto Eco takes us back to Constantinople in the midst of the Fourth Crusade. There, he introduces us to one of his most fascinating characters, a figure with a gift for languages and an even more prodigious—if self-confessed—gift for lying.
In this "comic and brilliantly baffling" (The Guardian) book, the title character recounts his colorful life story, including his youth and his education in Paris, as well as his attempts to find the mythical kingdom ruled by Prester John, and it is up to the reader to decide how much, if any of it, is meant to be the truth.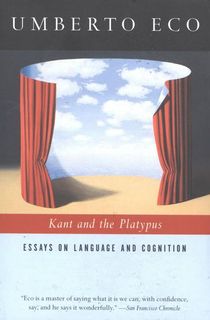 Kant and the Platypus
Notoriously one of Eco's most dense and complex works, the author himself is said to have warned that, "You have to stay on every page for two weeks with your pencil. In other words, don't buy it if you are not Einstein."
Despite Eco's warning that this "hard-core" book is "not a page-turner," it has been hailed as an "erudite, detailed inquiry into the philosophy of mind" (Library Journal) and one of the author's most thoughtful and fascinating works, exploring semiotics, language, and perception as only Eco can.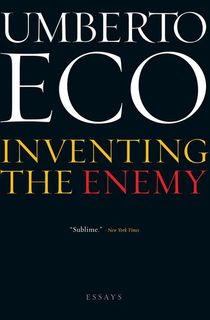 Inventing the Enemy
"True wit and wisdom coexist with fierce scholarship inside Umberto Eco," writes the Buffalo News. There are few better places to see the range of all those qualities than in this collection of fourteen essays, which travel far and wide among Eco's ideas and interests.
From the philosophy of St. Thomas Aquinas to modern issues such as Wikileaks, these essays showcase "profound erudition, lively wit, and passion for ideas of all shapes and sizes" (Booklist).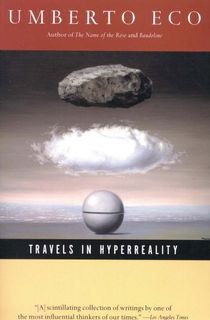 Travels in Hyperreality
Who better than Umberto Eco to examine with an incisive critical lens such topics as Disneyland and our own continuing fascination with medieval history?
In this "scintillating collection" (Los Angeles Times), his roving intellect touches those subjects and so many more, as he attempts to "interpret and help others interpret some 'signs.' These signs are not only words, or images; they can also be forms of social behavior, political acts, artificial landscapes."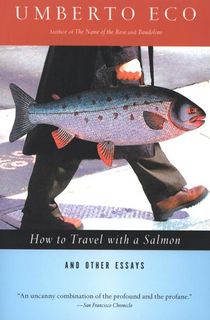 How to Travel with a Salmon
"Eco entertains with his clever reflections and with his unique persona" (Kirkus Reviews) in this collection of "impishly witty and ingeniously irreverent" cosmopolitan essays on a wide range of thoroughly modern topics, from cell phones to the difficulties of travel and beyond.
This "delightful romp through the absurdities of modern life" (Publishers Weekly) is both comic and serious by turns. From the title essay, which discusses the travails of trying to transport a piece of expensive seafood, to more pressing issues such as mass media and consumer culture, all are delivered with Eco's unmistakable wit and intellect.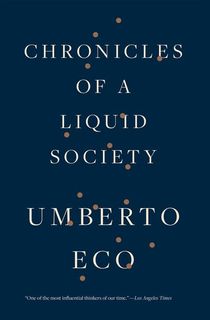 Chronicles of a Liquid Society
Published shortly after his death in 2016, Chronicles of a Liquid Society is one of Umberto Eco's last books, collecting essays written for his twice-monthly column in the news magazine L'Espresso, which he wrote from 1985 until his death.
Here, he tackles subjects ranging from racism and mass media to good manners and conspiracy theories, in a "swan song from one of Europe's great intellectuals" (Kirkus Reviews) that offers "an intelligent, intriguing, and often hilariously incisive set of observations on contemporary follies and changing mores" (Publishers Weekly).