Whether you're an Anglophile or an animal lover, James Herriot books are probably on your reading list. And with good reason—as a long-time veterinary surgeon, Herriot captures the warmth and charm of four-legged, feathered, and furry friends. From the beloved BBC series to Yorkshire's World of James Herriot, he has become a cultural phenomenon. So why not read the books that started it all?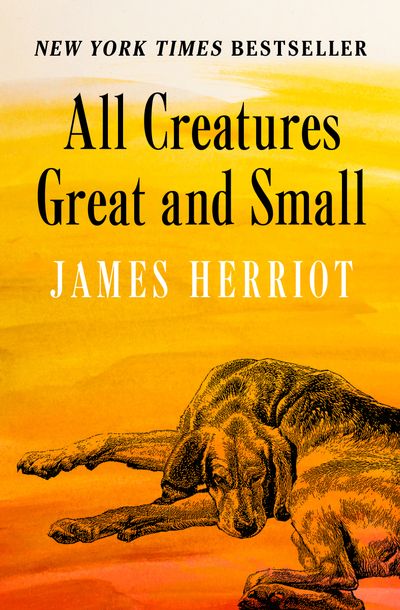 All Creatures Great and Small
As the basis for the BBC series, All Creatures Great and Small is an iconic book for animal lovers everywhere. Witty and heartwarming, these stories are based on Herriot's life as a young veterinarian. And in rural England, he encounters everything from dogs and cats to livestock. But part of his job is also learning how to interact with quirky locals—and sometimes, they are just as funny and unpredictable as their pets.
All Things Bright and Beautiful
In this sequel to All Creatures Great and Small, James Herriot's mentor warns him that the life of a country veterinarian is full of small triumphs and big disasters, but he'll never be bored. From the drafty English winters to the beautiful vitality of rural summertime, Herriot experiences a colorful menagerie of animals and owners in every season—and he even meets his future wife.
All Things Wise and Wonderful
Only a couple of years after settling into his new home in northern England, James Herriot is called to war. In this series of poignant and humorous episodes, the great veterinarian shares his experiences training with the Royal Air Force, pining for a pregnant wife, and checking in on the people back home who made his practice so fascinating. As the young men of Yorkshire are sent into battle and farmers consider the broader world they're a part of, Herriot reflects on the lives—human and animal alike—that make his home worth fighting for.
Looking for more memoirs? Sign up for the Early Bird Books newsletter and get the best daily ebook deals delivered straight to your inbox.
The Lord God Made Them All
When World War II ends and James Herriot returns to his wife and new family in the English countryside, he dreams mostly of Sunday roasts and Yorkshire puddings. But new adventure has a way of tracking him down. Soon he finds himself escorting a large number of sheep on a steamer to Russia, puzzling through the trials of fatherhood, and finding creative ways to earn the trust of suspicious neighbors and their beloved animals. Herriot's winning humor and self-deprecating humanity shine through on every page.
Every Living Thing
As an aging James Herriot begins to see more house pets than livestock, the challenge of treating animals—and reassuring their owners—provides plenty of excitement, mystery, and moments of sheer delight. He watches with pride as his own children show a knack for medicine, and remarks on the talents and quirks of a string of assistants. There is no perfecting the craft, since people and their animals are all remarkably different, but Herriot proves that the best healers are also the most compassionate.
James Herriot's Favorite Dog Stories
As a vet, James Herriot loved all creatures—but he had a special place in his heart for dogs. If you're the same way, you'll love this collection of stories about canine companions. Selected from Herriot's memoirs, these anecdotes will make you laugh, cry, and celebrate the joys of sharing life with your furry friend.
Looking for more memoirs? Sign up for the Early Bird Books newsletter and get the best daily ebook deals delivered straight to your inbox.
Featured Image: Cover of All Creatures Great and Small, paperback edition
Published on 12 Sep 2016