Today, Alan Alexander Milne is best known as the creator of Winnie-the-Pooh, whose characters and adventures Milne based on his own son's stuffed toys. However, Milne already had an established literary career as a humorist, essayist, poet, and playwright before the publication of his first Winnie-the-Pooh story. And, indeed, Milne continued to try his hand at different kinds of writing, even after the massive success of Pooh, and despite attempts by the publishing industry to pigeonhole him.
In Milne's own words, "the only excuse which I have yet discovered for writing anything is that I want to write it; and I should be as proud to be delivered of a Telephone Directory con amore as I should be ashamed to create a Blank Verse Tragedy at the bidding of others." Over the course of his career, Milne wrote popular detective stories, well-received plays, farcical poems, children's nursery rhymes, and much more.
He got his start contributing poems and essays to the venerable London publication Punch, which was first established in 1841 and helped to coin the term "cartoon." By the time Milne began contributing to the magazine in 1903, it was already beginning a long and slow decline that would last until it finally closed its doors in 1992. While working as assistant editor at Punch, Milne published some 18 plays and three novels, including the well-loved murder mystery The Red House Mystery in 1922.
Milne's son, Christopher Robin Milne, was born in 1920, an event which would prove to be the catalyst for Milne's most famous creation. By 1924, Milne had published a collection of children's poems, one of which introduced the bear who would eventually become known as Winnie-the-Pooh, named for a gregarious young black bear called Winnipeg (Winnie for short) who lived at the London Zoo.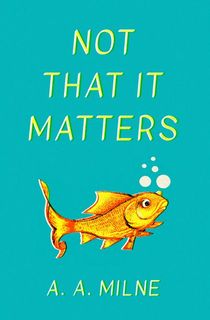 Not That It Matters
As we mentioned, Milne got his start writing poetry and essays for Punch, and many of his earliest nonfiction pieces are whimsical, charming, and gently humorous slices of life about everything from choosing the ideal walking stick to how to organize one's library.
Published in a variety of newspapers and other places, this early collection gathers many of Milne's best-loved essays, and the result feels like a conversation with a gentle, witty, and erudite neighbor on a variety of topics both large and small.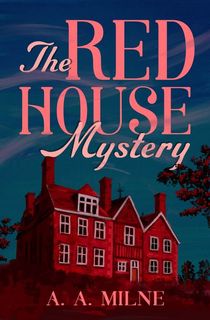 The Red House Mystery
Despite pressure from his editors after its massive and immediate success, The Red House Mystery was Milne's only detective novel. The setup is quite familiar indeed: A group of high-society individuals are spending time in an English country house when a murder takes place. Of course, everyone is a suspect, and an amateur sleuth in the Sherlock Holmes vein arrives to unravel the clues and suss out the killer.
American drama critic Alexander Woollcott called it "one of the three best mystery stories of all time," and even the book's detractors, among them Raymond Chandler, called it "an agreeable book, light, amusing in the Punch style, written with a deceptive smoothness that is not as easy as it looks." First published in 1922, it was Milne's first major literary success, though it has since been overshadowed by his books for children.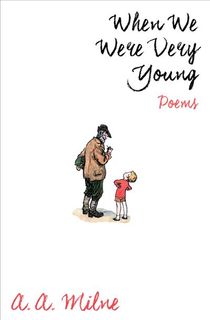 When We Were Very Young
Originally published in 1924, A. A. Milne's first book for children set several important milestones, including introducing the character who would become known as Winnie-the-Pooh, at this time still simply named "Mr. Edward Bear." This collection of poems for children, many of which were originally published in Punch, was also illustrated by E. H. Shepard, whose drawings of Milne's Winnie-the-Pooh characters would become every bit as iconic as the stories themselves.
This volume also collects more than 40 other beloved verses, including "Teddy Bear" and "Halfway Down," among many others. Retroactively considered part of the Winnie-the-Pooh series, When We Were Very Young is a classic collection on its own merits, filled with poems that capture the wonder and mystery of childhood.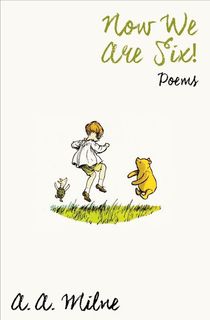 Now We Are Six!
Originally published in 1927, while A. A. Milne's son would have been the eponymous six years old, this second book of poems for children reflects on the "babyish" subjects of When We Were Very Young, while also serving as an indispensable companion piece to that book.
Winnie-the-Pooh is emphatically present in this volume, and is included in several of the illustrations, once again by E. H. Shepard. In this collection are many of Milne's best-known verses, including "King John's Christmas," "Knight-in-Armour," "Furry Bear," "Sneezles," "Binker," "Pinkle Purr," and more.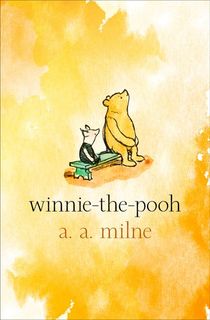 Winnie-the-Pooh
While a variety of technicalities can be used to pinpoint the precise first appearance of Winnie-the-Pooh, the first book of stories about the beloved stuffed bear is this volume, originally published in 1926.
Containing ten unforgettable stories, all illustrated, again, by E. H. Shepard, Winnie-the-Pooh was an immediate success and forever cemented Milne's literary legacy. Nearly a century later, the stories of Pooh, Piglet, Rabbit, Eeyore, Owl, and all the other beloved characters of the Hundred Acre Wood remain as timeless as when they were first published, thanks in part to occupying what has been called a "rural Arcadia, separated from real-world issues or problems."
The House at Pooh Corner
The second and final book of original Winnie-the-Pooh stories, The House at Pooh Corner, once again illustrated by E. H. Shepard, is just as notable as its predecessor. Not only does this volume introduce the perennially popular character Tigger, but it also sees Christopher Robin saying farewell to the Hundred Acre Wood and its inhabitants as he grows up and goes off to school.
It also introduces the game "Poohsticks," and features many beloved moments and scenes that no fan of Winnie-the-Pooh (or children's literature in general) will ever forget.