Nonfiction works structured as narratives make for some of the best literature. Narrative nonfiction takes us on raw, emotional journeys through different time periods and into the lives of some remarkable people. These unique books are infused with incredible journalism, life-long research, and deeply personal records.
With stories like these, you can learn about topics you were always curious about without being overwhelmed by technical jargon or bored by more conventional nonfiction prose. Just like fictional works, these books offer an escape from our daily lives and an immersive adventure into the unknown.
So, if you're into narrative nonfiction, check out these ten life-changing books below that will pull you in just like any imaginative piece would.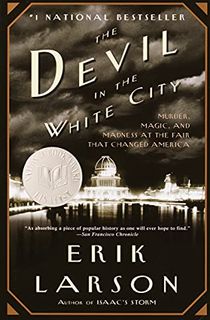 The Devil in the White City
Author Erik Larson paints a picture of Chicago's World Fair circa 1893. With extensive research and edge-of-your-seat storytelling, Larson tells the true story of two men— the brilliant architect behind the World's Fair and the cunning serial killer who used the fair to trap his victims. The architect was Daniel Burnham, who built some of the country's most famous structures, like the Flatiron Building in New York and Union Station in Washington, D.C. The murderer was Henry Holmes, a doctor who utilized a hotel near the fairgrounds as a torture palace, fully equipped with a dissection table, gas chamber, and crematorium.
With Larson, the pleasure is in the details, and the little stories of history hiding behind the main tale make you forget you're actually reading a well-researched report. The Devil in the White City is both shocking and inventive as well as a fantastical tale of Chicago under the influence of two very different men.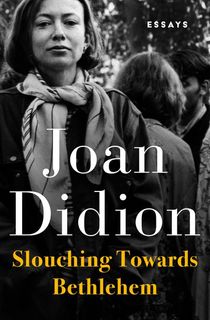 Slouching Towards Bethlehem
From one of literature's most distinctive voices comes Joan Didion's collection of essays: Slouching Towards Bethlehem. It's a revered classic with 20 edgy essays that redefined the art of journalism. Didion masterfully captures the chaotic landscape of America, and in particular California in the late 60s, during the Summer of Love.
It seems as though Didion was in the center of everything, with her life stories sounding like your cool yet cynical aunt's drunken memories she retells every Christmas. Didion brings us along for her eye-opening adventures in Hollywood, Death Valley, Hawaii, and Las Vegas, never skipping a beat. She paints spectacular portraits of actors, billionaires, singers, and their wild drug-filled party lifestyles. Her experiences define a generation of misplaced young adults trying to find themselves in a world that just wants them to grow up.
Named to Time magazine's list of the one hundred best and most influential nonfiction books, no one does it quite like Joan Didion.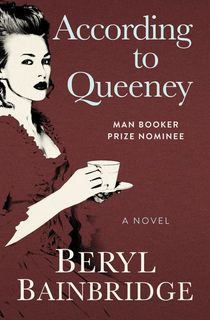 According to Queeney
Beryl Bainbridge's According to Queeney tells the remarkable true tale of Samuel Johnson, the renowned English lexicographer and poet, and his very-real human experiences. Johnson boarded himself up in his room and fell into a deep depression, refusing to eat and only rarely venturing outside. Eventually, a priest was able to coax him out of confinement, and Johnson's friend Henry Thrales arrives to take him away for recovery at a country mansion south of London.
There, in the south of London, Johnson finds solace and lives some of the happiest years of his life. He finds himself wrapped up in the Thrales family life, even falling for Thrales' wife, Hester. And over time, Hester also develops feelings for Johnson, and their affection grew into a forbidden love affair.
Narrated from the perspective of Thrales' daughter, who was all too aware of her mother's affair, the book is a captivating account of the Georgian era, offering modern insight into British history. And Johnson's moral and spiritual dilemmas.
The Orchid Thief
Susan Orlean is known for her vivid details and deeply personal prose. An obsession to find a rare orchid is just the starting point of Orlean's wild journey in the south of Florida. Along the way, she meets Seminoles, alligators, and a variety of crazy white men. Orlean opens our eyes to an extraordinary new universe filled with passionate people.
It's one of the finest pieces of nonfiction because it reads as much like a witty contemporary novel. So much so, it was adapted into a bizarrely meta comedy film, Adaptation, with a screenplay by Charlie Kaufman and Meryl Streep playing Susan Orlean. It's a fantastic movie that will make you laugh out loud, but the book shines even brighter. This one's a must-read, even if you couldn't care less about orchids.
The Man Who Loved Books Too Much
Allison Hoover Bartlett's The Man Who Loved Books Too Much is an invigorating record of John Gilkey, the infamous rare-book thief, and Ken Sanders, the man set on catching him. With its brilliantly observed details, wittiness, and thrilling plot twists, Bartlett's narrative draws readers close, into the obsessive world of antiquarian book dealers.
Bartlett befriended both characters and found herself enveloped in their cat-and-mouse games. Her brilliant narrative explores why people are so passionate about books. If you liked The Orchid Thief, you're going to love The Man Who Loved Books Too Much.
A Civil Action
A Civil Action tells the gripping and poignant story of a legal system plagued by corruption and the endless battle between justice and the powerful forces of greed. It also showcases the inspiring journey of a seemingly unlikely hero - a young, flashy lawyer who takes up the cause of grieving parents, hoping to win millions but almost losing his sanity and everything he holds dear in the process.
Through an irresistible narrative style reminiscent of Truman Capote's In Cold Blood, this book offers a powerful and unforgettable reading experience that will shock and enlighten its audience. The story was even adapted into an Academy Award-nominated film featuring John Travolta and Robert Duvall.
Without You, There Is No Us
In 2011, all North Korean universities closed, except for Pyongyang University of Science and Technology, where missionary Suki teaches English to male students under the regime's watchful eye. Suki struggles to connect with her students and must hide her true feelings from colleagues and censors. She tries to expose them to ideas and activities forbidden in their country but wonders if the gap between their worlds can ever be bridged, especially when Kim Jong-Il dies, and her students are devastated.
Without You, There Is No Us provides a rare and disturbing glimpse into the brutality and surveillance of North Korea. Suki's small observations and detailed memories make this book read like an intimate work of fiction you won't want to put down.
Eighty Days
In 1889, two female journalists, Nellie Bly and Elizabeth Bisland, set out on a race to circle the globe in less than eighty days. Nellie Bly was a scrappy and ambitious reporter while Elizabeth Bisland was elegant and wealthy. The race captivated the nation and covered 28,000 miles, taking them to exotic locations from London to Yokohama. Along the way, there are glimpses of everyday life in the late 19th century.
Eighty Days is a vivid, cinematic retelling of the race, from its frantic start to its nail-biting finish. These two women journalists were racing around the world and through the core of the Victorian era.
Educated
Named One of President Barack Obama's Favorite Books of the Year, Educated is Tara Westover's incredible memoir. Born on a rural farm in Idaho to strict Mormon parents, she spent her childhood and teen years working in her father's junkyard and helping her mom make natural medicine while attending a small, devout church.
Her parents didn't believe in formal education or modern medicine and lived isolated from mainstream society. In fact, they were so isolated that no one intervened in the physical and emotional violence that plagued Westover's household.
As Westover grew older, she became curious about the outside world beyond her family's beliefs and set out to receive an education, against her father's wishes. Completely transformed by her quest for knowledge, she must choose between her family and the life she's always dreamed of.
This is the riveting true story of a young girl's complicated life and a rare glimpse into the confines of family and the extremities of faith. It's surprising, enlightening, and immensely heartening — a must-read for book lovers everywhere.
The Glass Castle
Jeannette Walls's The Glass Castle is an eye-opening memoir about her dysfunctional family life, and the admirable resilience shown by herself and her siblings. Their father was brilliant when sober, but his alcoholism turned him into an abusive liar. Meanwhile, their mother, a free spirit who detested domesticity, shirked her responsibilities as a parent.
As a result, the Walls children had to learn how to take care of themselves, relying on each other for food, clothing, and protection. Despite these challenges, the children eventually made their way to New York, where they prospered. Even as their parents chose to remain homeless, the Walls children remained fiercely loyal to their family, creating a bond that is both peculiar and unbreakable.
The Glass Castle is a phenomenal read and was even adapted into a major motion picture in 2017 with a star-studded cast, including Brie Larson, Woody Harrelson, and Naomi Watts.