A lot has been said about our POTUS, Donald J. Trump—some of it good, much of it terrible, and a whole lot in between. But whether you're Red or Blue, it's impossible to deny his hold over the American public (nay, the entire world). His brash 'all-Americanness' and decidedly unpresidential behavior is something his supporters and his detractors simply can't look away from.
Like our Twitter feeds and television screens, bookstore shelves are also bursting with tales of Trump. Countless authors have offered their two cents—but which books are most worth reading? From biographies written by his closest friends to the read-of-the-moment, Michael Wolff's Fire and Fury, we've included a balanced selection of the best Donald Trump books to help you gain new insight into the man we can't stop talking about.
Related: This Kids' Book Explains Why It's So Important to Vote
Fire and Fury
If you've logged onto social media or turned on the news within the past few weeks, you've likely been swarmed by talk of this whopper of a Trump book. Released just this month—and with a last-minute printing rush—Fire and Fury has, very appropriately, ignited a fire of controversy. A frequent journalist for outlets like Vanity Fair and The Guardian, Michael Wolff takes a deep, unforgiving dive into Trump's first year as president. We're shown a bewildered White House staff trying to cope with their unexpected (and unwanted) victory, in addition to getting scintillating revelations straight from Steve Bannon's mouth. As the circus surrounding Fire and Fury loses its momentum, the question still remains: Is this a collection of tabloid gossip, or a work of shocking truths? (Hint: It depends on where you stand.)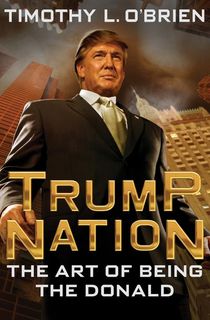 TrumpNation
Reporter Timothy O'Brien took a crack at the real estate-slash-media mogul back in the early 2000s. His efforts resulted in TrumpNation and a hefty billion dollar lawsuit that quickly labelled the biography as one of the most controversial of its kind (a title it only recently lost to Fire and Fury). O'Brien offers an in-depth look at the making of our president, drawing from the months he spent on Trump's jets and interviewing those closest to him. Of course, O'Brien's overall impression—relayed in this absorbing romp of a biography—didn't quite mesh with Donald's own views of himself...
Related: Read An Excerpt from This Biography
Understanding Trump
The former Speaker of the House—and a significant player in Trump's presidential campaign—offers his own thoughts in Understanding Trump. Gingrich promotes this "understanding" by examining Trump's resumé, unique leadership style, and how he plans to "Make America Great Again." This includes detailed outlines of political agenda, which Gingrich notes is strongly opposed by people in and outside of Washington. Nevertheless, Gingrich shows confidence in his POTUS' capabilities, and urges the American people to help ensure his ongoing success. In a sea of damning exposés, Gingrich's book provides one of the most gentle, supportive views of the man currently sitting in the Oval Office.
The Truth About Trump
Like Fire and Fury, The Truth About Trump (previously Never Enough) hit shelves earlier than intended, after Trump topped the presidential polls in August 2015. While Trump wasn't fond of the project—he threatened to sue D'Antonio "if it [was] bad"—he sat down for multiple interviews prior to his campaign announcement. The Truth About Trump is a comprehensive biography of his life, examining everything from his 70s childhood to his tumultuous marriages to his successful stint in reality television. In doing so, D'Antonio sheds light on how someone known for his greed and outrageous behavior managed to become the 45th American president.
Let Trump Be Trump
From two of Trump's closest confidantes, Corey R. Lewandowski and David N. Bossie, comes this flattering portrait of our president and his ascension to power. Let Trump Be Trump touts itself as the ultimate "inside look"—it's the first to be written by Trump's campaign advisors—into the most popular sound bites of the 2016 presidential race. From silly anecdotes about Trump's dietary habits to a retconning of his infamous Access Hollywood interview, Lewandowski and Bossie's book paints a uniquely rosy picture of Trump's journey to the White House.
The Making of Donald Trump
When Pulitzer Prize winner David Cay Johnston first met Trump in 1988, it was a an encounter that would spawn three decades' worth of coverage. Here, the Trump expert focuses less on his subject's political career in favor of his shady business practices, associations with the mob, and family life. Johnston sticks to the facts and maintains his journalistic objectivity—exposing Trump's character while also acknowledging the magnitude of his influence and the power of his message.This New York Times bestseller published when Trump was still the Republican nominee and was hailed as "the best of investigative reporting" by USA Today.
The Making of the President 2016
Few people within Trump's circle know him better than Roger Stone—a bestselling author and the famed adviser to Richard Nixon, Ronald Reagan, and Donald himself. In The Making of a President 2016, Stone provides his own insight into the biggest presidential upset in American history, praising Trump's revolutionary campaign strategies and his overhaul of the Republican Party. Never one to shy away from scandal, Stone also addresses conflicts with Hillary Clinton, the Wikileaks fiasco, and Trump's alleged collusion with Vladimir Putin (an accusation he denies). The Making of the President 2016 is worth reading, if only to hear Trump's story from "Possibly the Most Dangerous Man in Politics" (MSN.com).