You may have already experienced them. The winter blues. Let's face it—in December, we are making merry with the holidays, whether you celebrate Christmas, Hannukah, Diwali, Winter Solstice or any of the other year end celebrations. Then, the candles are blown out, the trees are dragged to the curb, the food has been eaten (and sometimes regretted) and we are left with nothing to look forward to except for dark, cold, snowy shorter days.
So, let's do winter differently this year. Let's be proactive. And no, I'm not talking about resolutions here or getting your hygge on. I'm just talking about some books to read that can transport us, give us a laugh or a new project to do so that we can embrace the winter.
Ready to beat those winter blues? Let's get into it!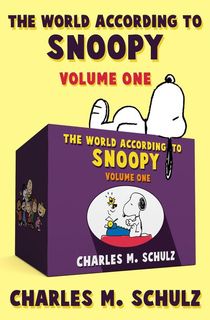 The World According to Snoopy Volume One
Snoopy. Woodstock. Charlie Brown. The gang's all here! If it's been awhile since you've spent time with the Peanuts gang, then you are in for a treat. Long before the television specials and Vince Guaraldi soundtracks, Charles Schulz created a set of characters who distilled some of life's greatest challenges and triumphs into conversations between kids.
Who could argue with the philosophy of "happiness is a warm puppy?" There is a reason that Snoopy has been beloved for generations, so re-introduce yourself or introduce him to someone you love.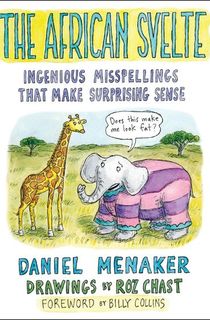 The African Svelte
You can imagine an editor would see a fair share of mistakes made by writers. Most would not be very amusing, I'm sure. But that's not the case with this laugh out loud collection of grammar mistakes and spelling snafus by this former editor of the New Yorker.
Menaker shares some of his favorite missteps of language and in doing so reminds of us of how language is used, created and connects us.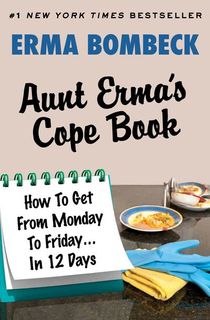 Aunt Erma's Cope Book
There were days past where a woman's point of view about her navigation of the world was not thought very valuable. Erma Bombeck is having none of that. She has a way of describing the ups and down of being a woman, and just being a human, with a relatable style and always a chuckle.
The laughs are great but the universality of letting readers know that life can be a tricky business was very much appreciated before the popular #adultingishard trend came to be.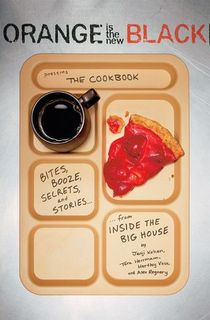 Orange Is the New Black Presents: The Cookbook
There are a lot of cookbooks promoted this time of year geared towards the goal of losing weight or getting healthier, etc. That's not why this is on the list. This book is purely for pleasure. If you were a fan of the show, you will be hard pressed to put this one down as it takes you back into the book (or series—it's ok to admit you binged all the seasons in one weekend!).
If you haven't read the book or seen the series, you will want to after experiencing this book that gives you glimpses of the unique set of personalities serving time together at Litchfield. Oh, and the recipes are not to be missed. I mean, Beer Can Chicken and Crack Almonds? Need I say more?
World Travel
Travel is often a very literal way to escape any bad mood you're in and immerse yourself in a new place or culture. While we may not have the luxury to pick up and go like we used to, this book gives you ideas for when that time comes and makes you feel a little bit like you are already traveling when you read through it.
For fun, you could simply close your eyes and open the book at random to a city to see what restaurant, hotel and other landmarks are recommended to experience while there. At least none of your flights will be canceled traveling his way!
The Truth and Other Hidden Things
Generation X and Millenials are pitted against each other as a NYC family gets relocated to the Hudson Valley. As the wife and mom, Bells, tries to make a soft landing for her kids and husband, she finds it increasingly difficult to find a place for herself.
The moms of this area are highly competitive and the everyone is into festivals, plant-based eating and anything labeled as artisanal. Bells decides to start a blog about her new life, but soon realizes maybe she should have kept her opinions to herself.
Eight Perfect Hours
This story starts off on a snowy night in March. Wait, hear me out. I know a book that has cold and snow in it seems unlikely to beat the winter blues, but it actually transforms the cold and turns it into a meet-cute that will give you the warm fuzzies.
Two drivers are caught in a blizzard-induce traffic jam for you guessed it…eight hours. But it is the uncanny way that the man and woman keep crossing paths afterwards that makes those eight hours last what may be a lifetime.
The Husbands
Two words: Domestic. Thriller. I mean, come on. If you're busy trying to figure out what the heck is going on in this neighborhood where men have taken on all the domestic responsibilities of their wives so the women can go and achieve their #careergoals, then you won't have any energy to feel blue about the cloudy, gray day outside!
The women in this exclusive neighborhood (oh yes, you don't just buy a house there, you have to apply) have something up their sleeves when it comes to their husbands. The newest couple to move in, Nora and Hayden, think they have found a utopia, but Nora will soon stumble upon a secret that could blow this perfect arrangement up. The question is, will she want to?
Where the Deer and the Antelope Play: The Pastoral Observations of One Ignorant American Who Loves to Walk Outside
I like this choice because though it may be cold and the outside may seem a place to be avoided this time of year, Offerman reminds us how much the outdoors are where we can find a salve to what ails us and how we've forgotten that we are actually creatures of nature, despite our often being tethered to our technology.
With this in mind, he regales us with tales of traveling with his buddies through national parks. The majesty of the land is not lost on them. But it doesn't exist just to awe us. Offerman reminds us that we have a responsibility to be good stewards of the land, not just for nature's sake but for ours, too.